Refund policy
Contact the organiser to request a refund.
Eventbrite's fee is nonrefundable.
An online Training Room for Teachers of GCSE & A Level Textiles for both Art & Design and D&T.
About this event
FASHION OUTCOMES: PATTERNS & ILLUSTRATION
(12 months ACCESS)
THIS TRAINING ROOM IS AVAILABLE NOW & YOU CAN BOOK ON WHENEVER YOU ARE READY.
This course includes 7 'student friendly' patterns that can adapt to make up to 18 different garments!
This exciting new course led by Nicky Simpson, is aimed at Textile Teachers of GCSE Art & Design and Art, who are either new to teaching GCSE or those who want to add fashion blocks and toiles to their resources, including step by step guides and tutorials.
The course includes fashion illustration; fashion designers for inspiration; how to adapt the patterns; textile techniques and how they can be utilised in these fashion outcomes, and the sustained focus/supervised time. These fashion outcomes will be related to themes, artists and refined techniques, with lots of exemplar outcomes.
The main aims are to:
Understand AO4 Present, so that students can create a 'personal and meaningful response that realises intentions'.
Produce student friendly patterns and toiles for 7 different garments (Patterns can make up to 18 different garments!).
Fashion illustration for GCSE outcomes, templates and fashion designers for inspiration & annotation guide.
How to adapt the patterns, to enable students to draft their own patterns and create exciting garments that link to their theme.
Looking at the sustained focus/supervised time, to enable students to work independently,
Creating independent, confident and enthusiastic learners.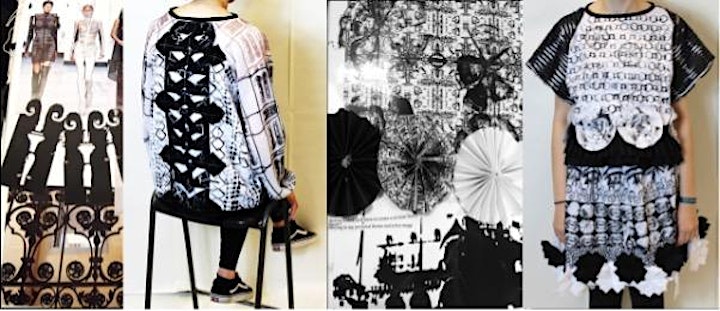 What you will gain by joining the Fashion Outcomes Training Room:
What to expect from this course:
Making student friendly patterns and toiles for:
Basic skirt
Kimono style top (adapt for jacket & coat)
Sleeveless top (adapt to make sleeveless shift dress & waistcoat)
Corset (adapt for panelled dress)
Shorts: (can be extended to trousers)
T-shirt (adapt to make a dress, jacket or coat)
Raglan sleeve jacket (adapt to make a top or coat)
• How students can illustrate their final design and transfer and connect their theme, primary, artists and refined techniques to the final outcome.
• How to adapt the fashion patterns, linking to themes and developed work.
• Working 3 dimensionally on a mannequin.
• How surface & constructed techniques can be used in a fashion outcome.
• How to create confident students who can work independently and unaided for the 10-hour sustained focus/supervised time.
Exemplar outcomes will include the following areas of study:
Constructed textiles,
Digital textiles,
Dyed fabrics,
Printed fabrics,
Fashion design,
Stitched and/or embellished textiles
Lesson plans for GCSE students
What you take back into school:
7 Fashion patterns to use in class. (up to 18 different adaptations)
7 Fashion toiles to use in class. (up to 18 different adaptations)
Great, achievable ideas to enhance your teaching.
Develop best practices in teaching and learning and be able to use these to create a dynamic course that is fast paced and engaging.
An awareness of available resources to support/expand your existing practice.
Make secure decisions and save time with gained knowledge and experience.
Plan the future with confidence.
Continued professional development.
Nicky Simpson's GCSE Moderators comments:
• 'In Textiles, the standard of the work was outstanding…The course structure was strong. Finished pieces were often exciting and innovative. The individuality of the candidates was clearly seen in the diversity of colours, styles and techniques carefully annotated in work books and then displayed in the final outcomes."
• "The course gave candidates a very strong framework on which to build a response to the theme. Ideas were developed showing depth and thought so that the work of the highest achieving candidates was original, creative and in-depth."
• "Textile candidates personal portfolios were brimming with ideas, experiments and references to textile and fashion designers as well as fine artists. Overall, the submission was exceptional in the engagement and industry and imaginative use of materials'.
The Training Room offers resources and techniques to build your skill base, your own resources and a complete set of 7 easy to adapt patterns. There is also a live session with your trainer, where you will be able to see and hear about further resources and ask questions.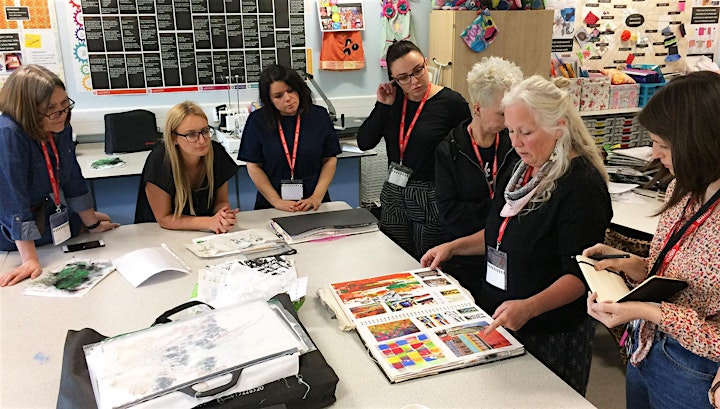 What is special about the Textiles Skills Centre Training Rooms?
The Textiles Skills Centre Training Room is an experience that delivers textiles skills, knowledge and understanding in bite sized units. It is a unique learning concept which allows you to learn at your own pace and still contribute, ask questions and network with other teachers through the training room discussion page.
Your curator is NICKY SIMPSON, a contemporary textiles artist, who has 12 years teaching experience, heading up Fashion & Textiles at Hillview School in Kent and a previous 22 year career as a print designer in the heart of London. She has also mentored many graduate trainees, taken workshops at the Knitting & Stitching show, volunteers as an art therapist and for the past 5 years, has been a workshop developer and leader for Textile and Art teachers on behalf of the Textile Skills Centre.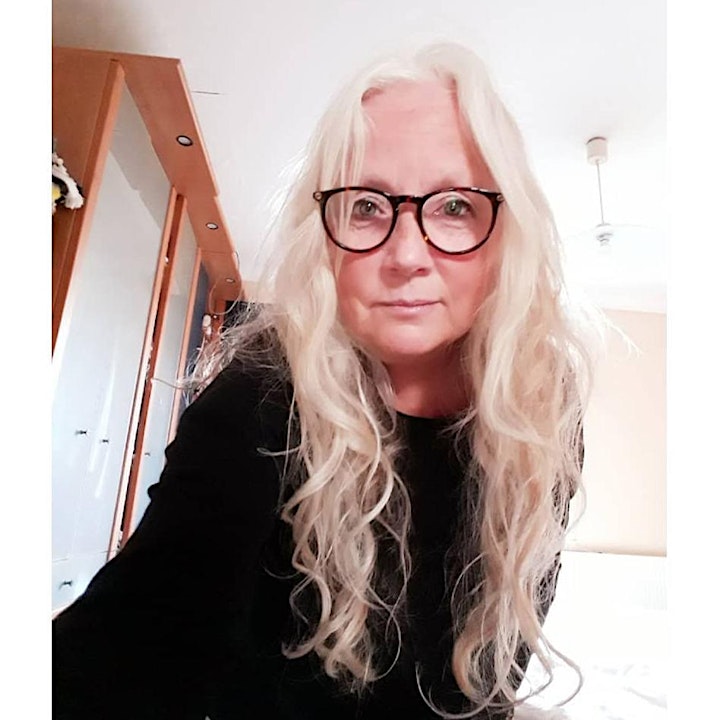 Advantages of joining the Textiles Skills Centre Training Room?
Work/study can be done at home as well as school
No need to be away from your lessons
10-14 hours of training and downloadable resources.
No cover needed for your classes
No travel arrangements or costs
Best use of time: flexible access, revisit when needed, ready-to-use resources
Unlimited access to the training room for 12 months from date of booking, with handouts to download and links to other useful resources.
A LIVE Q&A session with your trainer every month, with extra resources and opportunity to ask those nagging questions. Time and date will be announced in the Facebook course group and sent to you by email, with a request to join the session.
What Teachers are saying about the Training Rooms?
"I have completed this course this weekend and really enjoyed myself. I brushed up on some techniques I already knew, and can now see some new ideas for them. I really enjoyed the new techniques that I had shied away from before, as I thought they would be too tricky! The tutorial videos are very clear with great demos. Can't wait to experiment more."
"Wow, what a real treat your course is. AMAZING work.Would be super for any teacher, experienced or NQT. And a great place to share ideas and create a bank of ideas. You are offering so many resources for the money people will be paying. An absolute bargain at that price. I have thoroughly enjoyed working through the course."
"Just a quick email. Started the course this morning. Doing honey comb unit this afternoon. So far extremely informative. Easy step by step instructions with clear delivery."
"Hi, just completed the Online Constructed Skills course and really enjoyed making the samples. Have brushed up on a few skills – (the tucks) and have learnt new ones with the smocking, I have always wanted to try it but thought it might be too complicated. Just love the lattice – now I have that under my belt, I will be researching a few more techniques."
"I've just completed an online Constructed Textiles course with the Textiles Skills Academy and I'd like to recommend it to anyone that teaches Art Textiles. I've wanted to attend one of their courses for a while now and with lock down I have managed to succeed. Its a great course! Full of help sheets, video tutorials and samples to make BUT best of all is that as its taught by teachers so it links perfectly to GCSE and A level AOs. I can't wait to get back into the classroom to share my new skills."
"Thanks so much for today's Zoom session, it was great to end the course with some live action 😁. I didn't join in the conversations as I'm an art technician rather than a teacher. We don't teach textiles at my school so when students want to use textiles they come to me. I'm really loving the techniques. I'll sign up for the next one after half term." Sarah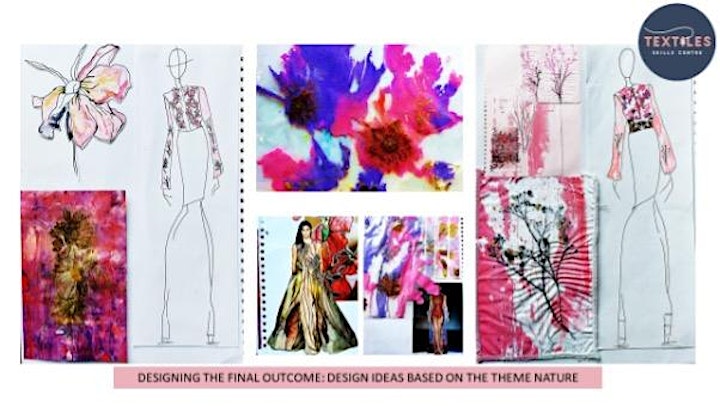 Terms & conditions
Your ticket is not refundable or exchangeable once you have enrolled on the course. You can register and join at any time.
Once registered, teachers will be given UNLIMITED access to an on-line training room and all the resources for 12 months. Training provides videos of each presentation and handouts to download, demonstration videos for each technique, templates and images that you can use within school, links to further information and useful resources. It is your ONE STOP SHOP!
What do you need to gain access to the training room?
IMPORTANT
To access the training room you will need a Facebook account and access to the internet. The training can be accessed on a mobile device, tablet or computer.
To gain access to the Training Room after booking, you will be sent an order confrmation email which will have your order/ticket number and a link to the Training Room.
Click on the link and once in the Training Room, you will be asked 2 questions before being allowed to join:
Your Ticket Order Number
Your Full Name.
The Textiles Skills Centre Training Rooms are developed by Textiles Skills Centre.
Visit our website for more online courses and other events: https://www.textilesskillsacademy.co.uk/online-events/
The Textiles Skills Centre also manages the Facebook Closed Group for teachers. To join the closed group go to: https://www.facebook.com/groups/textileteacherscentre