A free online panel conversation with fashion industry experts on the state and future of the fashion industry.
About this Event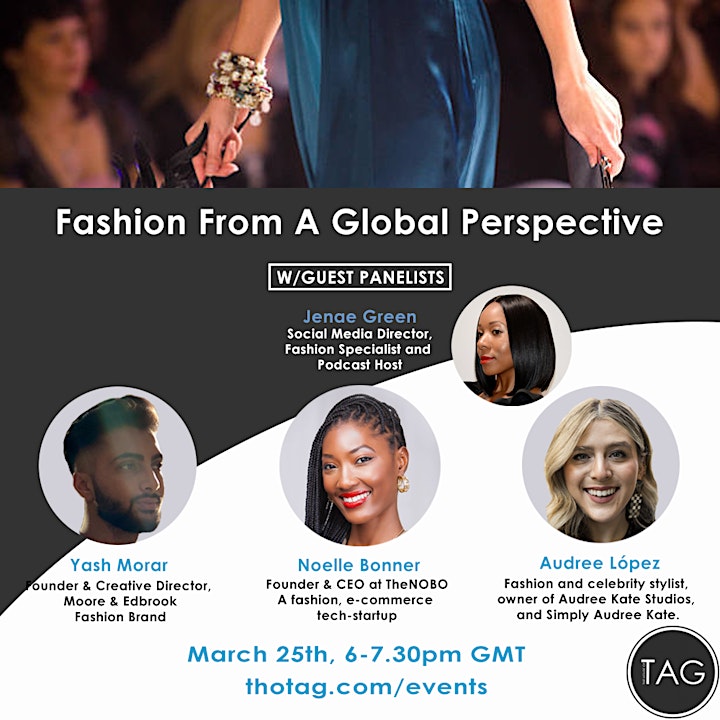 Calling all fashion designers, fashion entrepreneurs, and specialists interested in Fashion Week!
The House of TAG is putting together a free community event to that aims to provide behind-the-scenes insights about how to break into the fashion industry in these very interesting times, as well as understand the state of the industry considering we're having the first fashion week during the COVID pandemic.
What is The House of TAG
The House of TAG (aka TAG) is a fashion-tech-and-community organisation. We're building an online space that provides a marketplace platform for emerging brands to become discovered and to showcase their products. We're committed to uniting the industry, and are building our platform to support everyone on the fashion journey, from designers, to influencers, to manufacturers, and of course our community members!
We also ensure we regularly host events and create resources that serve to support the industry.
Tell me more about this event?
We're putting this panel together to help people learn more about the high points of the industry and how it works, and what this year's fashion week events can teach us about breaking into the industry in 2021.
We'll be answering:
What does working in the industry actually look like?
How difficult is it to break into fashion now, and what do we do about it?
What can we learn from last Fashion Week, considering the times we're in?
This will be hosted over Zoom, and you'll get the chance to submit questions before hand. We'll have a Q&A portion after the main panel, and you'll also get a chance to submit questions then.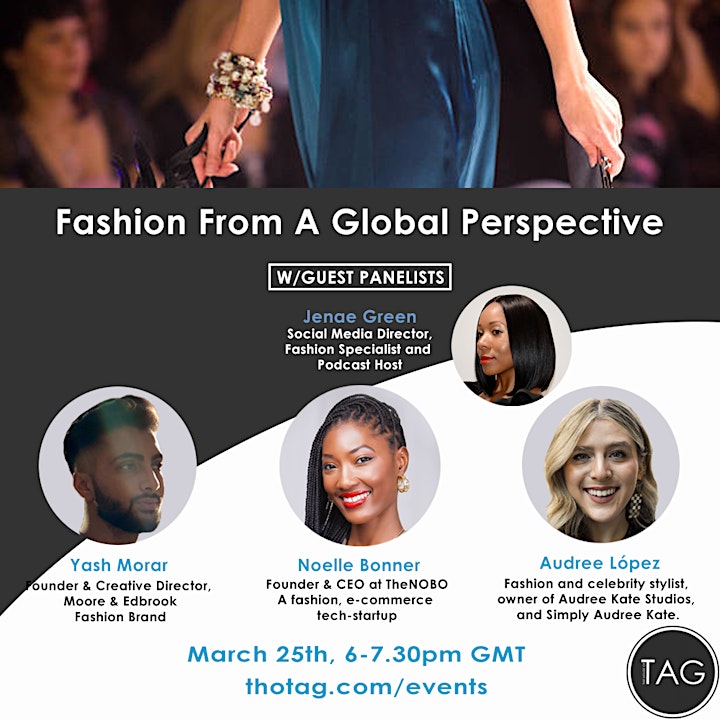 Our panellists:
Noelle Bonner; Founder & CEO, TheNOBO - Noelle Bonner is a serial entrepreneur that founded her first company Bonner Communications in 2013. A successful boutique communications firm with a tight-knit dedicated team, headquartered in San Francisco's financial district. The firm has clients in industries that range from Politics to Finance to City-Public agencies. She still runs Bonner Communications as its CEO/Principal, today. In 2015, Noelle got the idea for TheNOBO and started diligently working on the fashion, e-commerce tech-startup. The only online marketplace that allows users to Buy, Sell and Trade luxury bags, shoes and jewellery, the company launched to a beta group in December of 2020 and to the public on February 1st, 2021.
https://www.linkedin.com/in/noellebonner/
Yash Morar; Founder & Creative Director, Moore & Edbrook - Yash Morar founded his very own Freelance Design Agency at the age of 13, and eventually founded another 2 more companies, most recently, his own fashion label - Moore & Edbrook. His experience in e-commerce was first developed at John Lewis & Partners, and he also continues to refine his product-building skills at American Express, guiding their Loyalty Web Experiences strategy across 22 markets globally. He also has a strong passion for sustainability across the fashion industry.
https://www.LinkedIn.com/in/yashmorar
Audree López - Audree López is a fashion and celebrity stylist, owner of Audree Kate Studios, a fashion and content creation agency, and founder behind the fashion blog, Simply Audree Kate.
After working in the fashion departments at Glamour, Redbook, StyleCaster and O, the Oprah Magazine, Audree worked for several retail brands including: Marc Jacobs, Alice + Olivia, J.Crew and Club Monaco in the merchandising and public relations departments. In 2017, Audree opened her own styling and branding studio and today has retail, beauty and lifestyle clients including: Alice + Olivia, Peloton, Betsey Johnson, L'Oreal, The Knot, Nautica, Sperry, BCBG, Rimmel London and Food Network.
In 2017, Audree founded Fashion Fundamentals, a digital fashion course, community and mentorship program for students looking to break into the fashion and creative industries.
https://www.instagram.com/simplyaudreekate/
https://www.instagram.com/fashionfundamentals__/
https://www.tiktok.com/@audreekate