Description
From fast fashion to sustainability: why technology and innovation matter for the future of fashion
Technology is revolutionising the world and the fashion industry is no exception.
At this event we will see the solutions that are blurring the traditional boundaries between fashion and technology.

​We will imagine a future where clothing is smart and connected to enhance our quality of life, where manufacturing methods have been updated for the 21st century and where textiles are made from innovative and sustainable materials that can be easily recycled.
Consumer behaviour is shifting and the role of the designer is growing. It's time to fuse
fashion and technology to create
the next generation of textiles.​
The event is for businesses, designers, creatives, materials scientists, bio and nano technologists across the South East that are at the forefront of developing innovative textiles, bioengineered solutions and efficient production processes for the fashion industry.

The event will be chaired by Lizzy Bishop, Founder of the Future Fashion Project and Brighton Fashion Week, Europe's first fashion week dedicated to sustainability. ​
There will be time for networking at the end of the event, to meet potential business partners, spark collaborations and discuss grants or other funding options with the Green Growth Platform and WEAR Sustain.
Tickets for the whole day cost only £30. Places are extremely limited, book soon to avoid missing out!
Morning (10.00 - 13.00) - Wake Up & Workshop
Led by the Revival Collective
The Future Fashion Project have collaborated with the Revival Collective, to design a fun morning of creative workshops to kick off Greenpeace's

MAKE SMTHNG Week

.
The workshops follow the themes of Create, Upcycle and Repair and aim to encourage Brightonians to challenge consumerism. The morning will include upcycling workshops such as how to 'Jazzify' with Plus Equals. A range of repair and alteration workshops will be run by Brighton Sewing School and Nicole Simone, and there'll be fun, creative workshops teaching you how to make your own gifts and decorations with Phoebe Hilton and Zola Amour.
To round off the morning, Melissa Shinn will be giving a talk about Greenpeace and the

MAKE SMTHNG

Campaign.
​
Tickets are £10 with all materials included, however we recommend that you bring your own items for repair and upcycling.
Afternoon (14.00 - 18.00) - Fashion: Paradigm Shift
The Green Growth Plaform presents an afternoon of talks for business on the intersection between fashion - sustainability - technology.
Building on their work with the extremely successful Brighton Fashion Week, the Future Fashion Project continues its work with Siobhan Wilson from The FAIR Shop to bring in global influencers in the sustainable fashion industry. Speakers include Carol Rose and Qiulae Wong from Common Objective, plus Rachel Lasebikan from the WEAR Sustain project and Christina Tiran from the Sustainable Angle.
Tickets are £22 and there will be time after the talks for networking with refreshments and nibbles.
Speakers
Carol Rose from Carol Rose Associates
Carol Rose Associates are thought leaders supporting the fashion industry towards an ethical and sustainable future. Founder, Carol Rose, will kick off the afternoon with a presentation on the role of technology in the space of consumption and sustainability.
Carol Rose is a creative practitioner whose experience in the fashion industry spans over 20 years working with some of the UK's leading brands. Carol has worked globally sourcing and developing fashion in the Far East, Europe, North Africa and India.
In her recent role as the technical advisor to the UK Governments' Sustainable Clothing Action Plan, she developed and delivered the ELC Awards, an initiative that challenged designers to design concepts which would prolong the life of clothing, thus slowing down the fashion cycle.
Qiulae Wong from Common Objective
Common Objective is a not-for-profit network, focusing upon social and environmental sustainability in the fashion industry.
Qiulae Wong from Common Objective will present the
Business Opportunities in Sustainable Fashion.
Progressing from the successful and influential Ethical Fashion Forum, Common Objective has been developed to make it easier for fashion people to build successful, sustainable businesses. The organisation has been integral in building a global community that will move sustainable fashion from niche to norm.
​
The team from Common Objective have over 10 years of experience working across all aspects of the sustainable fashion industry.
Christina Tiran from the Sustainable Angle's Future Fabrics Expo
Run by consultancy the Sustainable Angle, the Future Fabrics Expo is an annual showcase to highlight new fashion textiles and innovations for the future; and to extend networks in the fashion and textile industries.
It features individually sourced fabrics and leathers with a
reduced environmental impact,
sourced from dozens of international mills and suppliers. The fabrics are suited to a wide range of market levels and product types, making this the largest and most diverse showcase of commercially available more sustainable materials in the industry.
In this interactive session, there will be an opportunity for businesses and designers to see and touch a selection of sustainable fabric options.
Rachel Lasebikan from WEAR Sustain
WEAR Sustain is a Europe wide project to develop ethical, sustainable, aesthetic technologies for the fashion industry. These could include wearables and e-textiles worn on the body that collect body data, or data about your environment, or smart textiles. They have €2.4 million in funding and are looking for teams of creative individuals and technologists with project ideas or prototypes.
Jacob Skinner from Nine Degree Products
Nine Degree Products is a specialist Wearable Technology and IoT Product Development company based in Brighton and London. NDP innovate with established companies and ambitious start-ups to create IoT products that will have a positive impact on people's lives and excel when working on wellness, health, sports and fitness product applications.
Jacob Skinner, founder and CEO, will give a brief presentation about the work that they have done with WEAR Sustain and why the programme is a great opportunity for people looking to develop wearables with a social impact.
---
The event has been co-organised and curated by the Green Growth Platform and The Future Fashion Project and s
ponsored by the FAIR shop and Nine Degree Products.
This event is part of the Green Growth Platform events programme, helping to grow the green economy across Sussex. The
Green Growth Platform
is a green business network that offers its members a unique package of business support, innovation, grants, skills, training and events delivered by a team of industry experts, business advisors and leading academics. The platform is free to join - the aim is to work closely with SMEs to support them in reducing their environmental impact, whilst
creating opportunities for them to supply the emerging green economy and
grow their business to the next level.
Please be advised that photography and filming will be carried out at the event for use on the GGP and Muon Events website, marketing materials, and other publications. By attending this event, you consent to the GGP and Muon Events photographing, filming, and using your image and likeness.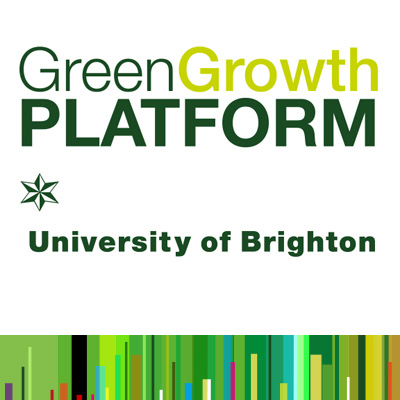 Morning only
6
Afternoon only
9
Full day
11