We are proud to host an OPENING PARTY for our collective fashion pop up store in central London, along with ten more exciting brands.
About this event
We are excited to invite you to our Opening Party, in the heart of the city on Wednesday, 16th October, for our collective pop up store at 31 Lamb's Conduit Street, London. You will meet some of our talented designers in person and can shop our latest collections while sipping some cocktails!!
We are also celebrating the launch of the 5th edition for IPSEITY and can't wait to present to you all our new capsule collections created by a new set of emerging and super talented designers from all around the world including: Ergon Mykonos, Elin Manon, Jen MM DSGN, Marée, Rüda, Rose Corps, Manimekala, Radwa Radwan, Nadia Fakhoury, Mei Sun, Shakila Thebe, Daixa Somed, Auris Ku, La Filippine and Francesca Palumbo.
On top of it all, we have super cool DJ, Jeff, performing at the event to keep everyone pumped!
We will also be screening our 5th Fashion Film at the launch party at 7:30 PM. Don't miss out!
Cant' wait?
Check out the pop up brands:
@weareipseity
@gung_ho_london
@makewhatyouwill
@trubarbados
@tianajewelondon
@pillwaa_ltd
@_havow
@m_sun2017
@sackville_lc
@opuline
@muratribe
@bitterlemonboutique
@amadeusbijoux
Can't wait to see y'all at the event xx
The IPSEITY Team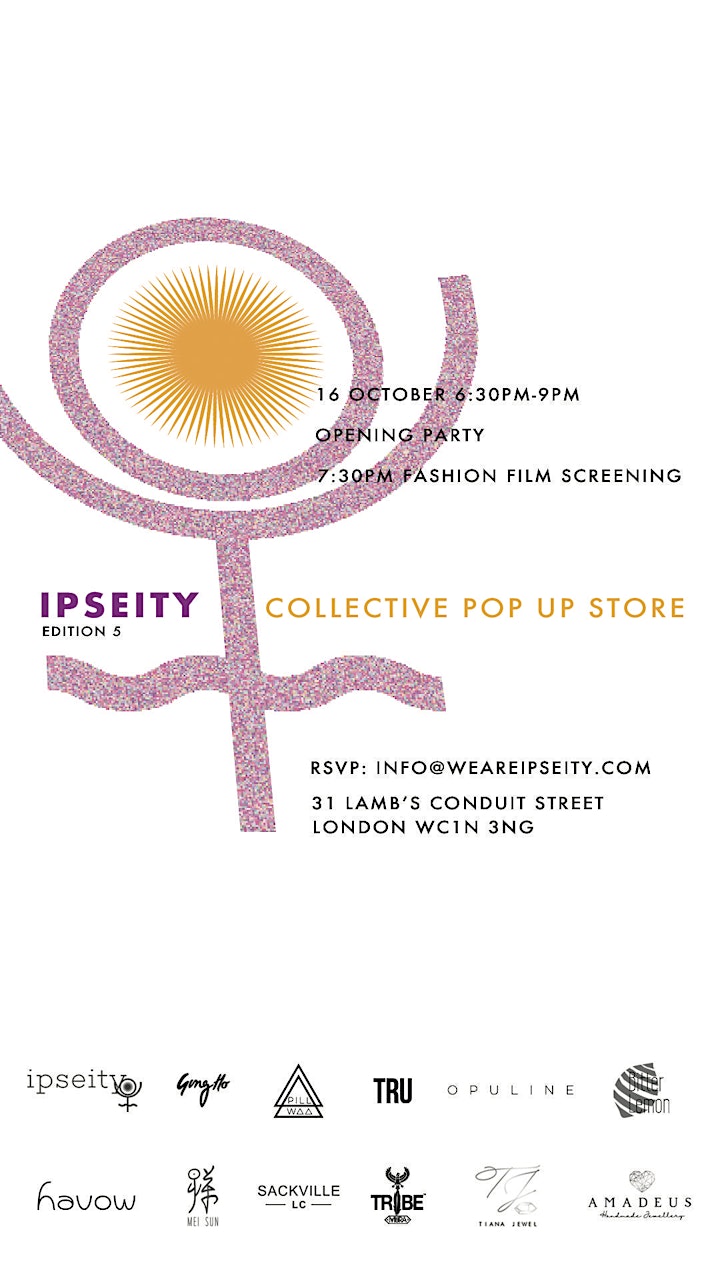 Organiser of Fashion pop up store OPENING PARTY
IPSEITY is a concept brand.

We believe in wearing differently.
We believe in possessing unique clothes and accessories to be unique.
The way we make it happen is by sourcing great fashion designers all over the world.
And just for you, we curate a selection of unique and exclusive capsule collections and one-off pieces.