FASHION TO DIE FOR: An Analysis of Status Anxiety as Manifest in the Global...
Description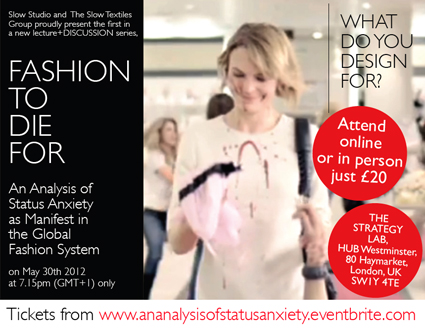 Slow Studio and the Slow Textiles Group are delighted to present a pioneering lecture and workshop to illuminate and address the anxiety that resides latently at the heart of the global fashion system.
Our speaker, CEO of the Slow Design School, Dr Emma Neuberg, applies a psychoanalytic framework to analyse the global fashion system's darker communication trends, social message and behavioural impact in the twenty-first century.
This event is designed to inspire dialogue and new thinking in the field of fashion, design, communication, psychology and sustainability. It is aimed at industry, psychologists, marketeers, academics, designers, politicians, researchers and students.
Dr Neuberg will be looking to work with participants as future researchers with the Slow Studio and Slow Textiles Group should you be interested in the fashion, design, communication and sustainability convergent area of study for future publication.
We look forward to welcoming you at The Strategy Lab, HUB Westminster, New Zealand House (Second Floor), 80 Haymarket, London SW1Y 4TE on May 30th 2012 at 7pm, when doors open, to begin the session at 7.15pm prompt!
Or, online via live webinar. A webinar link will be sent to you 24 hours before the event. For international time zones, your start time from which to log on, on the day, is 7.10pm (GMT+1).
We look forward to meeting you in person or online!
Please place questions on The Slow Textiles Group. Thank you.
Organiser of FASHION TO DIE FOR: An Analysis of Status Anxiety as Manifest in the Global Fashion System