Description
This Father's Day... Kingdom Forge, The Oystermen and Small Beer Brew Co. are teaming up to bring you two days of hand forging and oyster pairing.
Arrive ready to get your hands dirty with the Kingdom Forge Blacksmiths.
Heating steel up to a thousand degrees and using age old techniques, participants will be able to hand forge their very own bottle opener from start to finish. During the workshop we provide comprehensive demonstrations followed by one on one guidance. All experience levels welcome! Participants will be forging two at a time, so feel free to enjoy a refreshing beer in our adjacant taproom before and after your session while watching the master blacksmiths at work!
Each Forging Workshop will be followed by an exclusive Oyster and Beer Pairing with the Oystermen, Matt and Rob, the two brilliant minds behind the acclaimed Covent Garden restaurant.
Both Saturday & Sunday will have 4 separate sessions available. Spots are limited so we highly recommend booking your tickets quickly and as a pair/group.
Morning Session: Forging Workshop 10:00-12:00 with Oyster Tasting 12:00-12:30
Midday Session: Forging Workshop 12:30-13:30 with Oyster Tasting 13:30-14:00
Afternoon Session: Forging Workshop 14:00-15:00 with Oyster Tasting 15:00-15:30
Late Afternoon Session: Forging Workshop 15:30-17:30 with Oyster Tasting 16:30-17:00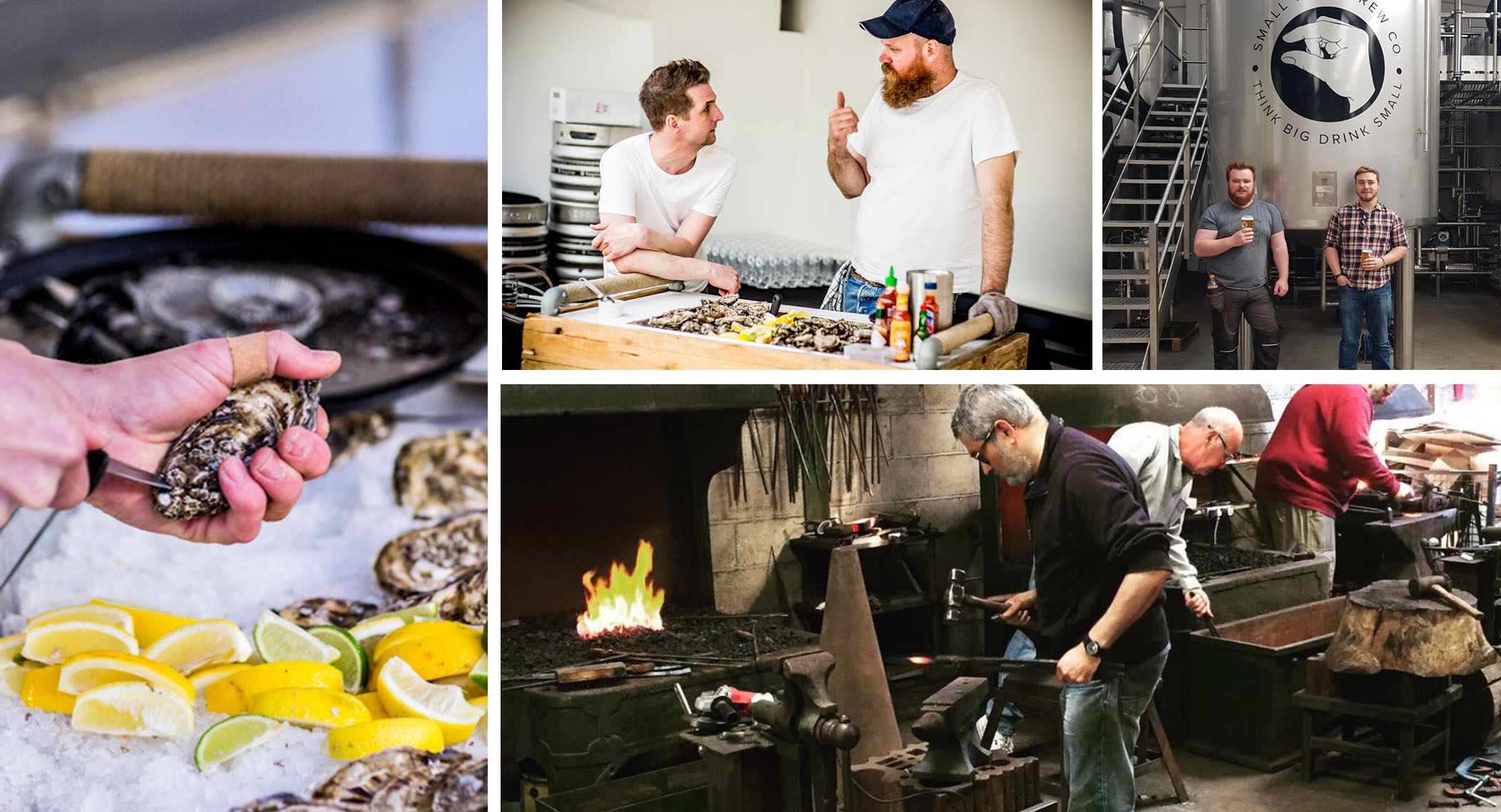 - FAQ -
Who is the workshop suitable for?
14+ years old. Under 18's must be accompanied by a parent or guardian. The course is suitable for complete beginners who have never tried blacksmithing before. We won't be doing anything too strenuous so there's no need to worry that you're not strong enough.

What is included?
All materials are included in the workshop fee - along with a bottle of Original Small Beer to bring home and enjoy later with your handmade bottle opener. Personal protective equipment is also provided and must be worn at all times.

What should I wear?
It is essential that you wear old clothes made of natural fibres i.e. not made of a flammable material such as polyester. You must also wear sturdy shoes that cover your whole foot (if you are wearing sandals you will not be allowed to participate in the course).

Can I purchase tickets to the Forging Workshop or Oyster Pairing individually?
If you would like to purchase tickets for either the Forging Workshop (£25) or Oyster Pairing (£18), please contact us directly at jamie@smallbeer.co to do so. Please have a look at the schedule to have an idea of the time slots available.