About this Event
Fathers Day with Vinnie Jones & Paul Gascoigne (Featuring special celebrity host & Snooker Legend Willie Thorne)
Coming to Middlesbrough for the first time together, Vinnie Jones and Paul Gascoigne for an a special Fathers Day event on 16th June 2019
Football & Movie Fans need no introduction to Vinnie & Gazza, the pair will be coming together once again for a reunion of hilarious banter. Crank up the emotions as they talk to fans about all things football, on and off the field as well as that infamous 'Nutcracker' incident which happened 30 years ago.
This exclusive show will see a LIVE & UNSCRIPTED interview, reminiscing about those glorious football memories and get an real life insight to the behind the scenes of the footballing world. Who knows what will happen when Vinnie & Gazza hit the stage to give you their 'off the camera' life and career stories.
______________________________
Setting the Superstar Scene.
- Arrive at the venue and check into the Middlesbrough Theatre and find your allocated seating
- Be welcomed to the event by our SPECIAL CELEBRITY HOST Willie Thorne
- Opportunities to win amazing Vinnie & Gazza PRIZES at the event
- Super WALK-ON VIDEO showing Vinnie & Gazza's greatest ever footballing moments
- A LIVE & UNSCRIPTED Vinnie Jones & Gazza on-stage interview
- Superstar Speakers Special Live auction boasting sporting greats of past and present
- Full bar and merchandise access
______________________________
Getting the Superstar Tickets.
Superstar PLATINUM Package (50 maximum)
Includes: Meet & Greet Session inc. Signed Photograph with Vinnie & Gazza + Special guest photo 'Vinnie & Gazza' themed frame
- 12:30pm early access to enjoy a private Platinum guests ONLY Meet & Greet session with Vinnie & Gazza
- Professionally taken 6x9 photograph of you and Vinnie & Gazza which will be developed on the day to take home
- Stunning special Vinnie & Gazza themed photograph Frame
- Platinum section allocated seating (Best seats of the house)
Superstar GOLD Package
- 1pm Entry
- Professionally taken 6x9 photograph of you and Vinnie & Gazza which will be developed on the night to take home
- GOLD section allocated show seating
Superstar SILVER Package
- 1pm Entry
- Professionally taken 6x9 photograph opportunity (will incur an on the day fee) of you and Vinnie & Gazza which will be developed on the night to take home
- SILVER section allocated show seating
_____________________________
Adopting the Superstar Style.
Dress Code: Smart
No ripped jeans, trainers, hats, sportswear. You may be refused entry if you are not wearing the correct Dress Code. We advise minimum shirt and trousers.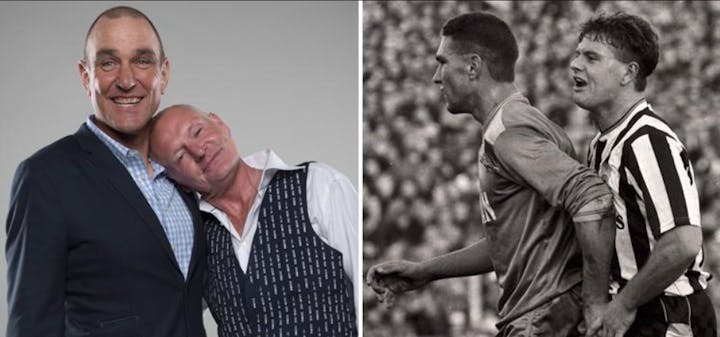 _____________________________
Vetting the Superstar terms.
SITTING WITH FRIENDS: To ensure you are sat with your friends please book under the same name this will automatically sit you together.
SPECIAL REQUIREMENTS: It is paramount that everyone fully enjoys this event. If you have ANY special requirements (E.g. Access) please notify us BEFORE the show as we may not be able to accommodate you if told on the day.
SPONSORSHIP ENQUIRIES: Please direct to info@superstarspeakers.co.uk
REFUNDS: A full refund will be issued if the event is cancelled. Tickets may not be exchanged, refunded or re-sold. Refunds take 14-21 days to process from the date of cancellation.
SHOW TIMINGS: In the event of a celebrity late arrival the show timings may alter.
VENUE: In an highly unlikely event that the venue is changed due to unforseen circumstances an alternative venue will be found within the same area of the orginal venue and all tickets will remain valid.
COMMUNICATION: We love to keep you updated on the event and will contact you via the email you register with. Your tickets will be sent to this email and we will inform you of any changes so please ensure you enter your email correctly. If you do not receive your tickets after purchase please email customerservice@superstarspeakers.co.uk
ADULT ONLY: This event is strictly rated over 18 only.
NEED HELP: Please email customerservice@superstarspeakers.co.uk for any assistance