Description
See you at the bar!
We've moved our Meetup to The Underground Bar @ UEL

Missed Meetup #1?

Don't panic, #2 is on its way.

Join us on Friday, 27th of October, for the next Favorey Meetup - there'll be free food and drink and some inspiring individuals to network with.
Everyone's welcome!
One of our trusted service providers, Felix, showed off his skills with free massages which, as you can see, everyone enjoyed!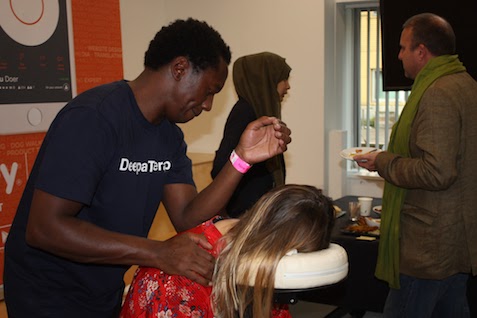 Don't worry if you missed it, our next meet-up will be just as good.
Do you love what you do? Are you passionate about helping people? Or do you just want the chance to meet some great individuals?
Come and meet our UK team, other passionate service providers, and find out how you can benefit from being part of the Favorey community. There'll be food and drink too.
Using the power of social networks to create new communities that help each other.
Things you NEED, from people you can TRUST, on terms you NEGOTIATE.


"At Favorey, we want to emphasise that most people in the world want to help rather than hurt and that thought is the driving force behind the app and everything we do."
- Javier Jimenez, CTO of Favorey



We believe together we can make a difference
Join us at The Underground Bar (based by the reception of the University of East London) Food and drink is available throughout, so if you want to just come and eat with us do yourself a Favorey and come along!