Helping you Navigate the Complexities of First Contact MSK Practice in Primary Care with a Systematic Approach - online live event.
About this Event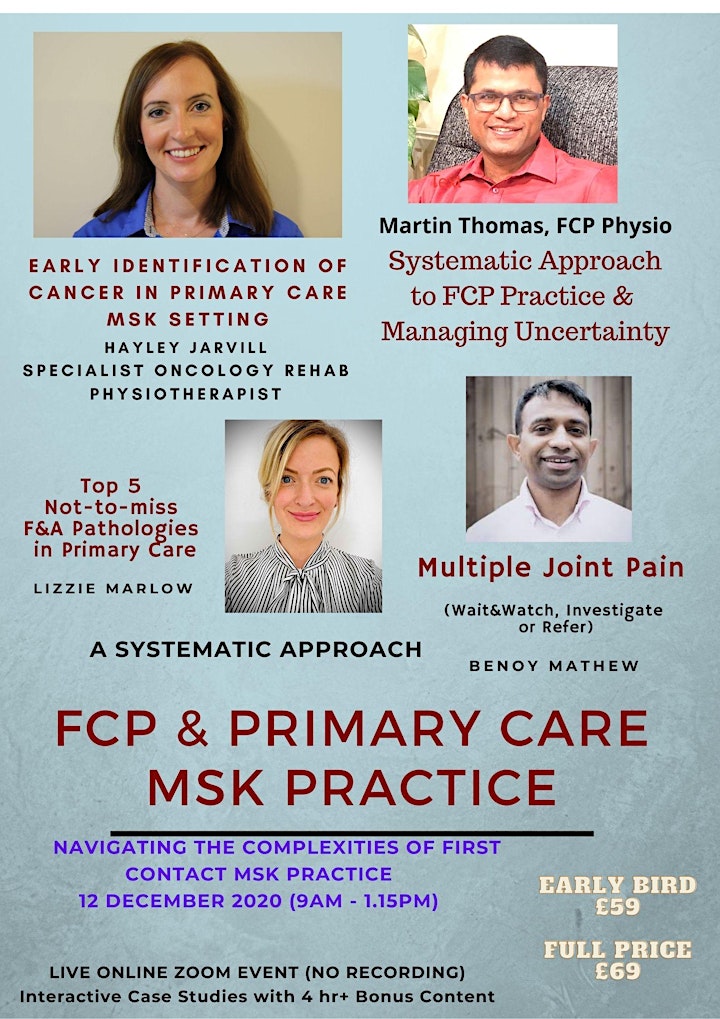 Why this course?
Is dealing with complex patient presentations in a short time, proving a challenge?
Would you like to have a systematic approach to your assessment, to ensure that you deal with all the important aspects of a patient presentation?
Are you considering all the body systems that could possibly be the symptom driver?
Do you consider the mental health aspects of presenting patients?
Would you like to learn how to approach a patient with multiple joint pain?
OBJECTIVES
After the course you will have improved knowledge & skills on:
• Cancer symptoms and presentations in primary care.
• Using a systematic approach considering all major aspects of a patient presentation.
• Considering multiple body systems and their common presentations.
• Identifying patients who need urgent and immediate medical interventions.
• Considering the mental health of patients presenting to the FCP practice.
• Holistic approach and encouraging healthy living.
• Pertinent blood tests and their result interpretation.
• Understanding of MSK investigations and when to request the appropriate investigations.
• Resources to use in your day to day clinics.
YOU WILL ALSO RECEIVE GUIDED COURSE MATERIAL OF MINIMUM 4 HRS CPD HENCE 4.5 + 4 = 8.5 HRS OF CPD.
EVENT SCHEDULE
9.00 am till 10.00 am - Hayley Jarvill - Early identification of cancer in a primary care MSK setting.
10.00 till 11.00 - Lizzie Marlow - Top 5 Not-to-miss Pathologies of Foot and Ankle in Primary Care
11.00 till 11.15 - Break
11.15 till 12.15 - Benoy Mathew - Overview of Multiple Joint Pain –When to Wait& Watch, Investigate or Refer?
12.15 am till 13.15 am - Martin Thomas - Systematic approach to FCP and Managing Uncertainty
ABOUT THE SPEAKERS
1. Hayley Jarvill MSc, MACP. Specialist Physiotherapist in Oncology rehabilitation.
Hayley is a Specialist Physiotherapist with experience in Neuromusculoskeletal Physiotherapy and Oncology rehabilitation. She is the Director of Ribbon Health (a Specialist Cancer Rehabilitation Service in Suffolk) and a Partner and owner of BuryPhysio, and the creator and co-founder of specialistpilatesonline.com.
Hayley has experience in both NHS and private settings and has set up several rehabilitation services nationally for large organisations.
She has a Master's degree in Rehabilitation Science, A Masters in Advanced Physiotherapy (MACP) and a Scholarship in Oncology Rehabilitation, as well as being an experienced Pilates instructor.
Her specialist interest is cancer rehabilitation and how to best treat this population group in clinic settings
2. Martin Thomas MSc, MCSP, Cert Inj Therapy.
First Contact Physiotherapy Practitioner - NHS.
Martin qualified as a physiotherapist in 1998 and has worked extensively in hospital and private practices within Asia, the Middle East and the UK.
Having specialised in musculoskeletal care, he works as a First Contact Practitioner Physiotherapist in the NHS and also in private practice. He has a special interest in lower limb and running injuries.
Martin has completed his masters in advanced physiotherapy from the University of Bradford. He also has completed his post-graduate certification in injection therapy and in first contact physiotherapy practice.
3. Benoy Mathew MSc, MCSP, PG Cert Inj Therapy, PG Cert MSK Diagnostic Ultrasound Advanced Practitioner Physiotherapist
Ben qualified as a physiotherapist in 1998 and has worked extensively in hospital, private practice and sporting settings within Asia, the Middle East and the UK.
Having specialised in musculoskeletal care, he works as an MSK Extended Scope Practitioner in the NHS and also in private practice. He has developed expert skills in treating complex lower limb pathologies, running injuries and chronic hip and groin patients. The majority of his private caseload is made up of complex lower limb pathologies, recreational runners and overuse lower limb injuries. He is also involved in training and designing screening programmes for various client groups in private practice.
Ben has completed his masters in advanced physiotherapy from the University of Hertfordshire in 2014 and was the national winner for the highest scoring candidate of the society of orthopaedic medicine registration examination and was the recipient of the Saunders prize for 2011.
Clinically, he deals with complex patients referred by GPs and for a second opinion on failed patients by other therapists. Ben loves a challenge and enjoys treating hip and groin patients and overuse running injuries. He is passionate about the application of research in clinical practice and is also involved in regular teaching nationwide on multiple lower limb courses.
4. Lizzie Marlow Specialist Lower Limb Physiotherapist
Lizzie is a senior musculoskeletal physiotherapist with over five years of postgraduate experience. Her passion for musculoskeletal rehabilitation was discovered whilst studying BSc (Hons) Sports Therapy and Rehabilitation at the University of the West of England. She gained experience working with professional and amateur athletes from a number of sports including Rugby and Football. She then went on to study MSc Physiotherapy at the University of Southampton, where she achieved a distinction and secured a role as a rotational physiotherapist for one of London's leading hospitals, Guy's and St Thomas NHS Foundation Trust.
She has a particular interest in lower limb injuries, including Patellofemoral Pain, Tendinopathy Management and ACL Rehabilitation.
Disclaimer
In the event of cancellation of the event due to any unforeseen circumstances, or any issues related to the course, our maximum liability will be a full refund of your course fee. Please note that Eventbrite will still hold their registration fee.
If you decide to cancel your registration, please apply through Eventbrite. We will refund the course fee minus the Eventbrite booking fee up to a week before the event.
For any queries please email: firstcontactphysio1@gmail.com.