February CAKE Morning

Tuesday, February 25, 2014 from 10:00 AM to 12:00 PM (GMT)
Event Details

Tuesday 25th February
The February CAKE morning will be themed around Digital Heritage, with prensentations from Orangeleaf Systems Ltd, Sampad South Asian Arts and Leicestershire County Council.  
James Grimster from Orangeleaf Systems Ltd will be talking about COPEing strategy : API centred approaches to state of the art Digital Heritage.
Orangeleaf Systems Ltd develop and run CollectionsBase, a software as a service system connecting many different collection management systems across archives, archaeology and museums to web, mobile, in gallery and facilities management systems.
Presentation on Create Once, Publish Everywhere concepts and the application to scalable, sustainable Digital Heritage Projects. The presentation will provide background discussion of current COPE strategies, and will then detail our approach at Sussex The Keep.
He'll be presenting how from multiple Archive, Museum and Archaeology systems we've integrated data from these managed sources and thesauri systems into document ordering, WordPress and User Generated Commenting websites, public facing and facilities management mobile web applications and digital surrogate viewing multi-touch screens.
Katy Wade from Sampad South Asian Arts will be talking about My Route
After completing an MA in Heritage Management, Katy was accepted onto the Cultural Internship scheme run by the University of Birmingham, where she worked with Sampad to create an application to the Heritage Lottery Fund for a local history project they wished to deliver. Over the last 2 years she had been working with local communities and several partners to create a second stage application for this project (My Route), looking at how digital technology may enhance the learning experience, and co-ordinating the project in general.
The presentation will look at the digital elements to our project My Route, (particularly our interactive map), examining the development and methodology Sampad went through to determine where, and if, digital technology should be used in the project. It will highlight the role of the DHD hub, as well as some of the issues with design and practicality we had, as well as what feedback we got from our focus group.
Lucia Masundire from Leicestershire County Council will be talking about Click; Connect; Curate; Create Project Commissions
Click; Connect; Curate; Create is a research & development programme looking at how Leicestershire County Council can use exiting digital content to encourage engagement with collections and visits to our museums. They are currently in the process of commissioning 5 development projects that will allow us to explore what potential digital content we can use to achieve this. They are also commissioning researcher(s) or educational consultant to undertake an assessment of our existing collections and make recommendations on how we can use these to create STEM related online resources. Lucia Masundire will be there to talk about the commissions and answer any questions people may have before applying.
More information about the project and the full commission details can be found at http://connect-curate.com/
---
Given the wide and diverse range of academics, businesses, students and Heritage organisations working collaboratively on the DHD project, we will be hosting free monthly "cake" (Collaboration and Knowledge Exchange) mornings to showcase current developments, discuss funding opportunities and tackle current challenges. Plus - there will be cake!
You can access printable directions and a map by going to our University web page HERE .  

If you have any special requirements, please do not hesitate to get in touch at v.rouse@bham.ac.uk or by phone on 0121 414 9154.
If you would like to present or show a demonstration please contact Tichaona Juliet Chikore, Project Manager at contacts@dhd.bham.ac.uk or 0121 414 9153. 
---
To view our project presentation click here or our newlsetter here
For details of the January 2013 cake morning please click here
For details of the February 2013 cake morning please click here
For details of the March 2013 cake morning please click here
For details of the April 2013 cake morning please  click here
---
The Digital Humanities Demonstrator Project is supported by: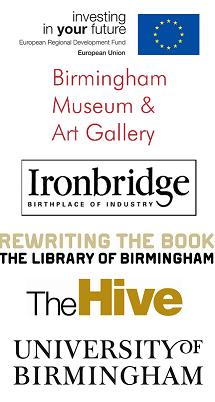 Attendee List
Sort by:

Date

|

First Name

|

Last Name
When & Where

Digital Humanities Hub
Chowen and Garfield Weston Foundation Prototyping Hall, Ground Floor, ERI Building
University of Birmingham, Pritchatts Road, Edgbaston
United Kingdom, B15 2TT


Tuesday, February 25, 2014 from 10:00 AM to 12:00 PM (GMT)
Add to my calendar