Event Information
Location
Penwortham Arts Centre 'The Venue'
Liverpool Road
Penwortham
Preston
PR1 9XE
United Kingdom
Refund policy
Contact the organiser to request a refund.
Eventbrite's fee is nonrefundable.
Comedian's Sean Percival and Alex Boardman are coming to Penwortham for the February Comedy Night. Big Lou is joining as the MC.
About this event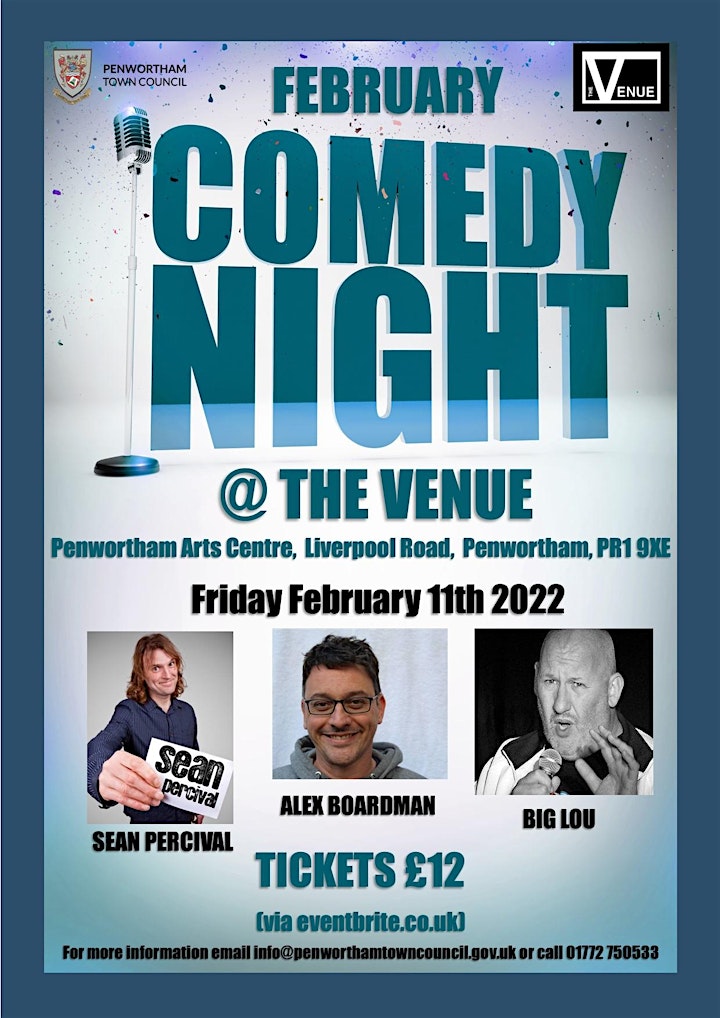 Sean Percival
Black Country comic Sean Percival is an ex-welder from Dudley ("It's a lovely place to come from but bloody horrible to go back to") whose act is steeped in the traditions of the working mens clubs circuit, but bang up to date with its upfront attitude. Sean's brand of comedy steers clear of the surreal and confronts realism in an explosively funny way.
A festival favourite, he has performed at the Edinburgh, Glastonbury and Reading Festivals, and as a well established headliner he performs at all major comedy clubs around the UK as well as being a regular host for the Jongleurs comedy clubs.
In demand as a script writer, Sean works regularly with likes of Johnny Vaughan for Capital Radio. He spent two years writing and performing on Capital fm's drive time radio show in Birmingham and for Heart fm in Birmingham, and provided the voice for "Black Country Bob" on both those shows fronted by Talk Radio's host and impressionist Ian Danter.
"Sean's comedy is the comedy of honesty. His act is the working man's revenge on the safe, middle-class, politically correct humour that has dominated comedy. Sean's humour is not surreal, it's not wacky, it's just bloody funny. This is not smile humour, this is bust your gut rubber underpants stuff" (Joan Serone Bungalow, What's On)
"…the big gold star of the show must be the long-haired man from Dudley. He came. He spoke. He had us curled up begging for more…Sean Percival was the best heckler worrier I've seen for years…" (Evening Mail TV)
"Absolutely brilliant – can we book him for our Christmas show please" Red Card Comedy, Norwich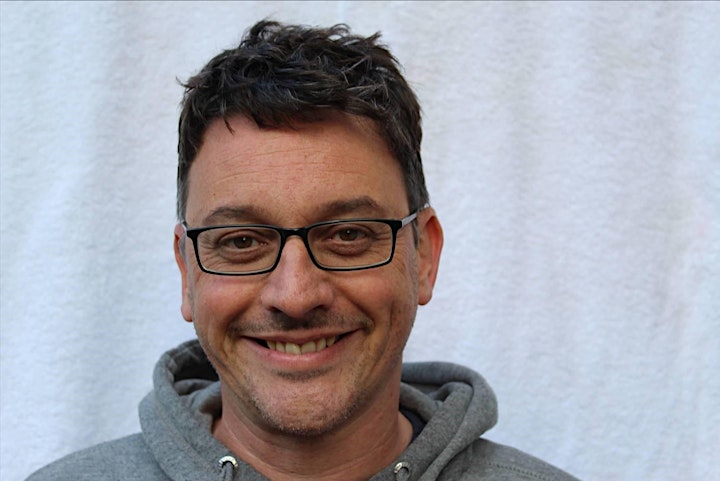 Alex Boardman
"Alex was one of a small band of writers who worked on the second series of John Bishop's Britain on BBC One and he made a significant contribution to it being the highest rated stand-up show of 2011 bringing in six million viewers a week. He can turn material around quickly and has the great skill of enhancing existing ideas to make a show better rather than just wishing to force his own material which makes him a great collaborator"
John Bishop
"Alex started stand up the year before me at the same dodgy backrooms and pubs in Manchester. He has gone on to be one of the most assured confident stand ups on the circuit and regularly plays all the top comedy clubs here and abroad. I employed him as a writer when I was on 8 Out of 10 cats, he is quality."
Jason Manford
"A great comic and a skilled writer"
Sarah Millican
Alex Boardman is now one of the most sought after acts in the country due to his ability to interact with any audience and to seemingly conjure something out of nothing. His free flowing style and natural charm breeze through in performances. His unique brand of "Flattery and abuse" is done with a lack of malice and a big sense of fun.
Before you ask, he is no relation to Stan Boardman.
"Very Funny, a rare mixture of wit and charm"
The Guardian
"Probably the quickest I've ever seen, certainly the funniest."
The Big Issue
"Improvised witticisms from the acerbic Mancunian. A veteran of the Madchester phenomenon, his loved-up reminisces and tall tales can lead anywhere on any given night."
The Times
"Call the cops, double, double funny"
Shaun Ryder (Happy Mondays and Daily Sport)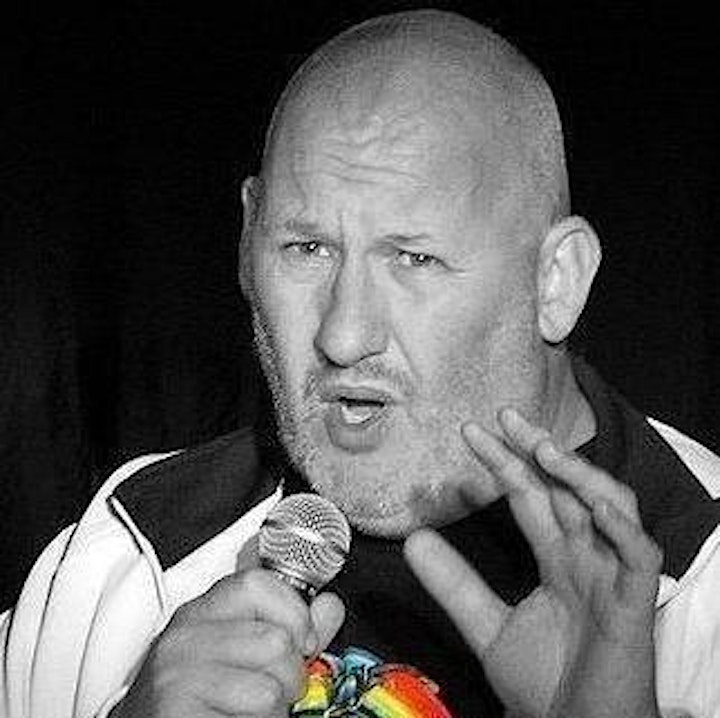 Big Lou
Manchester based Big Lou, is a well-known face on the comedy scene who has a commanding stage presence matched by his punchlines and timing of their delivery.
Big Lou has played most of the premier comedy venues in the Northwest and beyond.
Quotes:
"Big Lou, a robust gag-merchant, the material is original as well as punchy, while Lou is blessed with funny bones that kept the laughs coming" – Steve Bennett CHORTLE: The UK Comedy Guide
"Big Lou took the time to understand what we wanted, it was important to him to look and act in the right way to a room full of business people. He reacted well to a new idea we had on the day, our audience loved him and ultimately, which was the whole point of his presence, was very very funny" - Paul Walsh, Vice Captain, Greater Manchester Chamber of Commerce Golf Society.
"Big Lou was on the first ever Manfords Comedy Club Night and he was there because we thought he'd smash it. He Did!" - Colin Manford, Co-Owner Manfords Comedy Clubs
"Big Lou is one of the first acts I go to when I'm putting a line-up together. Consistently funny and always get great feedback from venues " - Dave Wolfe, Golf Comedy
"Excellent Set & Great Company. I attend lots of similar functions & Big Lou is up there with the best of them!" - Basil Kabbani, Chairman, Wythenshawe Amateurs FC
Date and time
Location
Penwortham Arts Centre 'The Venue'
Liverpool Road
Penwortham
Preston
PR1 9XE
United Kingdom
Refund policy
Contact the organiser to request a refund.
Eventbrite's fee is nonrefundable.