Please note between the 9th February -11th February there will be one class at 7.30pm for heart rate and Power
About this Event
Cycling Timetable:
Tuesday
6.15pm Heart Rate Session
7.30pm Power Session
Wednesday
6.15pm Heart Rate Session
Thursday
6.15pm Heart Rate Session
7.30pm Power Session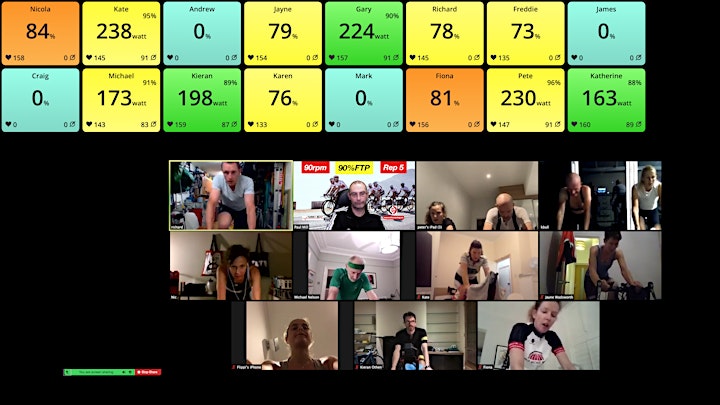 The Pic and Mix gives you complete flexibilty at a fixed price. Can't make every week? Can't do set days? Dont worry you can pick whatever you wish theough the month to suit your diary.
Turbo Beat LIVE streaming gives us the opportunity to run virtual classes globally instead of just at Crystal Palace. This is a fantastic way of you having fully structured sessions administered by Paul Mill of Elitecycling who is one of the most respected coaches in the UK. Sessions are based on working at a percentage of your Maximum Heart Rate and now also FTP (Functional Threshold Power) each session has a different element to help you build an all round fitness level. Of course as well as fitness, another aspect is that you will work alongside others working to their own personal parameters so nobody gets left behind and we want everyone to have fun along the way. The key as opposed to virtual reality platforms and chasing avatars is that we will encourage and motivate you personally to reach your goal.  On enrolling to the monthly pass you will be added to the Turbo Beat WhatsApp group where you will receive further information.To optimise your session and give you the very best user experience you will need the following to start.
Absolute essentials:
1) A bike
2) A mobile phone
3) A turbo trainer (any type will do)
 4) A Bluetooth heart rate monitor
Good to have:
1) Headphones or a speaker to hear the music and instructions
2) Towel, drink, mat
How it works
The basis of this is that you do a turbo session at home that is almost identical to the Turbo Beat sessions that run at Crystal Palace.
The Selfloops system allows you to share your heart rate data and you will need to download the free Selfloops fitness app. Instructions are all on the WhatsApp group that you will be added to when you enrol.
Zoom allows you to hear Paul, good music and to see others in the session. The link for the session and password will be sent directly to you via phone or e mail