Be kind to yourself, come to the feel-good festival to connect, breathe, learn, play, craft, move, sing and have fun together.
About this Event
Join us on Zoom to celebrate World Kindness Day.
You'll experience the 'five ways to well-being' in action through arts and crafts, poetry, writing, workshops and interactive talks, yoga, singing and meditation and take home ideas on how to kinder to yourself and others.
We're bringing together creatives, well-being practitioners and happiness facilitators to give you a chance to have some fun, try something new, learn new skills and meet friends old and new.
Come for the day or as many sessions as you like, just arrive 3-5 minutes before each session. We'll have short breaks between sessions and we'll encourage you to get up and move around.
Here's the programme:
11:00 - Welcome and Connect
11:20 - Settle in with Tonglen Meditation with Tamaryn.
11:35 - Write a Kind Poem with Andreas
12:15 - Breath and Stretch with Seated Yoga with Bali
12:50 - Lunchtime Kindful Play with Natasha
13:15 - An Inclusive Slough is a Happy Slough with Halima
13:55 - Learn about Conscious Inclusion with Rachel
14:50 - Paint with Tea & Coffee with Maggie
15:45 - Share Stories of Covid Kindness with Khalid
16:25 - Make Origami Hearts of Kindness with Saffy
16:50 - Try Kind Creative Writing with Andy
17:40 - Happy Singalong with Slough Soulful Sistas
18:00 - Close
Come for the day or as many sessions as you like, just arrive 3-5 minutes before each session. We'll have short breaks between sessions and we'll encourage you to get up and move around.
Be kind to yourself, you matter, you are loved, you are enough. 
See below for details of each session (scroll further if this is too small to read)
Please note children are welcome to relevant sessions if ccompanied by an adult.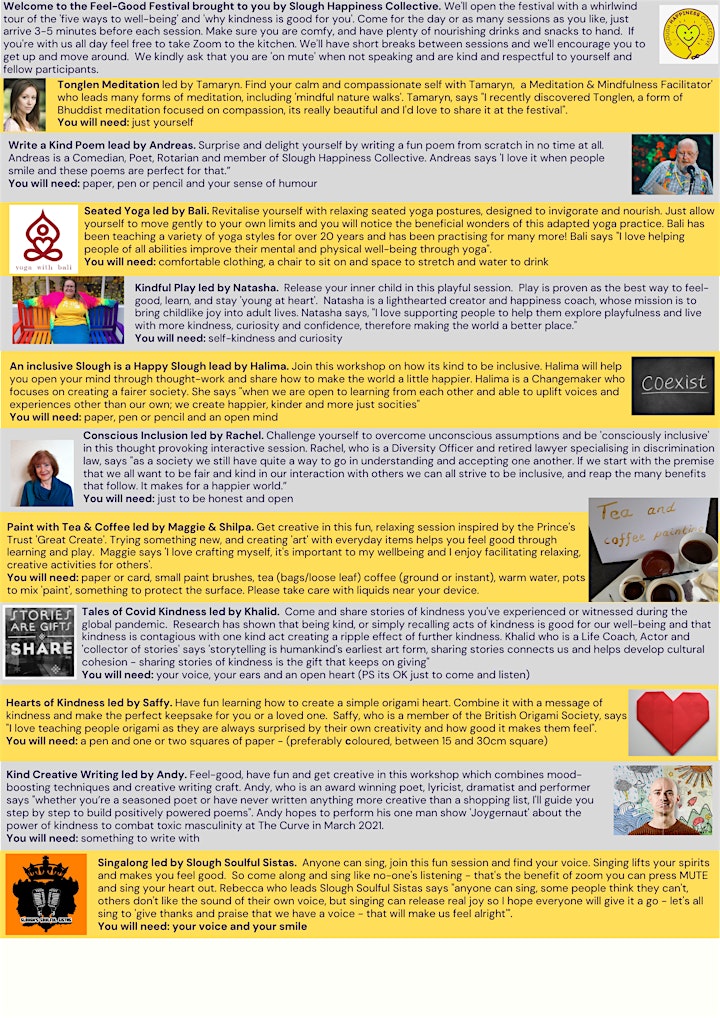 Welcome to the Feel-Good Festival brought to you by Slough Happiness Collective. We'll open the festival with a whirlwind tour of the 'five ways to well-being' and 'why kindness is good for you' and give you a chance to get to know each other.
Tonglen Meditation led by Tamaryn. Find your calm and compassionate self with Tamaryn, a Meditation & Mindfulness Facilitator' who leads many forms of meditation, including 'mindful nature walks'. Tamaryn, says "I recently discovered Tonglen, a form of Bhuddist meditation focused on compassion, its really beautiful and I'd love to share it at the festival". You will need: just yourself
Write a kind poem led by Andreas. Surprise and delight yourself by writing a fun poem from scratch in no time at all. Andreas is a Comedian, Poet, Rotarian and a member of Slough Happines Collective. Andreas says "I love it when people smile and these poems are perfect for that". You will need: paper, pen or pencil and your sense of humour
Seated Yoga led by Bali. Revitalise yourself with relaxing seated yoga postures, designed to invigorate and nourish. Just allow yourself to move gently to your own limits and you will notice the beneficial wonders of this adapted yoga practice. Bali has been teaching a variety of yoga styles for over 20 years and has been practising for many more! Bali says "I love helping people of all abilities improve their mental and physical well-being through yoga". You will need: comfortable clothing, a chair to sit on, space to stretch and water to drink
Kindful Play led by Natasha. Release your inner child in this playful session. Play is proven as the best way to feel-good, learn, and stay 'young at heart'. Natasha is a lighthearted creator and happiness coach, whose mission is to bring childlike joy into adult lives. Natasha says, "I love supporting people to help them explore playfulness and live with more kindness, curiosity and confidence, therefore making the world a better place." You will need: self-kindness and curiosity
An inclusive Slough is a Happy Slough led by Halima. Join this workshop on how its kind to be inclusive. Halima will help you open your mind through thought-work and share how to make the world a little happier. Halima is a Changemaker who focuses on creating a fairer society. She says "when we are open to learning from each other and able to uplift voices and experiences other than our own; we create happier, kinder and more just socities". You will need: paper, pen or pencil and an open mind
Conscious Inclusion led by Rachel. Challenge yourself to overcome unconscious assumptions and be 'consciously inclusive' in this thought provoking interactive session. Rachel, who is a Diversity Officer and retired lawyer specialising in discrimination law, says "as a society we still have quite a way to go in understanding and accepting one another. If we start with the premise that we all want to be fair and kind in our interaction with others we can all strive to be inclusive, and reap the many benefits that follow. It makes for a happier world." You will need: just to be honest and open
Paint with Tea & Coffee led by Maggie & Shilpa. Get creative in this fun, relaxing session inspired by the Prince's Trust 'Great Create'. Trying something new, and creating 'art' with everyday items helps you feel good through learning and play. Maggie says 'I love crafting myself, it's important to my wellbeing and I enjoy facilitating relaxing, creative activities for others'. You will need: paper or card, small paint brushes, tea (bags/loose leaf) coffee (ground or instant), warm water, pots to mix 'paint', something to protect the surface. NB. Please take care with liquids near your device.
Tales of Covid Kindness led by Khalid. Come and share stories of kindness you've experienced or witnessed during the global pandemic. Research has shown that being kind, or simply recalling acts of kindness is good for our well-being and that kindness is contagious with one kind act creating a ripple effect of further kindness. Khalid who is a Life Coach, Actor and 'collector of stories' says 'storytelling is humankind's earliest art form, sharing stories connects us and helps develop cultural cohesion - sharing stories of kindness is the gift that keeps on giving" You will need: your voice, your ears and an open heart (PS its OK just to come and listen).
Hearts of Kindness led by Saffy. Have fun learning how to create a simple origami heart. Combine it with a message of kindness and make the perfect keepsake for you or a loved one. Saffy, who is a member of the British Origami Society, says "I love teaching people origami as they are always surprised by their own creativity and how good it makes them feel". You will need: a pen and one or two squares of paper - (preferably coloured, between 15 and 30cm square)
Kind Creative Writing led by Andy. Feel-good, have fun and get creative in this workshop which combines mood-boosting techniques and creative writing craft. Andy, who is an award winning poet, lyricist, dramatist and performer says "whether you're a seasoned poet or have never written anything more creative than a shopping list, I'll guide you step by step to build positively powered poems". Andy hopes to perform his one man show 'Joygernaut' about the power of kindness to combat toxic masculinity at The Curve in Slough in March 2021. You will need: something to write with
Singalong led by Slough Soulful Sistas. Anyone can sing, join this fun session and find your voice. Singing lifts your spirits and makes you feel good. So come along and sing like no-one's listening - that's the benefit of zoom you can press MUTE and sing your heart out. Rebecca who leads Slough Soulful Sistas says "anyone can sing, some people think they can't, others don't like the sound of their own voice, but singing releases real joy so I hope everyone will give it a go - let's all sing to 'give thanks and praise that we have a voice - that will make us feel alright'". You will need: your voice and your smile.
World Kindness Day is officialy on the 13th November, we're celebrating the day after.
The 14th November happens to be International Diabetes Day so we suggest a donation to Diabetes UK if you are able. Click here to donate
It's also Diwali so why not light a candle to honour the festival of light (maybe a battery powered tealight for safety!) 'wishing you a Diwali that brings happiness prosperity and joy to you and all your family. '