About this Event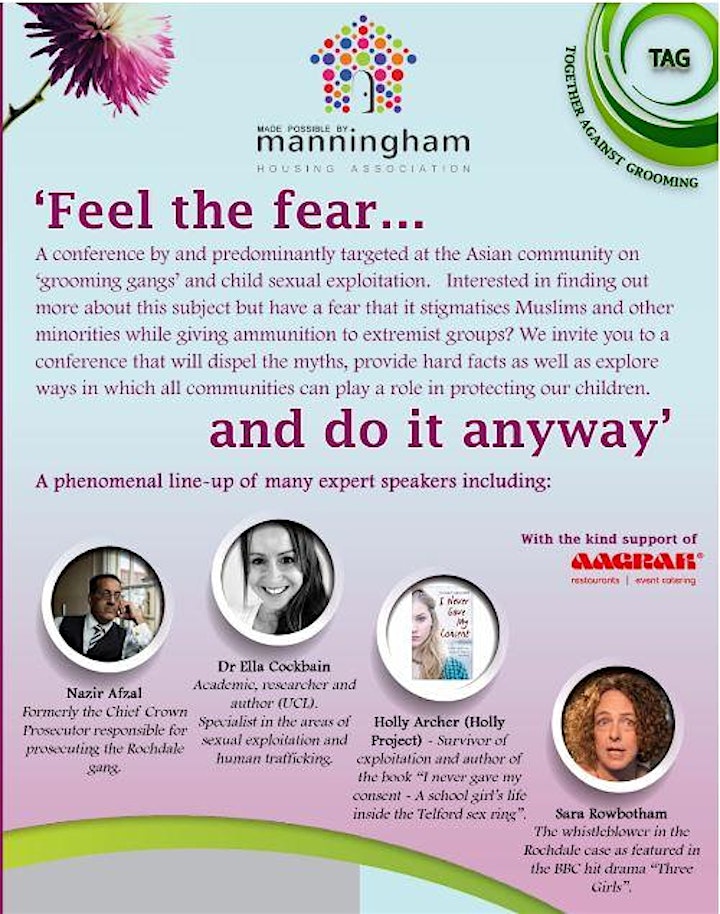 "FEEL THE FEAR AND DO IT ANYWAY"
A TAG conference about grooming gangs and child sexual exploitation
For the UK Asian community in general and those of a Pakistani/Muslim background in particular, a lot of questions arise from cases like the Huddersfield grooming gang. Much attention has been focussed on them as a result of the actions of gangs sharing that heritage who perpetrated sexual abuse and violence on vulnerable girls in a manner which was described by one judge as "wicked and vile". Yet there is a reticence on the part of that community to engage in questions that the media and others are asking such as: are there cultural influences that drive the actions of these men and is there something wrong with their upbringing that enables them to behave in such heinous ways particularly towards young girls?
Many feel that to engage with these questions publicly is to accept that there is something fundamentally wrong with the community as a whole that in turn gives ammunition to the far right extremists and Islamophobic groups that appear to have Muslims in their cross hairs currently. Hence the title of the conference – 'Feel the fear and do it anyway'.
Now that we understand the issue of child sexual abuse and exploitation much better in terms of scale and its insidious nature, we know that law enforcement and safeguarding agencies alone cannot combat the issue without the broader society playing a part. This is true of all forms of CSE and according to the Police 12,000 cases of on-line grooming have already been reported so far this year. So, everyone can and has a role to play. Whether that is a parent of a child vulnerable to an on-line predator or the person on a hotel reception desk that checks in an older adult accompanied by a teenage child.
The aim of this conference is to further the focus of TAG as a Group to ensure that the Asian and Muslim community, that is regarded by many public bodies as "hard to reach", is engaged with this issue so that with the rest of society it can play an important part in combatting this issue in order to protect children. There is a recognition now that a joined-up approach is needed in addressing complex safeguarding issues. We believe that any arrangement cannot be considered totally joined up unless all communities are engaged with this work.
We are inviting influencers, others who have regular contact with the Asian and Muslim community as well individual members who are Interested in finding out more about this subject but have a fear that it stigmatises Muslims and other minorities while giving ammunition to extremist groups. The conference will help to dispel the myths, provide hard facts as well as explore ways in which all communities can play a role in protecting children.
At the conference, experts and academics will share the findings of the latest research in the area of CSE and grooming cases that they have been directly involved in. They will be asked to present the facts as distinct from the perception that is created by sensationalist reporting by some elements of the media and widespread misinformation across social media. What does the research actually tell us about the racial make-up of groomers? What are the reason for them targeting the victims that they target? Has there been any quantification of victims that are not from a white ethnic background? What does the latest research tell us about boys that have been victims? Do grooming gangs exist primarily in Northern towns?
In addition, the conference will hear from survivors and parents of survivors who will share their powerful stories. There will be panel discussions made up of professionals working in the areas of safeguarding, law enforcement, academic research, faith and those working with victims that will pick up and discuss in some detail the many issues that arise. They will provide their unique and expert perspectives. Many of these are leading the way in best practice across the country.
The conference will deliver a unique opportunity to ask and address some challenging questions that face the UK Asian community. Some of these will arise from the learning on the day. Others are those that are already being asked such as the following. Why do some people have the impression that Islamic teaching is ambiguous about CSE and how can this be addressed?
How can sex education be put firmly on the agenda for religious teaching in the UK in establishments such as mosques and madrassahs?
How can the pastoral aspects of the work of mosques be reformed so that it becomes a source of high quality emotional and spiritual support for the community with difficult issues such as abuse?
Does the culture and traditions of the community from the sub-continent reinforce sexist attitudes and how can we start to change this?
PLEASE NOTE: The conference may include presentations, speeches and language that could be experienced as 'hard hitting' and uncomfortable to view/listen to and therefore it may not suitable for those aged under 18.
There is a small charge of £15 per member of the public attending to cover the venue and catering costs.For all those representing a public sector/statutory/private agency the cost is £65.
We do not want the charge to be a barrier to you attending and so if it is please contact the organisers as concessions are available.
GUEST SPEAKERS
Holly Archer – Holly Project
Holly Archer was just fourteen when her life changed forever after becoming embroiled in a frightening web of exploitation and abuse. She told her story in the book "I Never Gave My Consent – A schoolgirl's Life Inside the Telford Sex Ring".
Nazir Afzal
Formerly the Chief Crown Prosecutor responsible for prosecuting the Rochdale gang. He is National Adviser to the Welsh Government, member of Independent Press Standards Organisation, member of advisory board to Google Innovation in counter extremism fund, Chair of one of the largest colleges in England, and a Commissioner in Manchester. He continues to advise law enforcement worldwide.
Dr Ella Cockbain
Academic, researcher and author (UCL) - specialist in areas such as sexual exploitation and human trafficking.
Sara Rowbotham
Whistle-blower as featured in the BBC hit drama "Three Girls". She gathered damning evidence in the Rochdale abuse case in 2012 which helped convict the men involved. Is now a Rochdale Councillor.
Alyas Karmani
An Imam who has a psychology background with close to 20 years' experience of counselling and therapy work focusing on Muslims' mental health and emotional wellbeing, and is currently a consultant for West Yorkshire and London Probation Service, aiding in the resettlement and reintegration of Muslim Offenders.
Ajmal Masroor
An Imam, fundraiser, broadcaster and Relationship Counsellor who in 2014 was recognised in the Muslim 500 as one of the most influential Muslims in the world today. He is the co-founder of the Barefoot Institute for Muslim relationships, providing marriage counselling and relationship training. He has authored numerous articles on marriage and relationships and authored a book called "10 Things You Should Know About Marriage".
Sabah Kaiser
"I am a Punjabi woman, born and living in Britain. My story of sexual abuse and violence has been withheld from the mainstream media for too long and needs to be told. I am determined to tell it. The National Inquiry into Child Sexual Abuse has given me a platform, a platform that says that I am not irrelevant to my own story. And I trust the Inquiry will not only get the answers to my questions but they will compel institutions to change".
Geraldine McKelvie
Senior Reporter Sunday Mirror and Sunday People who was the lead reporter behind the Telford investigation that concluded 1,000 children had been abused over 40 years and that there were many Asian victims not accounted for in official figures.
Angela Sinfield
A campaigner and mother whose daughter was a victim of grooming and child sexual exploitation.
Survivors and affected family members will give emotional accounts that will provide a unique insight and understanding of the issue and into the experiences of those that have been victims.
Speakers of a faith and cultural background and relevant expertise will talk authoritatively about Islamic, culture and lived traditions that pertain to the subject matter.
The Truth Project is part of the Independent Inquiry into Child Sexual Abuse. The Truth Project offers victims and survivors the opportunity to share their experience in writing, on the telephone or in person.
Senior staff and members of the victim and survivor consultative panel will speak at the conference
FAQs
1. What are my transport/parking options getting to the event? The conference will be held at The Aagrah Building, Midpoint, Bradford, West Yorkshire BD3 7AY.
Car - If you are travelling by car, the post code for sat nav is BD3 7AY, there is parking on site. The venue is opposite the ODEAN Cinema complex.
Bus From Bradford Interchange - you can catch any of the following busesX6 – from Stand YX11 – from Stand Z72 – from Stand X
All take approximately fifteen minutes to get to the venue.
Train
There are two train stations in Bradford and both have a taxi rank outside: 1) Bradford Interchange
2) Bradford Forster Square
They are approximately a ten-minute drive away from the conference venue.
Taxi Phone Numbers: City Taxis: 01274 725 998 Tong & Euro Private Hire: 01274 916 195 Pam's Private Hire: 01274 940 290
2. Is my registration/ticket transferrable? If you are no longer able to attend, tickets can be transferred to another person within your organisation. Please email - togetheragainstgrooming19@gmail.com to arrange this. Any requests received less than 10 days prior to the event will be accepted.
3. Do I have to bring my printed ticket to the event? No. However please retain your confirmation email.
4. What is the refund policy? Refund requests will be accepted if cancellation is made more than 10 days prior to the event. Refunds will not be offered for non-attendance on the day, or for cancellations less than 10 days prior to the event. After this, places can be transferred to another professional within your organisation. We also cannot guarantee that any special requirements will be met.
 5. If you have any special dietary needs please email the organisers on togetheragainstgrooming19@gmail.com. 
6. Which ticket do I buy? 
Attending as an individual or representing voluntary/community organisation - £15
ALL individuals attending in a personal capacity or representing a charitable, voluntary, community faith or similar organisation. If you wish to attend as a representative of a statutory agency such as the Council, Police or Health please select the ticket below
Representing Statutory Organisation or Private Sector - £65
Only for those attending as a representative of a statutory agency such as the Council, Police or Health or the Private Sector.
For any other information please contact the conference organiser togetheragainstgrooming19@gmail.com