Exploring All Things Foot, Fascial, and Functional!
About this event
The team at Evolution101 are excited to announce that the Feet, Fascia and Function Summit is back for 2021 on Saturday 20th November at Regent's College, Regent's Park, London.
The day is dedicated to exploring everything and anything to do with the feet and human movement – essential elements of any good treatment or training program.
If you have been keeping your eye on the latest trends in health and fitness, you will have noticed the foot getting more increased attention. This well-deserved spotlight onto the functions and dysfunctions of the foot is coming from many areas of science – evolutionary, sports performance, and investigations into ageing, for example, are all showing the importance of healthy and strong feet.
Confirmed speakers:
James Earls, author of Born to Walk will be launching his new book "Understanding the Human Foot" at the summit. With an emphasis on understanding rather than simply rote learning, James will show how each anatomical system (muscle, bone, & fascia) blend into one to unit and produce the miracle that is a functioning, healthy foot.
Shane Benzie, the 'Indiana Jones of Running', author of The Lost Art of Running and founder of Running Reborn, will present his research into beautiful movement. Shane has travelled the world to watch, run with, work and train with the best runners. From those many experiences he has developed his approach to maximising running efficiency.
Jane Baker has 30 years experience as a chartered physiotherapist, Jane has spent the last 15 years specialising in rehabilitation of the foot and ankle. Jane owns a successful physiotherapy clinic in London, where she regularly works both nationally and internationally with specialist surgeons and podiatrists treating patients with complex foot and ankle conditions. Jane believes that strong functional feet are the foundation to healthy movement and has a special interest in footwear and forefoot conditions and is particularly passionate about sharing her skills and knowledge with other practitioners and is soon to launch an online course for healthcare providers as well as a book to promote healthy feet in children.
Dan Edwardes is the founder and CEO of Parkour Generations, a multi-award winning and multi-national organisation for parkour, and has studied practical movement and physical fitness his entire life, with an elite background in fighting arts before finding parkour. Dan created the globally recognised A.D.A.P.T™ parkour coaching qualifications which have been delivered in over 35 countries, as well as the Parkour Fitness Specialist™ certifications, and the worldwide Parkour For Schools Programme. Dan was also central to the creation and success of the world's first National Governing Body for the discipline, Parkour UK. His education programmes have been accredited by numerous international bodies and focus on the science and art of coaching and movement, and on instilling a culture of excellence in every person. Across a twenty year career in teaching Dan has delivered courses, workshops and events to tens of thousands of people worldwide and has no plans to stop anytime soon.
And we will be welcoming back
Prof. Vybarr Cregan-Reid, author of Primate Change and Footnotes, who opened our first ever summit in 2018 to great acclaim, will be exploring the mismatch between the modern world we have built and the environment we evolved from and giving some ideas about how that affects us each and every day.
If that doesn't entice you, our world-famous goody bags will be back, overflowing with gifts from our amazing partners and every participant will receive a FREE copy of James' new book - 'Understanding the Human Foot'
We can't wait to welcome back old friends and welcome new ones into the EVO101 community.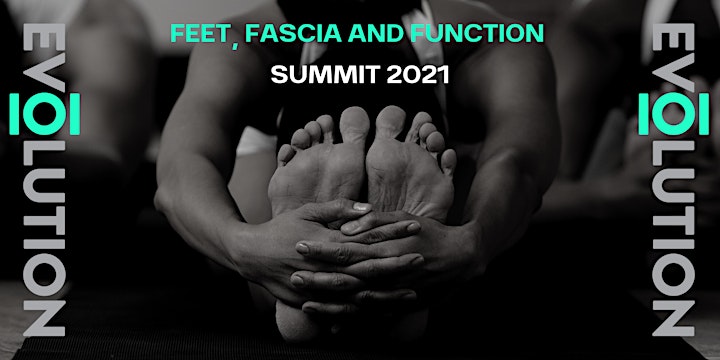 Organiser of Feet, Fascia & Function Summit 2021
Evolution 101 is a collaboration between three friends, colleagues and respected educators, Adam Daniel, James Earls and Stephen Powell.  The Feet, Fascia and Function Summit represents the power of three friends coming together to share and explore the current theories of human evolution and movement with like-minded health and fitness professionals.