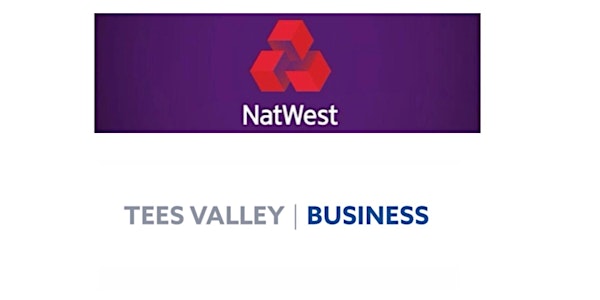 Female entrepreneurs do raise finance. Here's how... – Tees Valley Panel
Hear from our panel of business women who will be sharing their entrepreneurship stories and experiences of raising finance.
About this event
NatWest have partnered with Tees Valley Business to support female entrepreneurship across the Tees Valley. Join us for this panel event to hear from local business women, investors and support organisations on how women do raise finance.
The Rose Review into Female Entrepreneurship, launched by NatWest Group CEO Alison Rose in March 2019, made a series of recommendations to help remove barriers facing women who want to start a business.
The Review found that £250 billion could be added to the economy if women started and scaled new businesses at the same rate in the UK as men.
Just 13% of senior people on UK investment teams are women, and almost half (48%) of investment teams have no women at all. The review also found that female entrepreneurs frequently mention they feel they are judged to be less competent than their male peers, which can be a barrier to securing finance.
Our panel of business women will share their experiences of raising finance to support their business ambitions.
Laura Hepburn - Greenology Director at GREENOLOGY Winner of Top 50 Engineers in Sustainability 2020, Renewables Energy Association Young Entrepreneur 2021, Northern Power Women Future List 2020, Teesvalley Breaking the Mould winner 2021
Margret Bradshaw - Redbutton Marketing Creator and Director at all things button! Talk to me about training in marketing strategy or book a demo of our revolutionary software solution that transforms your marketing planning
Jordan Dargue - Fund her North Founding Director, NED, Angel Investor, Access to Finance, Venture Capital, Talent & Business Growth Consultant supporting start up, early stage and scaling organisations to reach their potential
NatWest Enterprise
Removing barriers to enterprise
We're passionate supporters of UK enterprise and offer a wide range of service to people who want to start, run and grow a business. Enterprise is the lifeblood of a thriving economy, so we're committed to removing barriers and providing more opportunities to help companies grow. But we also know that for many, it remains harder than it should be.
More information about NatWest Enterprise support
Business builder - Business online support
Tees Valley Business
Tees Valley Business is the local growth hub for the Tees Valley, established by the Tees Valley Combined Authority and Tees Valley Mayor. Whatever stage of your growth journey, you can access tailored one-to-one support, specialist programmes, events, and much more to help achieve your business goals.
Support is impartial and fully-funded. Get in touch if you're a SME based in the Tees Valley (Darlington, Hartlepool, Middlesbrough, Redcar & Cleveland and Stockton-on- Tees).
https://www.teesvalleybusiness.com/
Twitter: @TeesValley_Biz Facebook: @TeesValleyBusiness LinkedIn: @TeesValleyBusiness
Fund Her North
The regional volunteer collective is the first of its kind in the UK and aims to encourage more women in the North to apply for investments and funding to support entrepreneurship and grow female-led businesses, particularly in a post-Covid world.
Bringing together more than 30 women from the investment industry, Fund Her North was established in October 2020 and has a combined investment power of £450m.
More details on Fund her North
This panel is free to attend and open to women in the Tees Valley (Darlington, Hartlepool, Middlesbrough, Redcar & Cleveland and Stockton-on-Tees), whatever stage of their business journey.