Sales Have Ended
Ticket sales have ended
We're delighted that you have registered to attend the Startup Grind Cardiff event and we look forward to welcoming you. Please be respectful and polite to all attendees, and remember to listen to what people may briefly wish to say about their ideas, projects and how we may be able to help. Twitter Conversation Hashtag is #StartupGrindCardiff @StartupGrindUK Facebook.com/StartupGrindCardiff
Sales Have Ended
Ticket sales have ended
We're delighted that you have registered to attend the Startup Grind Cardiff event and we look forward to welcoming you. Please be respectful and polite to all attendees, and remember to listen to what people may briefly wish to say about their ideas, projects and how we may be able to help. Twitter Conversation Hashtag is #StartupGrindCardiff @StartupGrindUK Facebook.com/StartupGrindCardiff
Description
FEMALE LEADERS MONTH
Presenting Kiki Farr and Leanne Eustace
Our attendees always enjoy attending an evening of Education, Inspiration and Networking.
One purpose of our May events is to tell the stories of the journey, the grind, and the setbacks of great female leaders. From Lagos, Nigeria to Detroit, Michigan. From Mexico City to Hong Kong. Over 100 Startup Grind chapters in more than 25 countries will host events as part of our #SGWomen Female Leaders Campaign.
They are the women who exemplify profound leadership skills, hard-work, humility, and success and demonstrate their strength with devotion to the work they do everyday. They encourage and inspire us all.
It is important that we recognize, listen to and encourage these women as we work toward building a more inclusive ecosystem. Anyone and everyone who believes in our mission to work toward change  —  men and women alike  —  should come out to an event in May.
Startup Grind's mission is to educate, inspire, and connect  — ultimately helping every entrepreneur in the world. We want to do the type of work we are proud of. We want to produce work that helps others, even if it's only in a small way.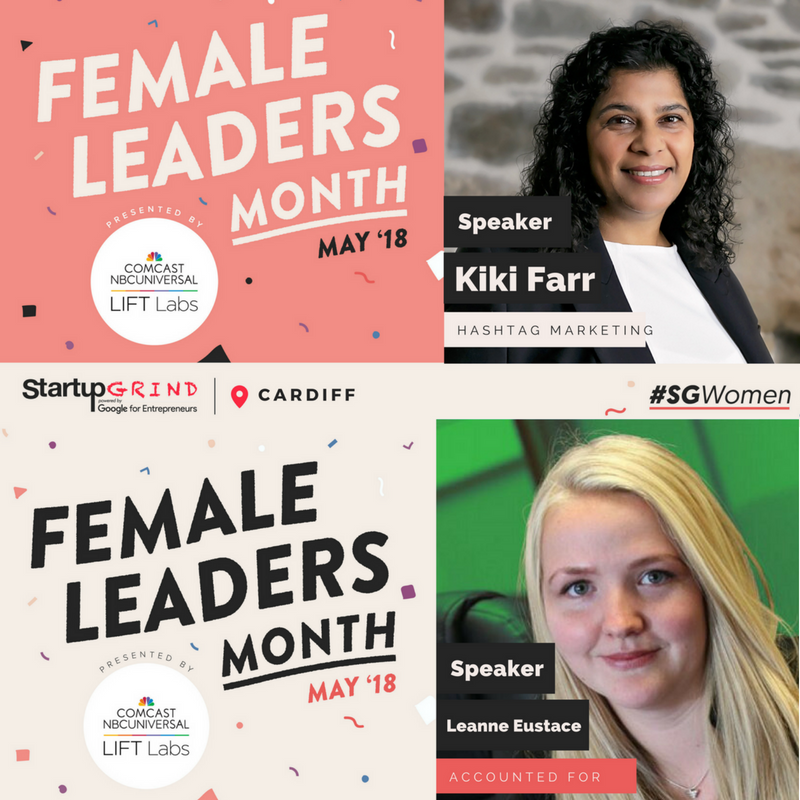 Startup Grind Cardiff City and South Wales. Quality events for Entrepreneurs by Entrepreneurs. We are present in over 110 Countries in over 350 Cities, with over 1 Million Entrepreneurs as members, the largest in the world. We are sponsored by Google for Entrepreneurs. We host monthly meetups to Educate, Inspire and Connect Entrepreneurs. Help others first is one of our core values. Our events always have a nominal fee as our delegates receive such great value, introductions, exposure and many opportunities.
As always our event local partners are Venture Capital World Summit Ltd and YODspica Ltd.
Agenda 22 May 6.00pm – 9.00pm:
6.00 pm Making Friends and Helping Others

6:45 pm First Speaker

7:30 pm Second Speaker