Sales Have Ended
Ticket sales have ended
We are looking forward seeing you on the day! World Class Female Speakers is a collaborative group to inspire and support women to take to the BIG stage. [Join the conversation here: www.facebook.com/groups/WorldClassFemaleSpeakers]. Speaker Express London is for people who love or want to fall in love with public speaking, using it to gain more visibility and grow their businesses. [Join the conversation here: www.facebook.com/groups/speakerexpress]. Loads of Love, Annik & Lovelda x
Sales Have Ended
Ticket sales have ended
We are looking forward seeing you on the day! World Class Female Speakers is a collaborative group to inspire and support women to take to the BIG stage. [Join the conversation here: www.facebook.com/groups/WorldClassFemaleSpeakers]. Speaker Express London is for people who love or want to fall in love with public speaking, using it to gain more visibility and grow their businesses. [Join the conversation here: www.facebook.com/groups/speakerexpress]. Loads of Love, Annik & Lovelda x
Description
Tickets sales ends on 28th May at MIDNIGHT.
(This is due to NatWest security regulations where the event guest list has to be submitted first thing in the morning. Unfortunately, NO TICKETS CAN BE PURCHASED after 28th May 2018.)
Can't make the date? The next Female Speakers Conference is on the 11th October 2019.
This event runs in collaboration with NatWest & World Class Female Speaker.
We have started the Female Speakers Conference to create a platform that empowers female speakers stepping on more stage and getting paid for it. Our discovery that event organisers struggle to find female speakers startled us as there are so many brilliant female speakers in London & worldwide. This event is our contribution to bringing about a paradigm shift. We will explore the issue and educate and empower women to understand and take ownership of the business of speaking.
It will help you to build a speaking business and include elements of:
Building Social Capital, Branding, Feminine Power in Business, Selling and Getting your Prices right and Creating a Signature Talk and Getting Gigs.


Speaker 1 - Penny Power - OBE - www.pennypower.co.uk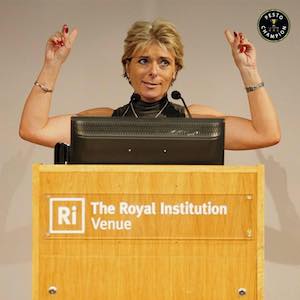 In Penny's talk she will share in a real and raw manner about the mindset we need to manage self employment and build a business we can sustain and grow. Penny speaks from the heart about community, skills and mental health and her own journey of overcoming blocks.
Starting a business has never been easier, we are all inspired by the ease of building our online persona and finding clients, But what about the skills we have to grow, the moments of despair, the loneliness and the barriers to productively working while trying to serve our customers. This is not a 'hypey' motivational talk. Penny's intention is to make you see that in a 'compare and despair' world of the online, knowing who you are and seeing your life as your own and not one to compare with others will stop those moments when you feel small and consider 'giving up'.
Penny has been a business owner for over 20 years, also a mum and a known thought leader in the social digital world. If Penny has found it tough, maybe it would help you to know that you are not alone and that you can overcome your scary moments and thrive though kindness to yourself and to others.
Speakr 2 - Harriet Waley-Cohen - Feminine Power in Business & Overcoming Perfectionism - www.harrietwaleycohen.com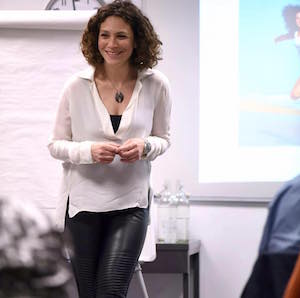 One of the things that can hold speakers back is toxic perfectionism: the idea that we need to be perfect, to have the perfect content, delivery and appearance, before we can push ourselves forward and build our careers. Women in particular are hesitant to put themselves forward for new business challenges until they feel well and truly 'ready.' This idea can significantly hold back women's speaking careers and prevent them from getting their message out there.
Harriet will be sharing a different philosophy, explaining where speakers can get their confidence and feeling of readiness to speak from if it's not to come from feeling perfect or ready. She will also share exactly how she went from being so terrified of public speaking in 2014 that she almost threw up and ran out of her first training day, to now speaking regularly across Europe for some of the largest blue chip companies including Microsoft and Invesco.
Harriet is a sought after coach and speaker in the corporate and personal development worlds, showing people how to be in total partnership with themselves in every area of life. Harriet's mission is to make sure that every single woman knows how to feel deeply, truly fabulous about herself. She is also mother to two boys and a cockapoo who has exactly the same hair as her.
Speaker 3 - Lenka Lutonska - Authentic Selling - www.lenkalutonska.com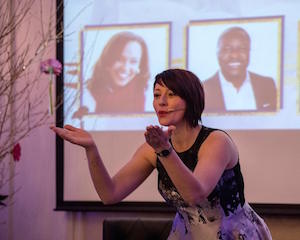 Lenka Lutonska is a 'Get Fully Booked' Coach. She trains world-class female coaches and helps them to get fully booked with their soul, high-end clients. She's also a professional speaker, international trainer of NLP (Neuro Linguistic Programming) and a passionate believer in every woman's right to have the life and business they truly love.
Described by many as a deeply knowledgeable and inspirational trainer and coach, Lenka spurs women to action by helping them to adopt new strategies, mindsets and communication techniques that produce extraordinary results. As a mother of three active boys and a committed family woman, Lenka relishes the challenges her varied working life offers.
Speaker 4 - Annik Petrou - Creating your Signature Talk & Getting Gigs - www.speakerexpress.co.uk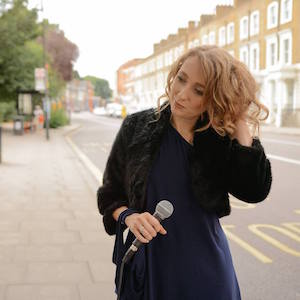 Annik started Speaker Express in 2011 after feeling stuck with no confidence and fear of speaking up about her ideas because they might sound silly to others. She has seen and heard thousands of different speeches & pitches and delivered training in the UK, Europe, Australia & Africa. Her clients include technology start-ups within Silicon Roundabout, coaches, consultants, CEOs, Managing Directors, high-end corporates and a recently funded business voted 'Best Dragons' Den Pitch Ever'.
As part of their 3 or 6-month Speaking Accelerator, Speaker Express continues to assist thousands of entrepreneurs to successfully pitch for investment and funding, gain the confidence to push their business from home office to the stage, give talks on TEDx stages, generate more leads or land big corporate contracts/gigs.
Annik will share with you how to get MORE gigs and the perfect structure for a Signature Talk that sells. Besides training & speaking Annik loves exploring the English countryside, her cockapoo Roxy and red velvet cupcakes.
Speaker 5 - Kubi Springer - Branding - www.shebuildsbrands.com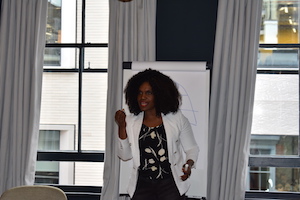 Since 1996 brand specialist Kubi Springer has been working with companies and high profile individuals to create, build and grow their brands for commercial success. Kubi is known for her work on high-profile campaigns, including the MOBO Awards, the BRIT Awards and New York Fashion Week.
With an impressive portfolio of global powerhouses, Kubi Springer's name has become synonymous with three words - She Builds Brands.
Renowned for her in-depth knowledge and understanding of industry trends, Kubi has created a reputation of being able to launch and grow brands to international markets, with a focus on the brands' commercial development and sustainability. Celebrating twenty-two years in consumer brand marketing, today Kubi Springer splits her time between delivering projects as an International Brand Specialist and traveling the world as a Brand Trainer & Speaker.
MC - Lovelda Vincenzi - www.lovelda.com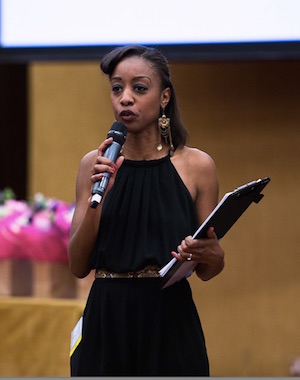 International event MC and Moderator, Lovelda has been speaking and performing on stages since the age of 13. Lovelda has experience MCing and moderating business conferences, fashion shows and award galas. She is a dynamic & versatile MC who is able to do both serious and high-energy events with ease and grace.
As a radio host of her own radio show Lovelda has interviewed over 200 entrepreneurs including Rachael Elnaugh (former Dragon on Dragon's Den), James Eder (Co-founder of Student Beans) and Marjean Holden (Hollywood Actress).
Having travelled since age 3 and lived in Papua New Guinea and the UK, Lovelda is passionate about travel, diversity and business. This unique background allows Lovelda to easily adapt to different situations and ask questions, which challenge the status quo.
She has been featured in Psychologies magazine and appeared as a regular commentator on live global news for Arise TV.
Interested in SPONSORING the event? Please email: lovelda@lovelda.com
We are looking forward hearing from you.
Lovelda & Annik x

For more details contact us at hello@speakerexpress.co.uk
World Class Female Speakers is a collaborative group to inspire and support women to take to the BIG stage. [Join the conversation here.]
Speaker Express London is for people who love or want to fall in love with public speaking, using it to gain more visibility and grow their businesses. [Join the conversation here.]
In collaboration with NatWest. NatWest Bank is part of the RBS group which has a wide array of market leading customer and financial brands. They provide a full portfolio of products and services that were developed with a focus on businesses, helping them achieve their ambitions and save time and money. NatWest is committed to supporting entrepreneurial communities across the uk.
---
Please note: Tickets are non-refundable but can be transferred to another person/date/event during 2018.