Event Information
Refund policy
Contact the organizer to request a refund.
Eventbrite's fee is nonrefundable.
Over the course of a lunar cycle, we use art-alchemy technology and the synergy of the group to support alchemy, creativity and emergence.
About this event
Whether you are able to join us for the live Zoom session or connect to the group field with the recording, I hope you will join us for this deeply creative and transformative experience.
The session is open to everyone. Even though it is ticketed if you are currently unable to afford the full amount you can pay whatever you can as a donation. (click on the tickets button and you'll see the donation option.)
Over the 90 minute session, we will explore 3 of the Fembot Oracle images and texts, specifically chosen for our journey. We will use this art-alchemy technology like an energetic stethoscope, to help us better hear the voice of our own heart's deep intelligence.
What do you want to bring into the world or breathe new life into over the coming moon cycle?
What does your heart want to explore, transform or create over the coming weeks?
How supported are you in deepening your creativity and living more from your heart?
On this coming new moon, we will journey together to support you to answer these questions and take one of your heart's deepest desires from its birth to its first cycle of completion.
It could be a new artistic project, or perhaps something you've lived with for years that you want to breathe fresh life into.


It could be the impulse to bring deeper exploration to the way you move, the way you connect to your sexual energy or the way you cook.


It could be the creative call of deep personal alchemical transformation — to become even more present with what is now ready to transmute.
It could be to support the emergence of innovative and functional deep-intelligence, in the face of a challenge or opportunity.
Or maybe, right now you have no idea what you desire.
Whether it is a quiet whisper or a mighty roar, I've supported clients over the last 18 years to listen to their hearts and from that space take action.
In my own experience as an artist alchemist, I have known, many times, what it is like to meet resistance and give up on my heart's desire. But creating and using art alchemy technologies, like The Fembot Oracle, and being held by a variety of group containers, has made such a difference. They have supported me to not only overcome that resistance and complete projects but also to deepen my creativity.
You don't have to do this alone.
Using deep divination, art alchemy technologies, and the collective support of our group connection I want to make completion and deeper creativity much more of a possibility for us all.
For this New Moon session, we will work with and explore 3 Fembot Oracle images and texts as well as another Art Alchemy piece. They will support us to each deep listen to what our heart is asking for and then over the course of the following 29.5 days take focused creative action.
Each session is 1 hour 30 minutes on Zoom with additional time for sharing, questions, and lingering at the end. Whether you are able to make it to the live Zoom or not, all sessions are recorded for you to rewatch at your leisure to support you throughout the 2 week period. You will also be sent the Art Alchemy pieces to specifically work with.
By signing up for a session you will be able to join a private Facebook group where we can share and connect as a tribe of journeyers.
Each session costs £15.55.
The more there are of us supporting each other in these journeys, the more we all benefit so I want to make this available to everyone.

That is why I have made a donation option alongside the regular ticket.

If currently, you aren't able to afford the full price please join us by paying any amount that you can afford. 

Also if you wanted to pay a little extra to offset the cost for others you can do that with the donation option too.
The coming moon cycle lasts 29.5 days and it is yours to create, play, explore and transform in.


It is yours to deepen your creativity in.


It is yours to explore living more from heart in.
The Fembot Oracle is a collection of 78 art alchemy images and texts that can support you to connect to the deep intelligence of your own heart. To download your free copy visit any of the links below.
For more information visit:
neoheartalchemy.com
Instagram: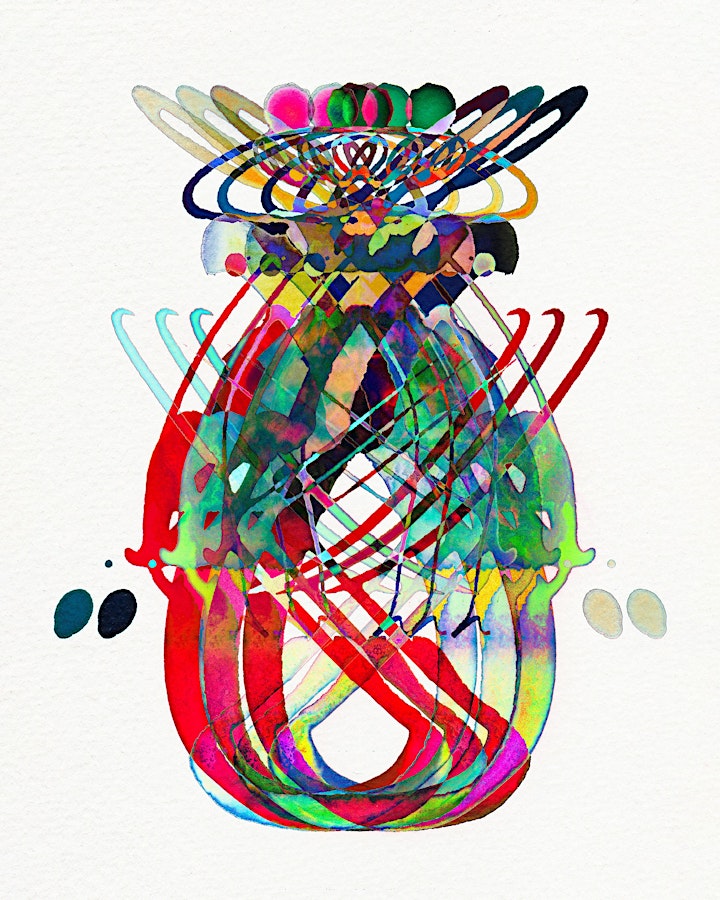 Date and time
Location
Refund policy
Contact the organizer to request a refund.
Eventbrite's fee is nonrefundable.