Sales Have Ended
Registrations are closed
Sales have ended for this event, but be sure to check out our other upcoming sessions
Sales Have Ended
Registrations are closed
Sales have ended for this event, but be sure to check out our other upcoming sessions
International Conference for the acclaimed FEMENIN project, promoting financial and economic literacy for women entrepreneurs
About this event
Dear Colleague, Friend, Sister
Aspire Education Group has co-developed the FEMENIN project with 6 other European partners to promote financial and economic literacy and inclusion of women entrepreneurs from migrant communities.
Our International Conference will be held as both an in person and virtual event at the iconic Friends House building 173-177 Euston Road London NW1 2BJ which starts at 10.30am for both our in person and virtual attendees
For those of you joining us in person, please arrive at 10.00am for registration and a welcoming cup of tea or coffee
Who is it for:
For women's, training and financial organisations seeking greater inclusion of women in enterprise from migrant and African and Caribbean heritage communities
For adult educators supporting women entrepreneurs from BME and migrant communities
For women entrepreneurs who want to improve their financial and economic knowledge and skills using digital tools
To find out more please click on our website link : Femenin
AGENDA (For in person and Virtual attendance)
Time: 10.00-10.30.am .: Registration and Tea/Coffee (in person)
10.30-12.00 pm : Femenin Training ,E-learning Resources & Guide
12.00-12.30 Guest Speaker panel 1
12.30-13.30 pm : Lunch (for in person attendees)
13.30-14.15 pm : Femenin App & Customised Learning
14.15-14.45 : Guest Speaker panel 2
14.45-15.00 : Q&A & Close
Conference Hosts: Patricia Lamour MBE , Adrian Sladdin `& Viv Ahmun :
Our special thanks goes to our Live and Virtual Speakers:
Dionne Nelson, Women's Resource Centre
Ethel Tambudzai, Tambu Group
Rachel Samuels, Start ups in London Libraries & British Library Business & IP Centre
Jenni Steele, Domestic Violence Ambassador and Presenter
Taiwo Okeyan, Nat West Bank, co-chair Black Professional Network and Gender Network London Committee
FEMENIN Partners
Jane McGovern, Innoquality Systems Ireland
Joanna Bac, Danmar Computers, Poland
Ahu Simseck, Kübra Alaca, Governorship of Istanbul, Turkey
Laura Trevisan, La Bien Paga, Spain
Jesus Boyano, Federico Campos, Mario Fernandez INFODEF, Spain
Ana Tanase, CPIP, Romania
FEMENIN PROJECT SUMMARY : 2018-1-UK01-KA204-048234
Aspire Education Group, co founder of GEEDA (Gender Education and Enterprise Development for Africa) have led a 3 year strategic project funded by the Erasmus+ programme of the EU entitled Financial and Economic literacy for Migrant women's ENtrepreneurship INclusion with adult education and research partners in Spain (INFODEF & La Bien Paga) , Ireland (Innoquality Systems) , Poland (DANMAR Computers) , Romania (CPIP) and the Governorship of Istanbul (GOI).
Migrant women continue to face challenges in the European labour market and are underrepresented in entrepreneurship activities. They face specific challenges when setting up and running a business, including access to; information and training; networks for business purposes; financial skills and start up finance. Financial literacy improves migrant women's management of their personal and household finances and empowers them to choose and access appropriate financial services and products, as well as to develop and manage entrepreneurial activities. Financial & Economic literacy involves understanding the basic financial and economic concepts to enhance decision making about earning, saving, spending, or investing money.
This project addresses the topics of financial literacy, migrants' issues and entrepreneurial education.
The aim of FEMENIN is to support adult education teachers and trainers to provide high quality learning opportunities in Financial and Economic literacy to migrant women, tailored to their needs and specifically designed to support their social and labour Inclusion through Entrepreneurship. The project will develop innovative OER and ICT-based methods and tools to improve the adult educators' competences in teaching Financial and Economic literacy, numeracy and digital competences to migrant women.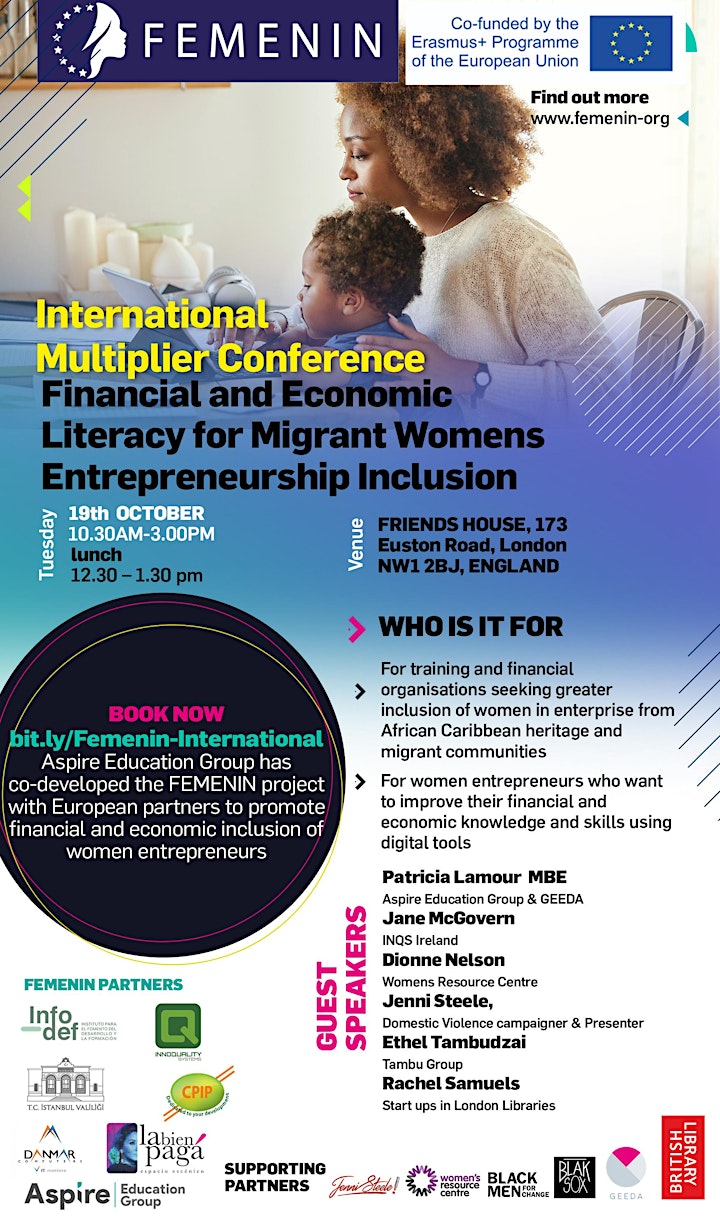 Organiser of FEMENIN International Conference
Aspire Education Group is  a hub of international education, enterprise and leadership consultants  who think globally and act locally.   We work with partners in Africa, Europe and the Caribbean to close the inequality gaps by putting education first. We have established a national consortium of organisations in the UK and our social purpose partner is  Father2Father CIC for our joint work in schools and across local authorities. For more information contact info@aspireeducationgroup.com