Joins us for a night of powerful poets, singers, comedy & performances to celebrate International Women's Day!
About this event
Celebrating with womxn and girls in the spotlight, and at the mic, including >>>
Kirby, singer, from Derbyshire and reached the knockout round on The Voice UK!
powerful poetry and spoken word from Aoife O-Connor who will also lead a She Speaks UK special featuring local artists with something to say
stand-up comedian Ishi Khan who has brought laughs to many audiences from Edinburgh Fringe to BBC Politics Show on themes of identity, belonging, equality, freedom & unity
the mighty vocals of award-winning Donna Briscoe-Greene singing songs in honour of iconic black women in music
variety acts and performances from local young people and emerging artists hosted by Rebecca Muir of Bex Star Entertainment Productions
+dance, music, rap, singers, games, disco, joyful inclusive feminism and good vibes!
Feel free to dress up or come comfy, bring food, drinks, treat yourself in radical self-love and be ready to enjoy a much-needed uplifting shared experience.
Programmed by IWD Derby in partnership with She Speaks UK, The Maypole, EMBAA (East Midlands Black Arts Associated) & BexStar Entertainment Productions
Who for: Amplifying womxn and girls, with an online audience of supporters of all genders welcome. The first half is family friendly, with an interval and music (disco dancing round your home optional!) at 8.30pm and more mature themes in the second half, which teenagers may enjoy but you know your kids best; performances after 9pm may address challenging themes including oppression, discrimination and gender-based violence with a change-making, liberating tone. Primarily for women / womxn and girls, and supporters of all genders, in Derby/shire but this is virtual so you can join us from wherever you are! For groups / households / support bubbles who can watch together you can book one ticket to join the virtual event together.
How it works: Once you make your booking you will be able to log in to eventbrite to access the Online Event Details with the info and weblinks to join this online event on the day; you will also get an email reminder with a link to the event info.
Access: When booking there is a question about access - please inform us in advance of any access requirements to enable you to take part, ideally by 15th February so we can get everything ready for you, but if after this date we will try our best to make arrangements. Auto 'Live transcript' can be displayed on request.
Financial hardship? Need free tickets? If you can't spare money to donate at the moment we want to help - free tickets are available via the Register button - we are also issuing free tickets via various local women's charities as always to reduce barriers to participation. If you are in a position to make a donation this will help us cover the costs of this volunteer-organised non-profit festival, and if you enjoy relative privilege and a good income we hope you'll be generous, thank you! Love and solidarity x
This event is part of the wider International Women's Day Derby Festival with events from 5th-8th March 2021, all organised by volunteers, in community spirit, aiming to create an inclusive, supportive and positive atmosphere - anyone who behaves contrary to these values will be removed without a refund and may be reported for appropriate further action. We have made plans to run a smooth event but technology can make things interesting so we ask for, and appreciate, your understanding should any tech gremlins misbehave.
[images below: event image depicting a raised fist holding a microphone aloft and diverse women celebrating, hugging, protesting, raising fists, IWD Derby logo (Suffragette style rosette) and partner logos 'she speaks - art is our liberation', Bex Star Entertainment Productions (image of microphone and star), The Maypole (with geometric style image of triangular roof over The Maypole Theatre), EMBAA (image of gold flame); comedian Ishi Khan]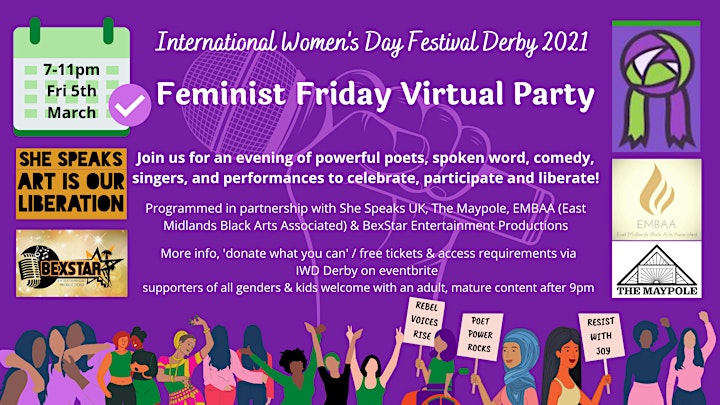 Date and time
Location
Refund policy
Organiser of Feminist Friday Virtual Party
International Women's Day (IWD) Derby is a voluntary group running inspiring events by and for the community to advance the equality and quality of women's lives.
The IWD Festival is the flagship annual event, with other fundraisers, community workshops and collaborations during the year to create a brighter, safer, fairier future for women and girls