About this Event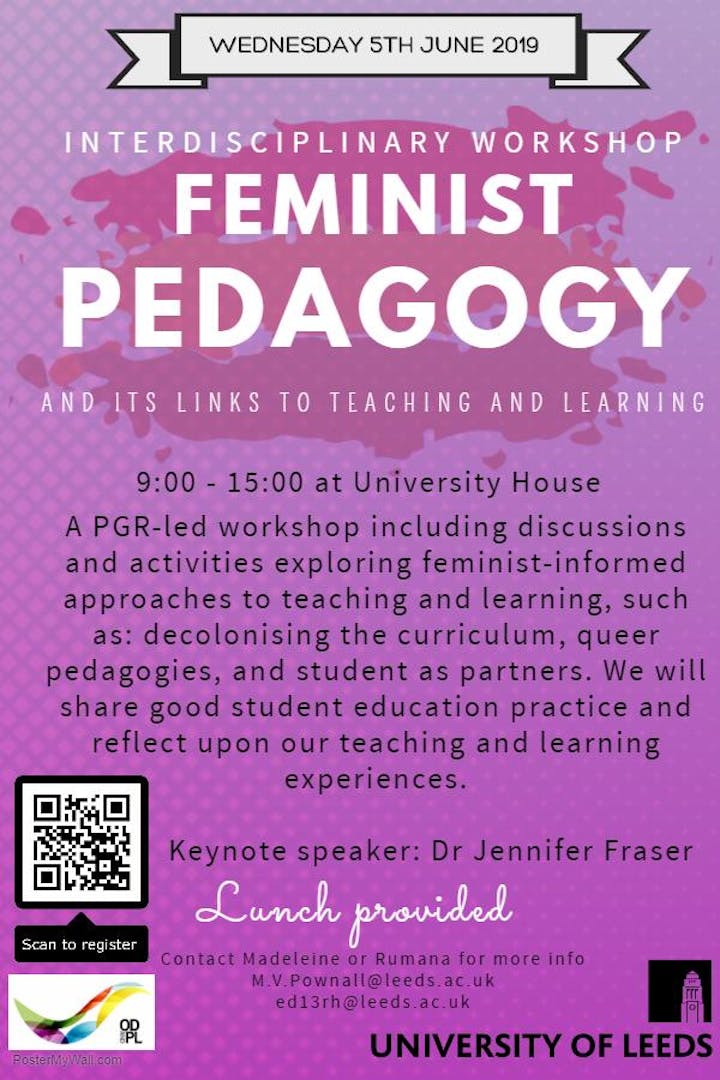 Feminism is the pursuit of equality, which involves deconstruction and redistribution of power within previously rigid hierarchies. It aims to disrupt and challenge – offering more inclusive and intersectional ways of thinking. Indeed, Higher Education scholars have noted that feminism and some pedagogic approaches to teaching and learning have strikingly similar aims. They both attempt to reallocate power dynamics, positioning teacher and learner as partners or co-creators. Student-as-partner initiatives can foster a wider sense of academic community, nurturing professional and personal development. The interdisciplinary workshop, hosted by PGRs from the Schools of Psychology and Education, will explore feminist pedagogy with a focus on practical methods for the classroom. The workshop is aimed at all PGRs, undergraduate and taught postgraduate students, postgraduates who teach, academics, and student support staff. The workshop hopes to inspire and motivate attendees, developing transferable skills including pedagogically-informed teaching practices, confidence, communication and networking.
Dr Jennifer Fraser (University of Westminster) will be giving a keynote presentation, in which she will prompt attendees to question how queer pedagogies and partnership may be rooted in feminist principles. The afternoon will be spent engaging with a multidisciplinary PGR panel discussion, interactive teaching and learning activities, and sharing good practice. The key aims are:
· To critically think about how the principles of feminist pedagogy can be promoted and enacted both in one's own teaching and learning.
· To share perspectives and lived experiences of the challenges associated with teaching and learning, exploring how feminist pedagogy may provide tools to overcome some of these.
· To share good practice, reflecting upon 'what works' and why in HE, using feminist pedagogy as a critical framework for these discussions
· To network with other PGRs and staff, learning from one another and create ground for further collaborative research
· To develop strategies to apply feminist pedagogic ideas into teaching and learning, through critically considered lesson plans and learning objectives
Lunch is kindly provided by the Leeds Institute for Teaching Excellence.
This workshop has been funded by Organisational Development and Professional Learning at the University of Leeds.
Contact Madeleine or Rumana for further information or help booking: M.V.Pownall@leeds.ac.uk or ed13rh@leeds.ac.uk
Feminist Pedagogy Workshop Programme Overview
9:00: Coffee and registration
9:30: Welcome and housekeeping - Madeleine Pownall, Rumana Hossain
9:45: What does 'feminist pedagogy' look like? Interactive activity - Dr Jennifer Fraser
10:45: Coffee break and networking
11:00: Keynote address - Dr Jennifer Fraser
11:40: Question and Answer with Dr Jennifer Fraser
12:00 Buffet lunch - Kindly sponsored by Leeds Institute for Teaching Excellence
12:45: Introduction to the panel discussion - Dr Lucy Mercer-Mapstone
13:00: Panel discussion: including Monisha Issano (Why is My Curriculum White), Sarah Gillborn (PhD student @ Leeds Beckett University), Dr Kerri Woods (Equality and Inclusion Lead in Social Sciences), Dr Glen Jankowski (Leeds Beckett University) & others TBC
14:30: Plenary activity and take home messages
15:00 : Close