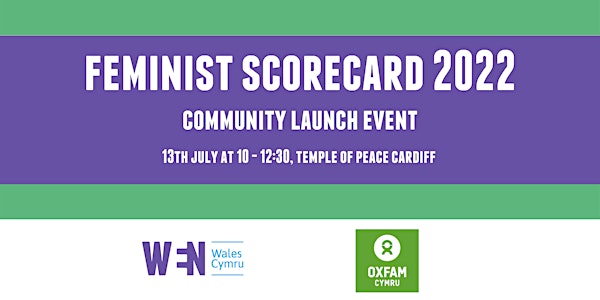 Feminist Scorecard 2022 Community Launch Event
Location
Temple of Peace
King Edward VII Avenue
Cardiff
CF10 3AP
United Kingdom
This event is a chance to share the results of the 2022 Feminist Scorecard with community members, third sector partners, and MSs
About this event
Women's Equality Network (WEN) Wales and Oxfam Cymru have once again come together to produce the Feminist Scorecard. It shows what could be done to move Wales forward on the path to equality, holding the Welsh Government to account on its ambitions to be a feminist government and nation.
Many of the recommendations in our Feminist Scorecard are now more urgent than ever. We all need to work together to ensure that they do come to action.
The pandemic has shown us that the progress made on gender equality was fragile and not strongly embedded.
This round table event is an opportunity to share your views on Wales' achievements and let us know what you think could be done to achieve the recommendations made in the report.
The Feminist Scorecard covers six areas;
- Fair Finance
- Caring Responsibilities
- Equal Representation & Leadership
- Ending Violence Against Women & Girls
- Tackling Gender Health Inequalities
- Global Women's Rights
Participants and partners will be invited to join round table discussions on specific elements of the Feminist Scorecard, facilitated by partners who work directly on each of these areas.
We invite community members, third sector partners, and MSs to join us for a chance to connect outside of their screen (although we will be hosting a further event online too).
Agenda:
• 10am - Registration, refreshments, and networking
• 10.20am - Introduction by Catherine Fookes – WEN Wales, and Sarah Rees – Oxfam Cymru
• 10.30am - Round table 1
• 11am - Feedback
• 11.15am - Round table 2
• 11.45am - Feedback and formal close
• 12pm – Networking opportunity until 12.30pm
Mae Rhwydwaith Cydraddoldeb Menywod (RhCM) Cymru ac Oxfam Cymru wedi dod at ei gilydd unwaith eto i gynhyrchu'r Cerdyn Sgorio Ffeministaidd. Mae'n dangos yr hyn y gellid ei wneud i symud Cymru ymlaen ar y llwybr at gydraddoldeb, gan ddwyn Llywodraeth Cymru i gyfrif ar ei huchelgeisiau i fod yn llywodraeth a chenedl ffeministaidd.
Mae llawer o'r argymhellion yn ein Cerdyn Sgorio Ffeministaidd bellach yn fwy brys nag erioed. Mae angen inni i gyd weithio gyda'n gilydd i sicrhau eu bod yn gweithredu.
Mae'r pandemig wedi dangos i ni fod y cynnydd a wnaed ar gydraddoldeb rhywedd yn fregus ac nad yw wedi'i wreiddio'n gryf.
Mae'r digwyddiad bord gron hwn yn gyfle i rannu eich barn ar lwyddiannau Cymru a rhoi gwybod i ni beth rydych chi'n meddwl y gellid ei wneud i gyflawni'r argymhellion a wnaed yn yr adroddiad.
Mae'r Cerdyn Sgorio Ffeministaidd yn cwmpasu chwe maes;
- Cyllid Teg
- Cyfrifoldebau Gofalu
- Cynrychiolaeth Gyfartal ac Arweinyddiaeth
- Rhoi Terfyn ar Drais yn Erbyn Menywod a Merched
- Mynd i'r afael ag Anghydraddoldebau Iechyd Rhywiol
- Hawliau Menywod Byd-eang
Gwahoddir cyfranogwyr a partneriaid i ymuno â thrafodaethau bord gron ar elfennau penodol o'r Cerdyn Sgorio Ffeministaidd, a hwylusir gan bartneriaid sy'n gweithio'n uniongyrchol ar bob un o'r meysydd hyn.
Rydym yn gwahodd aelodau o'r gymuned, phartneriaid trydydd sector, ac ASau i ymuno â ni am gyfle i gysylltu y tu allan i'w sgrin.
Agenda:
• 10am - Cofrestru, lluniaeth, a rhwydweithio
• 10.20am – Cyflwyniad gan Catherine Fookes – RhCM Cymru, a Sarah Rees – Oxfam Cymru
• 10.30am – Ford Gron 1
• 11am - Adborth
• 11.15am – Ford Gron 2
• 11.45am - Adborth a chau ffurfiol
• 12pm – Cyfle rhwydweithio tan 12.30pm