About this Event
SOLD OUT, I repeat, SOLD OUT!
Please sign up to the Waiting List and we will let you know if a ticket becomes available
Like Minded Females presents: The Femship Hacka-Brunches
1. Raise Your Voice | 2 March
2. Raise Each Other | 6 April
3. Smash Dem Problems | 22 June
4. Find Resilience | 27 July
Why?
We are creating a world where any female has the opportunity to pursue her entrepreneurial ideas. We empower them to achieve this through practical techniques, network effects and through mutual support across industries.
What?
The cohort will explore the big drivers of entrepreneurship: self-belief, leveraging networks and problem-solving. A 3-hour session will combine the intensity of a hackathon with the insight of a 1:1 coaching session. Exercises stem from business, psychology, performance and gender studies.
Who?
Self-identified females with entrepreneurial spirits will form a cohort which gives and receives support.
Attendance is first-come-first-served. Members must commit to forming an engaged cohort until the end of the series.
Hacka-Brunch #4 | Find Resilience
We've put in the work to develop ourselves. We've raised our voices. We've raised each other. We've uncovered the best solutions to our problems.
To sustain these efforts in the long-term, we need resilience.
This hacka-brunch pushes the cohort beyond their comfort zone. Individuals will start to understand:
What does failing feel like?
What makes me resilient?
When do I need to be top of my game and when can I chill the F out?
Date and time
27 July | 11:00 - 14:00
Location
Central London (to be confirmed)
Agenda
Understanding Failure | Group exercises, Storytelling, Reflection
Brunch | Pastries and coffee
Resilience in Action | Individual challenges, Commitment checklist
* please bring pen & paper
Note
No technical skills or coding are required for the hacka-brunch.
Hosts
Ioana Andrei is a self-professed nerd and founder of the Femship venture. Her passions led her from stage acting all the way to advising software companies as a management consultant. She secured the audience award from the McKinsey Venture Academy for LightMountain, a social enterprise that impacted over 18,000 people through safer cooking. She trained in acting at Fontainebleau School of Acting and in business at King's College London.
Sonya Barlow is a woman in tech, confidence coach and founder of Like Minded Females. She believes in making female networks diverse, accessible and powerful. She won the Rising Star award from We are The City (2017) and was a finalist for PwC's Tech Business Women of the Year (2018). She studied business at Cass Business School.
Devina Paul is an early stage investor and one of the co founders of Galvanise Capital, an investment syndicate focused on Media and Advertising technology as well as AI and Big Data. With a background of almost 20 years of industry experience and multiple exits, she is able to use that wealth of financial and operational expertise to advise early stage businesses on how to achieve sustainable growth, look attractive to investors and get sale ready.
Other details
Light brunch and coffee/ tea are included in the ticket
What is said in hacka-brunch stays in hacka-brunch
Please get in touch if you want to discuss any of the above with us, on ioana@femship.co.uk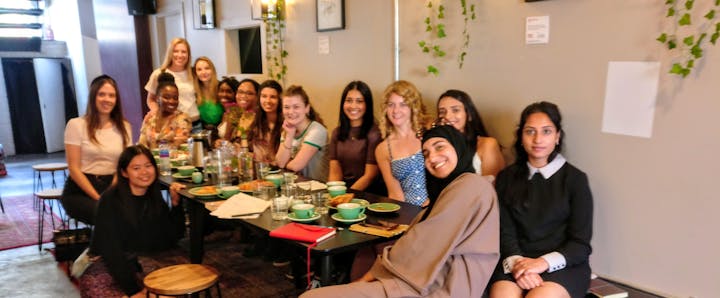 Testimonials from Femship Hacka-Brunches #1, 2, 3
"If it wasn't for Femship, I wouldn't have started working on my business idea"
"Thank you for creating a safe, supportive space. I immediately felt able to share my struggles with the group"
"It made it so special to have the openness, curiosity and genuine desire to support each other"
"Everyone received a lot of value and felt supported"