Join us on June 25th for an all-day conference about FemTech, Women's Health and everything in between!
About this event
The FemTech Forum is a celebration of innovation in women's health, spotlighting tech-powered solutions and products that are disrupting the market and changing our everyday lives for the better.
Join us on Thursday, June 25th, 2020 to hear and learn from some of the most inspiring founders, innovators, investors and influencers in FemTech, on a wide range of topics, including fertility, sexual health, designing products for modern women, the gender gap in medical research and more.
The FemTech industry is booming, and we're excited to see what's to come!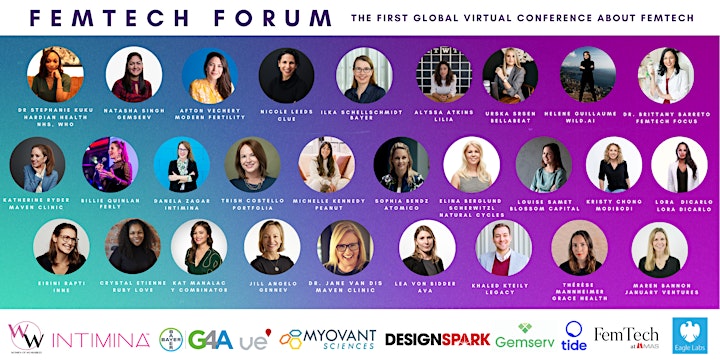 AGENDA
(*please keep in mind all time slots are BST)
9am - Opening words by organising team
9:15am - Panel discussion: 'Balancing Trust, Privacy and Innovation in FemTech' - In a world where practically everything is digitalised and tech-enabled, protecting data from cyber breaches is top of mind, especially for sensitive data that relates to our health. When women upload information about their fertility or sexual habits on an app, discuss their results on a video call or chat with an online bot, they want to know that this data is safe and private. How do FemTech companies keep innovating while making sure the information they collect remains confidential?
Speakers:
Panel discussion will be moderated by Marina Gerner, an award-winning journalist writing for the Guardian, the Times' Raconteur special reports, the Wall Street Journal and more.
10am - Panel discussion: 'Designing Products To Suit (And Fit) A Modern Woman's Needs' - Female entrepreneurs have decided that it was time to put an end to the "one-size-fits-all" approach when it comes to designing products for women, which are often built around male-driven data. We're in an era where women are pushing the frontiers of innovation in the healthtech industry, designing products that suit (and fit) a modern woman's needs because they're the ones who know their customers best. From a sustainable menstrual cup to a hormone-based mini lab, FemTech startups are revolutionising the space.
Speakers:
Panel discussion will be moderated by Olga Razumovskaya, a former Wall Street Journal reporter covering technology, venture capital and startups in the US and Russia, now Strategic Communications Consultant at EM.
11am - Panel discussion: 'Investing in FemTech: Challenges and Opportunities' - Investors are starting to recognise the value of the FemTech industry, which is estimated to be worth $50 billion by 2025 (Frost & Sullivan). From ovulation-tracking bracelets to CBD-infused tampons and sexual wellness apps, VCs across Europe and the U.S. are backing more and more startups in the women's health space. Simultaneously, there is an increasing number of female VCs that are either joining firms as partners or launching their own firms. These investors understand the needs of women and want to back more female leaders to reduce the gender gap in tech.
Speakers:
Panel will be moderated by Bérénice Magistretti, FemTech Journalist and Angel Investor, passionate about promoting and investing in female-led companies.
12pm - 'Tech for Mums' - Fireside chat with Michelle Kennedy, Founder and CEO of Peanut - Becoming a mum changes our lives forever and sets us on an ongoing rollercoaster of emotions. Yet even though many women go through postpartum depression, loneliness and anxiety, we often only talk about the good moments as mental health is still considered taboo in our society. Can a tech solution help mums feel more empowered by sharing and connecting with other mums? Michelle Kennedy, who just raised a $12 million Series A for her Peanut app, has the answers.
Fireside chat will be led by Anja Streicher, CMO at Women of Wearables.
1pm - 2pm - Lunch Break
2pm - Panel discussion: 'The Gender Gap in Medical Research' - It wasn't until 1994 that the National Institutes of Health (NIH) in the U.S. mandated the inclusion of women in clinical trials. Although progress has been made, we still have a long way to go. How does the exclusion of women from scientific research impact treatments? And how does failing to account for the different effects a drug may have on men versus women compromise quality of care for women? On this panel, we will be covering topics that revolve around the lack of physiological data, the economic costs of research in women's health, gender bias in science and more.
Speakers:
Panel will be moderated by Laura Lovett, Managing Editor of MobiHealthNews where she covers the intersection of healthcare and technology. She also leads the Women in Healthcare IT newsletter.
3pm - Panel discussion: 'Fertility: Not Just a Woman's Issue' - Infertility has become a global reproductive health issue that is affecting many individuals and couples. But while men also face infertility issues, the pressure and burden of reproductive health is often imposed on women. How do we empower women and men with actionable data? And how do we motivate them to become more proactive about their fertility? From fertility-tracking apps to sperm testing and egg freezing, this panel aims to open up the discussion around reproductive health.
Speakers include:
Panel will be moderated by Amy Lewin, deputy editor of Sifted, the new media platform covering startups and tech in Europe, backed by the Financial Times.
4pm - Panel discussion: 'Is Sexual Wellness Still a Taboo in Business and Venture Capital?' - When male investors still cringe upon hearing the word "vagina" and Facebook's algorithms ban ads that allude to a woman's anatomy, you know there is something wrong with the world of tech. Thankfully, there are fearless female leaders out there that see these obstacles as an opportunity to tackle gender bias by normalising the conversation around vaginal health. Join us in an open and honest conversation about the vagina, sexual wellness and orgasms.
Speakers include:
Panel will be moderated by Bérénice Magistretti, FemTech Journalist and Angel Investor, passionate about promoting and investing in female-led companies.
5pm - Panel discussion:'Launching and Scaling A Successful FemTech Startup' - With less than 3% of venture capital money going to female-led startups, the fundraising landscape for female founders is challenging, to say the least. And when some VCs label the FemTech space as a "niche market", it's that much harder to raise for products and services that target women's health. Yet with successes like Maven Clinic's recent $45 million Series C round, top tier investors, like Sequoia Capital, are beginning to understand the value of investing in FemTech companies. Add to that Modern Fertility and Ruby Love both raising $15 million for their Series A rounds and you get a coherent investment thesis - FemTech may be an emerging sector, but the market is there: 50% of the population.
Speakers include:
Panel will be moderated by Chris O'Brien, European Correspondent for VentureBeat.
6pm - Closing words by the organising team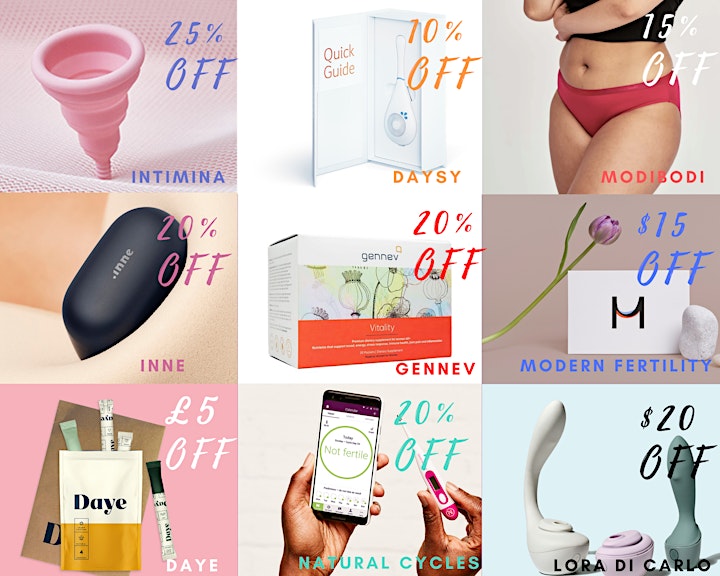 *All registered attendees will get the opportunity to purchase curated selection of discounted products and services from brands participating at the FemTech Forum! Book your ticket and you will receive more information via email!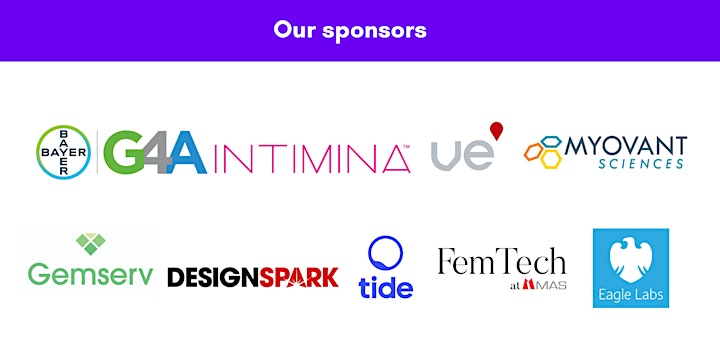 ABOUT OUR SPONSORS AND SUPPORTING PARTNERS
Bayer G4A works with extraordinary people to develop integrated solutions to push the boundaries of healthcare in order to help people live better, happier, healthier lives. Bayer's G4A Partnerships 2020 offer a gateway to partner with the company through integrated healthcare solutions in the digital health space. Its partners benefit from Bayer's global presence and business acumen to grow their healthcare business while driving towards changing the experience of health through collaboration.
Intimina is a Swedish brand that offers the first and only range of products dedicated exclusively to all aspects of women's intimate health. Its mission is to provide a comprehensive collection of products and information for women at every stage of life, from the first menstruation to beyond menopause. As a global brand available in major pharmacy chains, medical offices, and online, Intimina's vision is to make it easy for women, regardless of their age or location, to access reliable information and solutions for all their intimate health needs.
Valley Electronics AG, based in Zurich, Switzerland, is an international research-based medical technology company with a long track record of developing and distributing fertility trackers. Thanks to this accumulated knowledge, Valley Electronics has been able to manufacture and bring to market reliable, precise, and user-friendly technology for natural fertility awareness. With its products Daysy, Lady-Comp, Baby-Comp, and Pearly, the company offers the highest possible reliability, well-engineered technology, and a wealth of 30+ years of experience on the market.
Myovant Sciences aspires to be the leading healthcare company focused on redefining care for women. Myovant Sciences is a founding member of Female Forward Together, a cross-sector coalition bringing together expertise in healthcare, research, data science, digital health, and advocacy to improve women's health. Myovant works with other coalition members to elevate the conversation around women's health and to drive meaningful change, including through innovative digital research and tools.
Gemserv is an expert provider of professional services in the world driven by data and technology. Company provides high quality consultancy and outsourced services to support the digital transformation and data revolution in health and care by partnering with providers, commissioners, integrated care systems and health tech vendors.
DesignSpark is a community for engineers created by RS Components passionate about cutting-edge technology and advancements that start with an idea taking shape in the real world. DesignSpark's main aim is to bring together the global engineering community and work hard every day to support their members in building simple, reliable solutions to complicated problems in order to accelerate design time to market.
Tide is the leading provider of UK SME business accounts and one of the fastest growing FinTechs in the UK with over 150,000 members (business) and almost 200,000 accounts.
MAS Holdings is South Asia's largest apparel tech company, specialising in intimate wear, high performance activewear and swimwear. FemTech at MAS, one of MAS's new business verticals, provides functional, lifestyle and wellness-oriented apparel solutions across the female reproductive cycle from menarche to menopause.
Barclays is on a mission to help make the UK the best place to start and grow innovative businesses by promoting creativity and entrepreneurship. Eagle Labs is building a platform to connect the UK's entrepreneurial ecosystem to drive digital skills development to help grow the economy through innovation and change.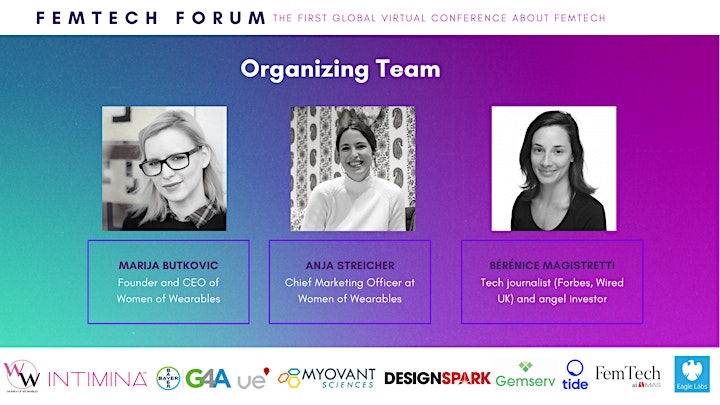 Date and time
Location
Refund policy
Organizer of FEMTECH FORUM 2020 - the first global virtual conference about FemTech
Women of Wearables (WoW) is a leading global organisation aiming to inspire, connect and support women and diverse founders and technologists in wearable tech, fashion tech, smart textiles, IoT, health tech and VR/AR.
With headquarters in London (UK) and more than 20,000 members located around the globe, WoW has become a global movement that supports its growing community through events, mentorship, educational programs and collaboration with its network of local collaborators and partners. Our members are startup founders, designers, technologists, industry experts, researchers, bloggers, journalists, investors and many more.
Explore WoW membership to learn from and connect with our community of entrepreneurs, designers, and technologists, leverage valuable resources and discover career opportunities!
Join the Women of Wearables Global meetup group!