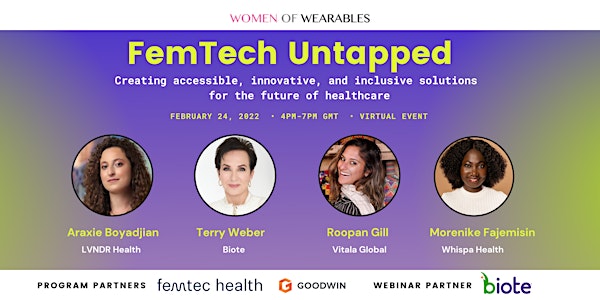 FEMTECH UNTAPPED Creating accessible solutions for the future of healthcare
FemTech Untapped - a go-to online global program for all things femtech and women's health!
About this event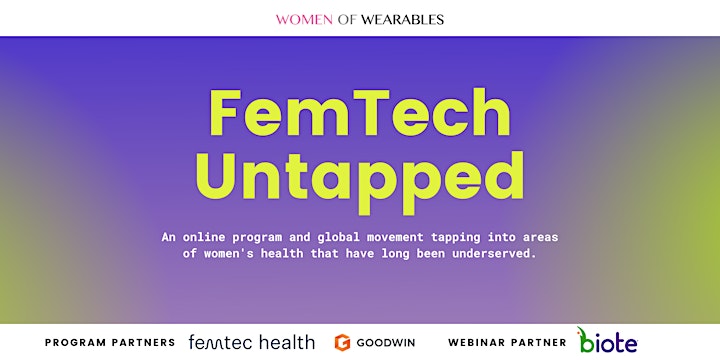 About FemTech Untapped program
FemTech Untapped is an online program and a global movement tapping into areas of women's health that have long been underserved, underresearched, and underfunded. In 2022, we will be covering a wide range of topics with a goal to educate and destigmatize areas of FemTech that still remain "untapped".
Join us every month for a series of events where we will cover topics from diversity and inclusion in the femtech space, to menstrual health and sextech, to mental and cardiovascular health for women and underrepresented audiences and groups in the healthcare space. Together, we can all work towards FemTech being more accessible and inclusive.
About this event - Creating accessible and inclusive solutions for the future of healthcare
Everyone has the right to healthcare. Healthcare that meets and takes into account each individual patient's needs. How can tech innovations help change healthcare's "one-size-fits-all" approach to a person-centered approach?
From serving the LGBTQ+ community, young people, safe abortion care, to a personalized approach to hormonal health, join us to meet and hear from startup founders and industry leaders building the next generation of innovative products and services in the health tech space:
Terry Weber, CEO of Biote
Terry Weber is a nationally recognized CEO and executive consultant who has transformed the business models of healthcare, retail, and automotive industry giants. Her team-first focus has consistently resulted in growth, both in the financials of the $100 million to $2.5 billion companies she has led and in the personal accomplishments of the individuals she has mentored. Terry joined Biote to drive permanent industry innovation in the hormone optimization market, addressing the 200 million individuals in the U.S. who suffer from hormone imbalance. Terry was awarded the 50 Fastest-Growing Women-Owned/Led Companies of 2021 by the Women Presidents' Organization (WPO) in collaboration with JP Morgan Chase Commercial Banking, and named one of PharmaVOICE's 100 Most Inspiring People of 2021 in the life-sciences industry. Terry is a founding member of PreventiveMedicine.org and a board member of the International Women's Foundation IWF.org.
Araxie Boyadjian, co-founder of LVNDR Health
Araxie Boyadjian is a co-founder of LVNDR Health. By building the first centralised destination for tailored sexual health services, LVNDR empowers services and users alike to access a simplified and personalised sexual health experience. The first platform of its kind, LVNDR's goal is to be a single touchpoint for queer and trans individuals adaptive to their needs. For patients, LVNDR will provide an end-to-end digital solution increasing the accessibility of care for those who are unable to or struggle with in-person services. For providers, the platform can expand the capacity and increase the efficiency of existing clinical services. Araxie is leading LVNDR's voice, driving creative direction, establishing key partnerships, and fostering a movement for the queer community, ensuring every voice is heard and reflected. Having experienced and witnessed the injustices faced by the LGBTQ+ community and underrepresented groups, she is aiming to transform the healthcare sector, expanding the reach of accessible sexual care to those who need it the most.
Roopan Gill, co-founder and Executive Director of Vitala Global Foundation
Roopan Gill is an obstetrician-gynaecologist with expertise in family planning and abortion care. She completed her training in Canada and holds a Masters in Public Health in Global Health from Harvard T.H. Chan School of Public Health. She is a Women's Health Advisor for Médecins Sans Frontières (MSF), Paris section, and has worked as an emergency obstetrician-gynaecologist in Nigeria and Yemen, now supporting projects in countries such as Malawi, Chad, and Pakistan. She has previously worked with the World Health Organization (WHO) providing technical expertise to its Department of Sexual and Reproductive Health Research. Roopan has published in peer-reviewed journals focussing on better understanding the challenges and needs of women and girls accessing reproductive and sexual healthcare needs. Her role with Vitala Global is as lead researcher and strategist. When not musing about global women's health, Roopan can be found spending time in the mountains or oceanside, surfing, doing some yoga, or listening to a good podcast.
Morenike Fajemisin, founder and CEO of Whispa Health
Morenike Fajemisin is the CEO and founder of Whispa Health, the creators of WHISPA mobile app. She is also a multi-award-winning pharmacist, a sexual health educator and an experienced public health and social marketing professional. Her vision is to provide young women and men all over Africa with quality sexual health information, products, and services in a private and anonymous manner and to reduce the rate at which young people seeking sexual healthcare or contraceptives are discouraged by myths, misconceptions, biased individuals or healthcare providers. Whispa Health leverages technology to enable young people (especially women) to have shame-free access to sexual and reproductive healthcare. Through their mobile app WHISPA, people can receive private, even anonymous consultations with a doctor at home or on the go. It also offers a convenient, stigma-free, and affordable means to book various sexual health appointments like contraceptives, cervical cancer screening, or laboratory S.T.I tests. In addition, WHISPA offers a discreet way to purchase other sexual health products like HIV test kits, condoms, and more. Whispa Health has won the ingenuity fund award, the Women's Empowerment Award from Bayer Foundation and most recently was one of 50 African start-ups that were selected to join Google for Startup's Black Founders Fund.
AGENDA
(*All time slots are GMT)
4 pm - Opening words by organising team
4:10 pm - Company introduction - presentation delivered by Terry Weber, CEO of Biote
4:20 pm - Company introduction - presentation delivered by Araxie Boyadjian, co-founder of LVNDR Health
4:30 pm - Company introduction - presentation delivered by Roopan Gill, co-founder and Executive Director of Vitala Global Foundation
4:40 pm - Company introduction - presentation delivered by Morenike Fajemisin, founder and CEO of Whispa Health
5 pm - Panel discussion
5:45 pm - Q&As
6:30 pm - Closing words by the organising team
About our partners and sponsors
Webinar partner
Biote is a hormone optimization company that has translated over 80 years of scientific insight into clinically-validated medical approaches that identify and treat imbalances in the production of hormones. By partnering with over 4,700 medical providers across the United States, Biote is educating practitioners on the scientific evidence of the roles of hormones and supplements to support improved health, and on responsible treatment of patients. They are dedicated to helping patients live better, longer by changing the way healthcare is practiced on a global level.
Program partners
Founded in May 2020 by Dr. Kimon Angelides and publicly launched in October 2021, FemTec Health is the leading Health and Beauty Sciences Company focused on using technology and data to transform the total healthcare experience for women in every stage of their life cycle. Areas of focus include specialty care, wellness and prevention, reproductive care, sexual wellness, mental health, chronic care, and beyond. Angelides has brought together A female-led team with decades of experience across healthcare, wellness, and consumer products in public and private companies. FemTech Health's mission is to revolutionize women's healthcare by using state-of-the-art genomics, predictive intelligence, and digital technologies to create an experience that is unified, coordinated, and provides personalized services and products based on every woman's unique needs. FemTec Health currently has offices in Houston, New York, San Diego, London, Barcelona, Athens & Shanghai.
Goodwin partners with clients to practice law with integrity, ingenuity, agility, and ambition. Their 1,600 lawyers across the United States, Europe, and Asia excel at complex transactions, high-stakes litigation, and world-class advisory services in the technology, life sciences, healthcare, private equity, real estate, and financial industries. Goodwin's extensive experience and knowledge of the women's health and wellness industry coupled with their deep industry contacts helps them to foster relationships between their clients and stakeholders to provide them with full-service legal offerings. From intellectual property to regulatory and from structuring capital raises to IPOs, they advise clients at all stages of the company lifecycle.
About Women of Wearables
Women of Wearables (WoW) is a leading global organization and ecosystem aiming to connect and support women and allies in wearable tech, health tech, and femtech, as well as educate about the latest innovations in the world of emerging technologies. With headquarters in London (UK) and more than 20,000 members located around the globe, WoW has become a global movement that supports its growing community through events, mentorship, educational programs, and collaboration with its network of local collaborators and partners. Our members are startup founders, designers, technologists, industry experts, researchers, bloggers, journalists, investors, and many more.
Our community is open to anyone who is affiliated with and interested in emerging technologies and is not just for professional women, but for anyone with an interest in wearable technology and providing women with a platform for growth.
HOW TO JOIN US
➡️ Become a WoW member to learn from and connect with our community of entrepreneurs, designers, and technologists, leverage valuable resources, and discover career and business opportunities! By joining, you'll get the opportunity to promote your company at one of the leading global organizations for women in tech, advertise in our newsletter and collaborate with us for our webinars, conferences, and content.
➡️ Follow us on Twitter / LinkedIn / Instagram / Facebook.
➡️ Join our WoW FemTech group on LinkedIn.
➡️ Get in touch if you'd like to become our partner!