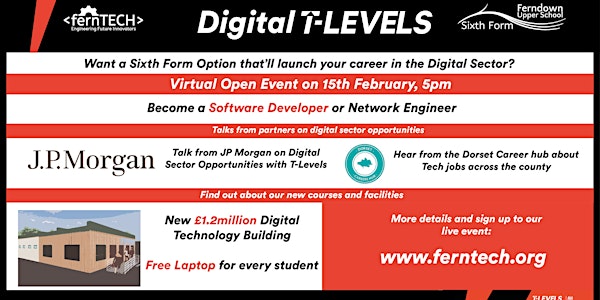 fernTECH Digital T Levels | Virtual Event for Parents and Students
Digital T Levels are coming to Dorset, with the first provider. A presentation and chance for Q&As for prospective students and parents.
About this event
With a £1.2million new facility, fernTECH (part of Ferndown Upper School Sixth Form) will be launching Dorset's first T Levels in September 2022.
Our centre will be specialising in three digital career pathways: Software Developer, Network Engineer and Systems Manager. Students will gain 9-12 weeks industry experience as part of the qualification.
New software development lab, T Level seminar suite and networking workshop we will have among the best facilities to deliver digital education.
Our presentation will cover the course, our offer (including free laptop upon enrolment) and give a chance for Q&As from parents. We will also be joined by Dorset Career Hub who will do a brief input on what T Levels offer for our region and career progression.
Check out more info on our courses: www.ferntech.org