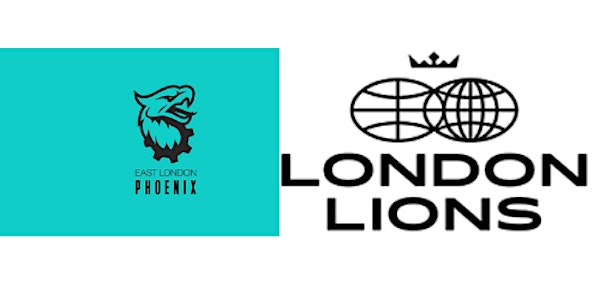 Festival Fan Day + 2 Fixtures - East London Phoenix & London Lions Women's
Location
SportsDock
4-6 University Way
London
E16 2RD
United Kingdom
Join the Phoenix in celebrating our last game of the season, with an exciting fan event before a thrilling game double header set up!!!
About this event
Phoenix Festival Fan Day
Join us in celebrating the end of the first full year of the Womens Premier League.
East London Phoenix Vs Cardiff Met Archers will be the last home fixture for the Phoenix and the final league fixture of the season. To celebrate this, the Phoenix are hosting a Festival Fan Day where fans can attend for free and get involved in general games, inclusive sports, food, and other enjoyable activities
- The festival and fixture combined will run from 10:00 - 15:00 (match tip off at 13:00) and allow for you to enjoy your day before taking a seat in what will be an exciting exchange between the Phoenix and Archers
Phoenix Fan Day Schedule;
Inclusive Sports Section - Participate in different inclusive sports and put yourself to the test. (FREE)
- 10:00-10:45AM - Whizz Kidz - Wheelchair Skills Training
- 11:00-11:45AM - GB Sitting Volleyball Coach Ian Legrand - Sitting Volleyball Taster Session
- 11:45 - 12:30PM - Boccia - Boccia Taster Session
- 11:00-12:15PM - Wheelchair Basketball Session (Training and Competitions)
Creative Zone - 10:00AM - 12:30PM (FREE)
- Cariacture Artist - On standby to draw yourself and families in fun and exaggerated ways!!
- Face Paint Artist - On standby to paint anything you want! Can even have the East London Phoenix
- Parent Relaxation Zone - Whilst the children are having fun with sports, face paint, games etc. The parents can realx in the relaxation zone and try out our recovery pumps to help them relax and feel brand new.
General Games Section - 10:00AM - 12:30PM (FREE)
- Tailgate Bean Bag Toss Head to Head competition
- Basketball Leadership Competition - Top 3 people with the most points scored at the end of the day will win a prize! 1st place being the biggest of all three prizes, and size of each prize will go down from there
- Can Crash - Chance to test your accuracy and win a prize for knocking all cans down.
Food Area - 10:30AM - 13:00PM
- Los Tacos - Top Portuguese cuisine
- Walthamstow Dogs - East London's finest Hot Dog truck
- Vegheads - Some of the best Vegan and Vegetarian Option's
- Candy Floss Machine (Free)
- Popcorn Machine (Free)
- Sportsdock Cafe - For other hot and cold drinks
Game 1 - East London Phoenix Vs Cardiff Met Archers 13:00Pm - 15:00PM
East London Phoenix welcome Cardiff Met Archers to the Sportsdock Arena for the 2nd time this season, in what should be an exciting battle for a 2nd place finish in the league. Both teams need to win this game to get into the better position going into the Women's Premier League Play Offs.
Game 2 - London Lions Vs Durham Palatinates 15:30PM - 17:00PM
The London Lions are London's only professional basketball team playing in the WBBL. This weekend they will be competing at the University of East London after the Phoenix vs Archers fixture. This Saturday they are welcoming Durham Palatinates in the WBBL Play Off Quarter Final.
We look forward to welcoming you and ROARING on the Phoenix and Lions to victory and enjoy our Phoenix Festival Fan Day .
Why wheelchair basketball?
Played at lighting speed, wheelchair basketball is one of the world's fastest growing sports. The East London Phoenix are an inclusive team open to all. Welcome to a family like no other!
What is the BWB Women's Premier League?
The league is a game-changer for the sport, becoming the first of its kind for women's wheelchair basketball globally and the first professional para-sport league in the UK.
The league is run by British Wheelchair Basketball (BWB) and features four university-owned teams. The East London Phoenix are a franchise of the University of East London (UEL).
Get social with us