Description
Lowkey lands in Birmingham to headline Festival Of Audacity's afterparty, alongside l

ive music, graffiti workshops, performances, and food and drink.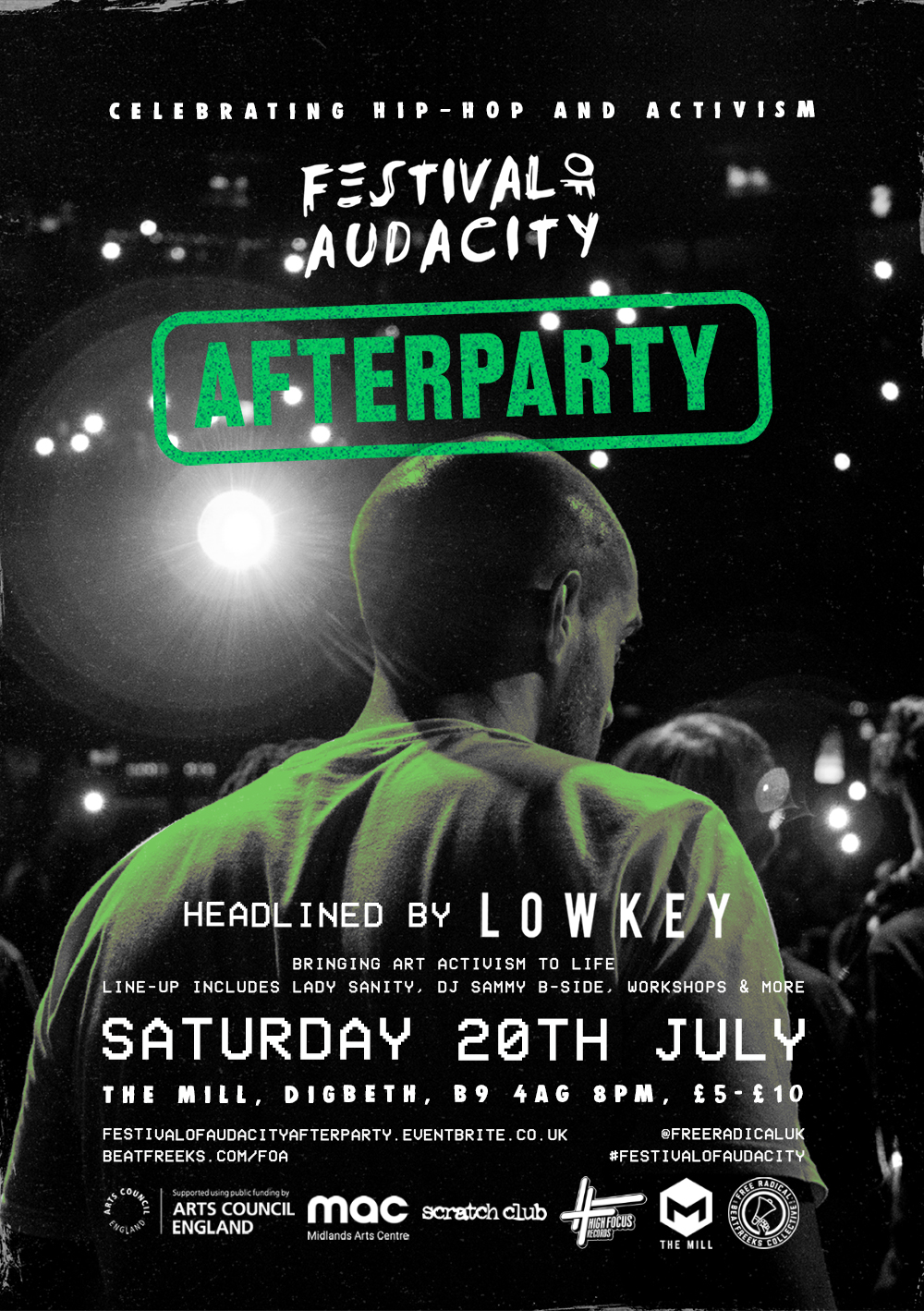 Join Free Radical in a huge afterparty of hip hop and art activism to mark the end of Festival of Audacity 2019, taking place at The Mill Digbeth from 8pm on Saturday 20th July.
Headlined by award-winning hip-hop artist, Lowkey has sold over 25k albums digitally and now comes to Brum following his Glastonbury set.
The British-Iraqi hip hop artist has returned to music after an 8-year hiatus with an explosive new album, Soundtrack To The Struggle 2.
Called "the most important album of the decade", Lowkey will showcase this new material that challenges the political status quo and champions the perspectives of the oppressed alongside the city's most talented artists.
Fresh from Wireless Festival, Erdington's own Lady Sanity has represented the city on the national and global stage, seeing her Commonwealth Games performance streamed to one billion viewers.
Lady Sanity was part of last year's line-up of female artists for 'Pass The Mic' and returns to the Festival while being a great role model for women in the genre.
Brum's answer to Banksy, Foka Wolf brings their talent indoors for attendees to get a step closer to the creativity of one of the most mysterious and witty street artists.
But this festival is all about young people. RhyanRhyan is a talented illustrator and designer on Free Radical's BAIT training programme to develop young, socially-engaged artists and this is your chance to interact in his live art piece.
It promises to be emotive and powerful as it takes audiences on a personal journey exploring sexuality and race with an emphasis on self-expression and freedom.
With the tunes of DJ Sammy B-side certain to create the same good vibes as his appearances with Public Enemy, DJ Premier, Skepta and Ghostface Killah, drink (non-alcoholic as well as alcoholic options available), dance and join Free Radical in saying goodbye to another year of championing brave, bold, and audacious activist art.
Anyone below 18 must be accompanied by someone 18+. Everyone must bring ID.
Please be aware that there will be both soft drinks and alcoholic drinks.
In association with Scratch Club and High Focus Records.
Additional details:
Please note that we will be checking ID as there will be alcohol sold on-site.
If you need any help accessing our events, get in touch via info@beatfreeks.com
For further details visit beatfreeks.com/foa and follow @FreeRadicalUK on Instagram and Twitter for more updates. Use the hashtag #FestivalOfAudacity to share your excitement, let us know how you're feeling and send activist art to the world.
---
More Festival Of Audacity events
BLAB X HEADSPVCE Thursday 18th July: We're opening the festival with a night dedicated to deep meaningful discussions, wellbeing workshops and performances (Free) - festivalofaudacityblab.eventbrite.co.uk
The Tour Friday 19th - Saturday 20th: A guided tour of Birmingham packed an exclusive line-up of international and local activist art including performances, films, and installations (Tickets from just £2) - festivalofaudacitytour.eventbrite.co.uk
Afterparty Saturday 20th July: Headlined by award-winning hip-hop artist Lowkey, straight from his set at Glastonbury Festival; aswell as support acts Lady Sanity & DJ Sammy B-Side (Tickets from just £5) - festivalofaudacityafterparty.eventbrite.co.uk
More details at beatfreeks.com/foa