Description
Open your mind, hear words that will capture your soul and come together as we celebrate artists, activists & each other with BLAB X HEADSPVCE, the opening of this year's Festival Of Audacity.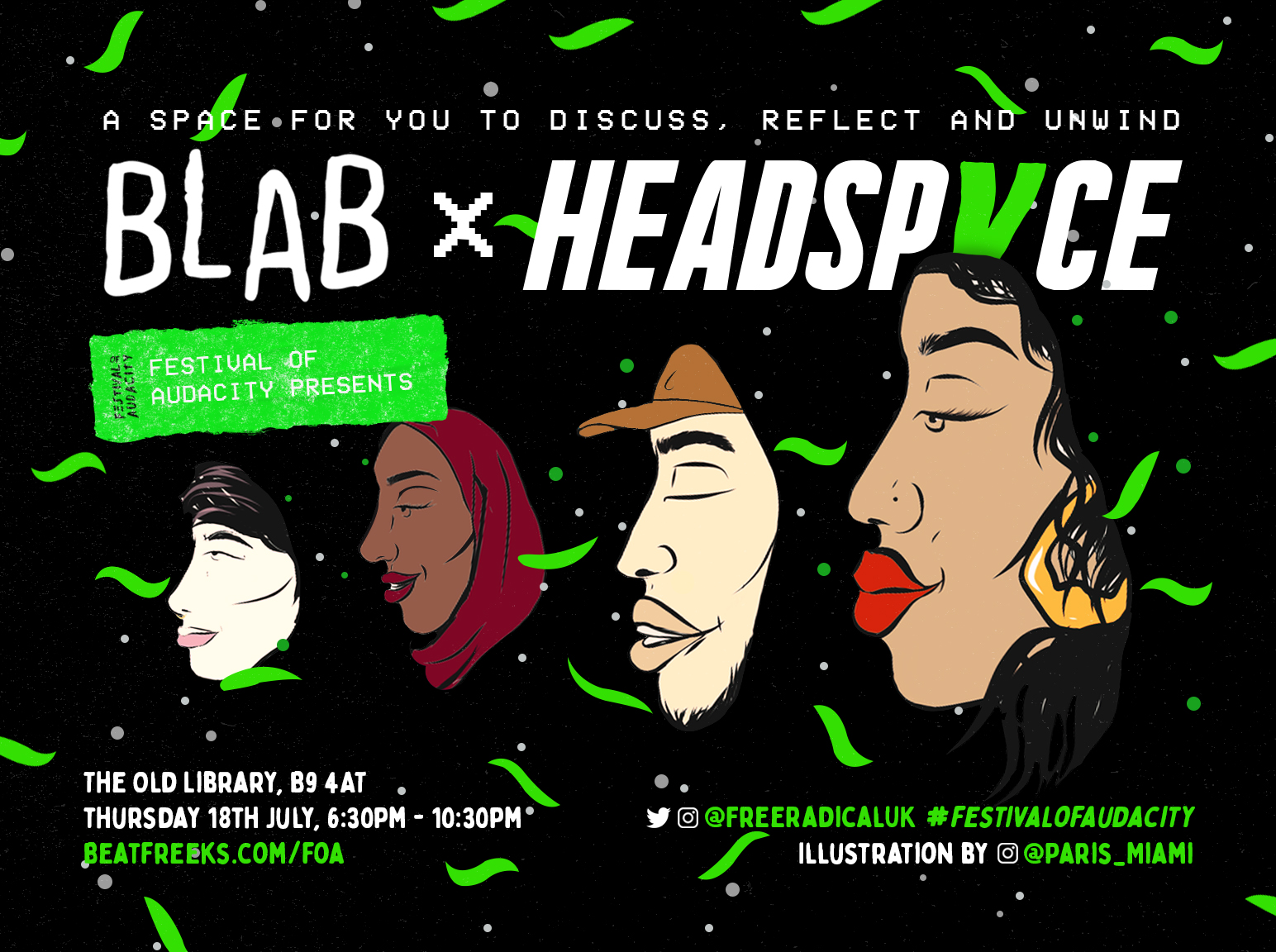 This night is a special crossover of two of our biggest events to be a space for deep chats, wellbeing, and performances.
We'll be making moments to unpack issues you care about including going out and about Brum, and how we can look out for each other when using services which connect the dots across the city with our BLAB question of the evening, "If freedom to move is a human right, why is Birmingham so difficult to get around?"
Speaker line-up includes:
Kayza Rose - Facilitator, Arts Producer, Activist & Arts Council England Changemaker, 'QTIPOC Family'.
Deborah Fox - Head of Demand for West Midlands Combined Authority. WMCA "move powers from Whitehall to the West Midlands and its locally elected politicians, who know this region best."
Inѐs Elsa Dalal - Documentary Photographer, Creator of 'Here To Stay 70' - a portrait series which documents the impact of nurses from the Windrush generation

who shaped the NHS since its birth seventy years ago.

Karen Creavin - Chief Executive of Active Wellbeing Society, 'Big Birmingham Bikes'.
Throughout the night you can expect:
Chill vibes, snacks, and space to just refresh and be you.

Meditative workshops, open mic opportunities, and performances inspired by the question: 'Where do we go from here?' (As a part of HEADSPVCE)

Our conversation picnic with invited artists and activists and share thoughts on what we want from Birmingham's transport (As a part of BLAB)
+ Plus there will be a pre-event workshop by Ankh'Kara Raye "Back To Balance" with light yoga, breathwork, and mindfulness tips at 6pm.
You'll hopefully leave with a reimagined perspective on how we move and relate to Birmingham.
Free Travel offer (16 - 30 year olds):
All Swift passes have been claimed, thanks to Swift and Network West Midlands for providing 300 young people free travel over Festival Of Audacity weekend.
You can still access free travel via Brompton Bikes, for more information, click here.
About BLAB x HEADSPVCE
BLAB is a live, interactive, conversation-based event, and HEADSPVCE is a space for you to perform, reflect and unwind. We're bringing the two together for an unforgettable night of opening minds and souls.
About Festival of Audacity
Festival of Audacity is a three day, multidisciplinary festival which makes Birmingham the stage for activist art. Festival of Audacity 2019 focuses on art and transport.
---
More Festival Of Audacity events
BLAB X HEADSPVCE Thursday 18th July: We're opening the festival with a night dedicated to deep meaningful discussions, wellbeing workshops and performances (Free) - festivalofaudacityblab.eventbrite.co.uk
The Tour Friday 19th - Saturday 20th: A guided tour of Birmingham packed an exclusive line-up of international and local activist art including performances, films, and installations (Tickets from just £2) - festivalofaudacitytour.eventbrite.co.uk
Afterparty Saturday 20th July: Headlined by award-winning hip-hop artist Lowkey, straight from his set at Glastonbury Festival; aswell as support acts Lady Sanity & DJ Sammy B-Side (Tickets from just £5) - festivalofaudacityafterparty.eventbrite.co.uk
More details at beatfreeks.com/foa
Additional details: