Description
Festival of Female Entrepreneurs 2019: Edinburgh
After successfully running the event in Bristol for the past five years, Enterprise Nation brings the Festival of Female Entrepreneurs to Scotland!
Hosted at the gorgeous Hub in Edinburgh, the event is a must in your entrepreneurial calendar.
It brings together some of the UK's most influential female entrepreneurs, business leaders, and brightest start-ups, leaving you to sit back, relax, and enjoy a day of expert and practical insight on how to start and grow your business!
---
Why attend?
All-day access to the keynote stage with inspiring talks
Exhibition area and business advice zone
Small business market featuring innovative local brands
Structured networking opportunities to meet your fellow delegates
A hot lunch and refreshments provided throughout the day
Earlybird tickets are discounted and available until 11.30pm on 25 February 2019. Enterprise Nation members receive 25% off both standard and early bird tickets.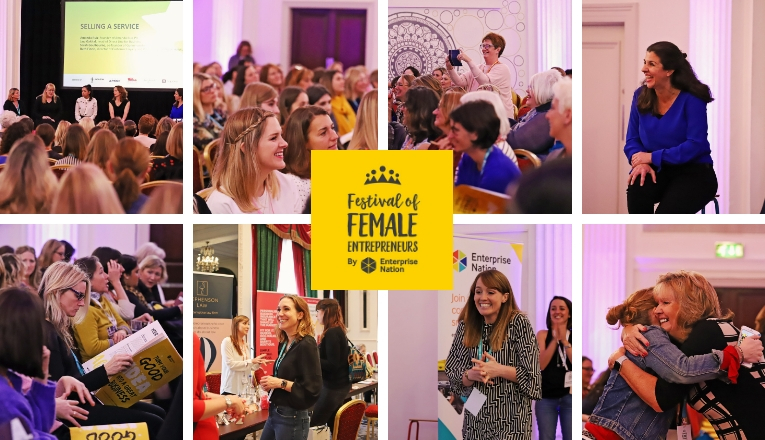 ---
Your festival agenda
9.30am: Registration
10am: Welcome from Enterprise Nation and Women's Enterprise Scotland
10.20am: How I made it: Lucinda Bruce-Gardyne, founder of Genius Gluten Free Foods
Genius Foods was born out of Lucinda's urgent requirement to provide tasty gluten-free bread for her son, whom had been diagnosed as gluten intolerant. In 2009 Genius Bread hit the shelves and today the product range includes a whole range of gluten free breads and snacks that are stocked in the biggest supermarkets all over the world.
10.50am: Show me the money! Expert advice on raising funds and managing your money for your business
Lynne Cadenhead, chair of Women's Enterprise Scotland and angel investor

Suzy Jackson

, Transmit Loans
Evelyn McDonald, CEO of Scottish EDGE
Sandra McLean, fund manager, DSL Finance
11.30am: Coffee break: Visit the exhibition and network with your fellow female entrepreneurs
12.00pm: Bringing a product to market, powered by Square
Succesful entrepreneurs share how they took their business from concept to market.
12.30pm: 'How Monkeys Taught Me to Take Risks' by Evolutionary Biologist Dr Mairi Macleod
After many years of research and writing on the biology of behaviour, Mairi is building a business, using her expertise, to help women entrepreneurs capitalise on their female talents. Here, through recounting her fieldwork adventures, she'll demonstrate how we can learn to feel good about taking risks in pursuit of our ambitions.
1.00pm: Lunch and networking
2.00pm: Building your brand on social
A She Means Business social media expert will give you the latest insights to inspire creativity, empower confidence and educate on how to best utilise Facebook and Instagram to grow your business.
2.30pm: Getting your story in the press and on telly
If you're a small business fighting for media recognition for the incredible stuff you do, there are some really simple steps to take to get noticed. A panel of experts will give their top tips and answer your questions.
Erikka Askeland, former business editor, Scotsman
Greig Cameron, Scottish business editor, The Times

Sandeep Gill, Diversity Lead BBC Nations & Regions, BBC

Lara Moloney, former director at The Skinny Magazine and business development consultant
3.00pm: How I started a business for social change and not for the profit: Alice Thompson, co-founder, Social Bite
Social Bite is a national scale social-enterprise cafe chain with over 100 staff, a quarter of which are affected by homelessness. From one sandwich shop in Edinburgh in 2012, the company has grown rapidly across Scotland. Social Bite has hosted several big names as supporters of their great work including Joanna Lumley, George Clooney, Leonardo Dicaprio and the Duke & Duchess of Sussex.
3.30pm: Coffee break: Visit the exhibition and network with your fellow female entrepreneurs
3.45pm: How to grow a service-based business
Whether you are a business consultant, graphic designer, B&B owner; the list is endless; growing a service-based business can be very different from growing a product-based business. This panel of experts will share their top tips.
Julie Grieve, founder, Criton
Teresa Jackson, founder, Collabor8te

Zakia Moulaoui, founder, Invisible Cities
4.15pm: Going global: How to sell your products and services to the world
It's easier than it ever has been to sell to new markets across the globe but where do you start? Listen to expert advice and post your questions to these globe-trotting entrepreneurs:
Laura Birrell, Sticky Heelz
Julie Wison, Cheeky Chompers
Karen Riddick, Second Nature
Ann Maree Morison, Labels4Kids
4.45pm: Event finish
---
About Enterprise Nation
Enterprise Nation is the UK's most active small business network and we have helped thousands of people turn their good idea into a great business.

Enterprise Nation membership gives you access to exclusive opportunities to grow your business and connects you with like-minded entrepreneurs and business experts who can help. Membership is just £10 a month and you can cancel at any time. By selecting the 'plus membership' ticket, you'll automatically get 25% off this event too!

Event partners

---
Cancellation policy
For a full refund, cancellations must be made at least 48 hours prior to the event.
Please note that in the event you are unable to attend this event due to cancellation from yourself or Enterprise Nation, we are unable to refund any associated costs such as hotel or travel.