Location
Mercure Bristol Grand hotel
Broad St
Bristol
BS1 2EL
United Kingdom
Description


Festival of Female Entrepreneurs 2019
Back for its eighth year, this event is a must in your entrepreneurial calendar. Hosted at the newly refurbished Mercure Grand hotel in Bristol for the second time, it brings together some of the UK's most influential female entrepreneurs, business leaders and brightest start-ups to provide you with detailed and practical insight to grow your business!
Your event agenda
10.00am: Welcome from Emma Jones MBE, founder, Enterprise Nation
10.10am: From barrister to restauranteur: The story of Mowgli Street Foods - Nisha Katona MBE, founder, Mowgli Street Foods
After leaving a flourishing career as a barrister to spread the word about Bengali cuisine, Nisha Katona has defied the naysayers by opening seven Mowgli sites, with plans for more in the pipeline.
10.40am: Raise money, increase confidence and take risks
For every £1 of money venture capitalists invest in start-ups, only £0.10p goes to female founders. This panel will discuss how female founders can explore the best finance options, build their confidence and take the leap into the next phase of their business.
Jenny Tooth OBE, CEO, UK Angels Business Association

Della Hudson, accountant and business coach, Hudson Business Advice
11.10am: Coffee break
Visit the exhibition, adviser zone and pop-up market
11:30am: Women in digital
Panel discussing trends and opportunities for women working in digital business in 2019 and beyond
Ruby Lee, founder of design studio: Studio 77

Emma Alexander, founder of photography production and art buying service: Mother bran

Martina McDonnell, marketing director, Small Business Group EMEA at Facebook

Rachel Wilkins, UK marketing director, Dell
12:00pm: One of your five a day: Emma Jones interviews Nimisha Raja, founder, Nim's fruit snacks
In 2012 Nimisha Raja pioneered the concept of air-dried fruit crisps. A brand born out of her frustration with the lack of healthy snacks, combined with hard work in the shed of her back garden. Nimisha will tell the story of how she developed one of the leading healthy snack brands in the U.K which now operates out of a factory in Kent, England.
12:30pm: Square presents: Female entrepreneurs on starting, running and growing a retail business
1.00pm: Lunch
A networking lunch that's perfect for autumn as you chat with fellow guests.
A selection of cold italian meats including hams, pastrami and salami

Salmon and Dill fishcakes

Tasty lamb koftas

Vegestable lasagne

A selection of salads, new minted potatoes and roasted roots

Passionfruit cheesecake
2.00pm: From refugee to entrepreneur to philanthropist: Emma Jones interviews Dame Stephanie (Steve) Shirley CH
Dame Stephanie (Steve) Shirley CH, age 85, is a workplace revolutionary and successful IT entrepreneur turned ardent philanthropist.
Her life story begins with her 1939 arrival in Britain as an unaccompanied Kindertransport refugee. In 1962, she started a software house, Freelance Programmers, that pioneered new work practices and changed the position of professional women, especially in hi-tech. She went on to create a global business and a personal fortune shared with her colleagues; she made 70 of her staff millionaires at no cost to anyone, but herself.
Since retiring in 1993, her focus has been increasingly on philanthropy based on her strong belief in giving back to society.
Please note at the end of this session there will be a short break where Dame Stephanie Shirley will be signing copies of her book: Let It Go: The Memoirs of Dame Stephanie Shirley
3.00pm: Mobile, visual, personal: Future proofing your business: a panel of entrepreneurs share their experience of growing a brand on social media
Lizzy Lillington-Lester, marketing science expert at Facebook, interviews three Bristol based businesses that have grown via social media platforms.
Helena Hills, founder at TrueStart Coffee
Claire Russell, founder at PlayHooray
Molly Masters, founder at Books That Matter
3.30pm: Make me famous: converting a farmhouse into one of the most in-demand dog hotels in the country
Rebecca Linnell, co-founder of the Country Dog Hotel and Sarah Barratt, writer from Country Living Magazine, discuss how a business with a difference rose from the hills of Somerset and landed a double page spread in one of the nation's most sought after lifestyle magazines.
4.00pm: Female Start-up of the Year 2019
Dan Martin, Enterprise Nation Bristol local leader, interviews previous winners to find out what's happened since:
Mel Bound, This Mum Runs, 2016 winner

Ruth Bradford, Black & White Book Project, 2018 winner
The three Female Start-up of the Year 2019 finalists will have three minutes each to pitch their business to a panel of expert judges:
The judges
Martina McDonnell, head of SMB marketing EMEA, Facebook
Ruth Bradford, founder, Little Black & White Book Project
Mike Jackson, investor & entrepreneur
Emma Jones, founder, Enterprise Nation
The winner will receive amazing prizes to help them and their business flourish and grow.
4.45pm: Drinks reception and Female Start-up of the Year 2019: Winner announcement
The winner of the 2019 competition will be announced whilst we all enjoy a glass of bubbles to celebrate.
5.30pm: Event ends
#wegrowthhub #developingpeople #people #strategy
---


What does your ticket include?
Access to the keynote stage with a full day of inspiring talks that will give you practical tips to grow your business
A separate exhibitor and one-on-one business advice zone
A small business market with local innovative brands selling great products
A hot networking lunch
Opportunities to meet like-minded entrepreneurs
End of day drinks reception
A one day ticket costs £50+VAT and Enterprise Nation members receive 25% off tickets.
Get one to one advice in the business advice zone from:
Visit the pop-up market to find:
Plus we'll be crowning the 2019 Female Start-up of the Year winner live on stage. They will receive amazing prizes to help them and their business flourish and grow. The competition will open for entries in August 2019.
#wegrowthhub #people #strategy #startup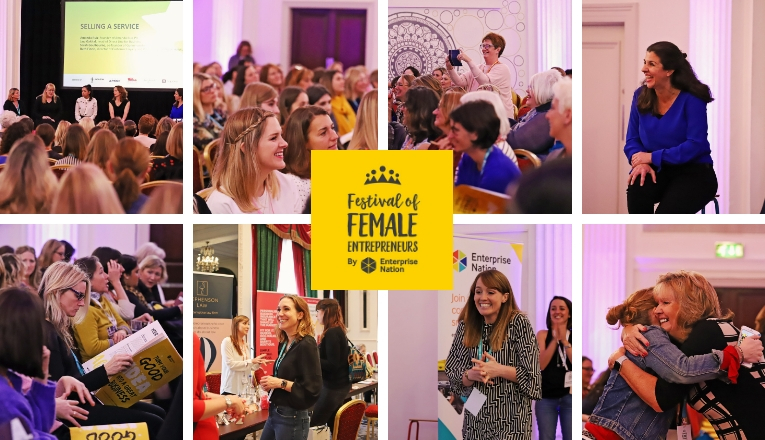 ---
About Enterprise Nation
Enterprise Nation is the UK's most active small business network and we have helped thousands of people turn their good idea into a great business.
Enterprise Nation membership gives you access to exclusive opportunities to grow your business and connects you with like-minded entrepreneurs and business experts who can help. Membership is just £10 a month and you can cancel at any time. By selecting the 'plus membership' ticket, you'll automatically get 25% off this event too!

---
Event partners

---
Cancellation policy
For a full refund, cancellations must be made at least 48 hours prior to the event.
Please note that in the event you are unable to attend this event due to cancellation from yourself or Enterprise Nation, we are unable to refund any associated costs such as hotel or travel.