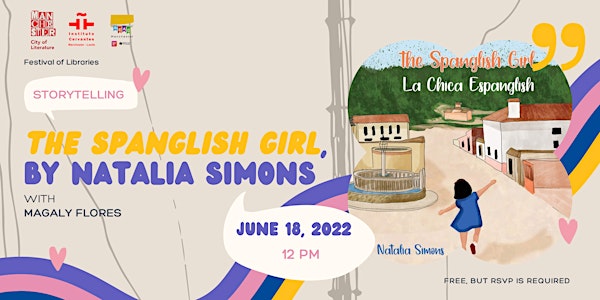 Festival of Libraries Storytelling: 'The Spanglish Girl', by Natalia Simons
Location
Instituto Cervantes Manchester
326-330 Deansgate
Campfield Avenue Arcade
M3 4FN
United Kingdom
Bilingual storytelling to celebrate Manchester Libraries Festival
About this event
Join us and celebrate the Festival of Libraries with children's literature and storytelling, coordinated by Magaly Flores, with the story The Spanglish Girl. The story was written by Natalia Simons, who works with bilingualism as a way of learning for children from early childhood.
In this story, we Anna, a little girl who spends her summers in a village in Spain with her grandparents. For the rest of the year, she lives in England. Although Anna visits Spain every year, she cannot speak much Spanish yet. She only speaks it a little bit at home, with her mum. The children in the Spanish village laugh at the way she talks; they say that Anna speaks differently than them. Her grandma reminds her how lucky she is to be able to speak two languages, Spanish and English, and to have two different cultures.
Natalia Simons comments "writing has always been a passion of mine, so when the pandemic hit, I had more time and I decided to write the book because I wanted to help bilingual children feel identified with a story and for monolingual children to learn Spanish and be aware of different cultures".
Activity at the Instituto Cervantes in Manchester.
Recommended age: 5 to 9 years old.
Free event in Spanish and English
For more information, please contact cultman@cervantes.es
Únete a nosotros y celebra el Festival de Bibliotecas con un cuentacuentos, coordinado por Magaly Flores, dedicado a la lectura La chica espanglish. Un cuento escrito por Natalia Simons que trabaja el bilingüismo como forma de aprendizaje desde la infancia.
El cuento narra la historia de Anna que es una niña que pasa los veranos con sus abuelos en un pequeño pueblo en España, pero reside en Inglaterra. Cuando va a España se encuentra con que no sabe español, ya que solo lo habla con su madre en casa. Los niños del pueblo se ríen de cómo habla, pero su abuela le recuerda la suerte que tiene por vivir dos culturas y hablar dos idiomas: inglés y español.
Natalia Simons nos comenta que «Siempre me ha gustado escribir, entonces cuando llegó la pandemia tenía más tiempo y decidí escribir el libro porque quería ayudar a niños bilingües sentirse identificados con el cuento y que los monolingües se interesen por aprender castellano y saber sobre la cultura española».
Actividad en el Instituto Cervantes de Mánchester
Edad recomendada: 5 a 9 años.
Actividad gratuita y bilingüe, en español e inglés.
Para más información, contacta cultman@cervantes.es