Description
Unlock your passions and live a life of happiness and fulfilment!
This ½ day morning conference enables you to take an active part in learning scientifically based evidence about how passion increases happiness, well-being and strengthens resilience. Join us to find out the latest research in passion and happiness so you can improve the quality of your life and work and also for your clients and teams.
Key benefits:
Be inspired by exploring your passions
Develop tools to integrate passion and happiness into your daily practice
Build resilience in dealing with challenges and setbacks
Connect with scholars, thought leaders and like-minded passionate individuals
Who should attend:
Individuals looking to explore their passions and improve well-being

Coaches, psychologists and health and wellness professionals

Students, teachers and social and community groups
Key reasons to attend:
Examine the concept of passion and get practical insights to passion as a driver for happiness with the CEO and Co-Founder of the Institute of Passion

Hear more about the science of happiness and explore how this can impact society and the greater world transformation

Discover how igniting passion for life can lead to bouncing back and greater resilience from challenging scenarios

Find out about the 4P research-based framework and how to implement both in organisations and for individuals to integrate happiness and passion into daily practices

Interact with experts in health and well-being, share "the power of passion and happiness" and how it can improve quality of life and work

Explore in a panel session the psychology behind passion and happiness under multiple facets so that you understand the positive outcomes possible for society, schools, and organisations

Meet international speakers who will take you on a journey of interactive and censorial experiences to inspire the joy of fulfilled living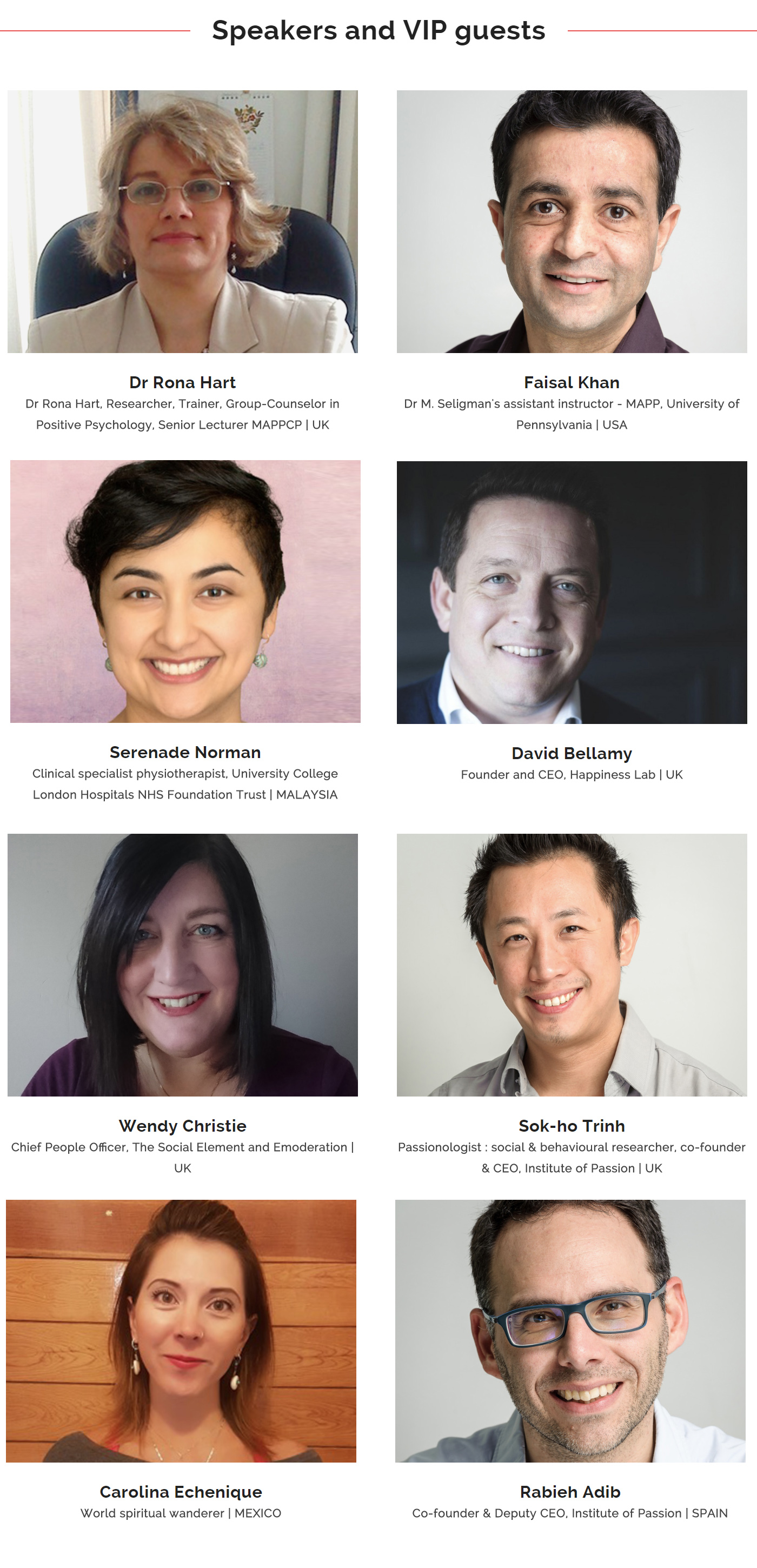 Agenda:
8:30 – 9:30: Registration and coffee & tea
9:30 – 9:40: Opening message and agenda
Mr Sok-ho Trinh (Co-founder & CEO, Institute of Passion)

"Passion is a driver to Happiness. This first edition of the Festival of Passion will demystify the concept of Passion, underpinned by the science of Happiness, connecting scientific findings to practical insights."
9:40 – 9:55: On the importance of Happiness
Chair: Dr Rona Hart

"Dr Hart will shed light on the science of Happiness and will explore how this impacts society and the world for the better."
9:55 – 10:10: "Leaving to live" – learning from the Dalai Lama
Mrs Carolina Echenique (World spiritual wanderer)

"Carolina has come from far. After being physically, financially and mentally abused by her ex boyfriend, Carolina kept her Passion for Life. She decided to leave to live and learned to surrender after her encounter with the Dalai Lama."
10:10 – 10:40: 4P research-based framework
Mr Sok-ho Trinh (Co-founder & CEO, Institute of Passion)
Mr Rabieh Adib (Co-founder & Deputy CEO, Institute of Passion)

"The Institute of Passion's research based 4P framework is a multidimensional framework which can be leveraged to create positive changes in society as demonstrated with organizations and individuals."
10:40 – 11:10 : Positive intervention: body, mind, voice and well-being
International VIP guest
"Enjoy a unique moment of happiness connecting with all your senses, with your body, and with your mind."
11:10 – 11:25 : Networking break
"Make the most of the conference and network with other happy minds."
11:25 – 12:15 : Panel on "the power of Passion and Happiness"
Dr Rona Hart (MAPPCP Program Leader, senior lecturer, University of East London)
Mr David Bellamy (Founder and CEO, Happiness Lab)
Mrs Serenade Norman (Clinical specialist physiotherapist and an earth citizen leader)
Mrs Wendy Christie (Chief People Officer, The Social Element)
Mr Shamash Alidina (Founder, Museum of Happiness, Mindfuness author)
Mrs Patricia Soler (Chief Commercial Officer, Institute of Passion)
"Passion and Happiness are explored under multiple facets. The importance of Passion and Happiness and its impact on society, schools, and organizations will be discussed by a panel of experts, leaders, and researchers."
12:15 – 12:30 : Closing words
Chair : Dr Rona Hart (MAPP Program Leader, senior lecturer, University of East London)
Mrs Patricia Soler (Chief Commercial Officer, Institute of Passion)
12:30 – 13:30 : Networking
"Enjoy your lunch while deepening your learning with the conference poster presentations and network with experts, practitioners and researchers."
VIP guests list will be updated until the start of the Festival. Stay tuned for special VIP guests' announcements.