Festival of Trusteeship 2021 - All event recordings
Event Information
Refund policy
Refunds up to 1 day before event
Eventbrite's fee is nonrefundable.
Generously sponsored by Ecclesiastical Insurance
About this event
Getting on Board's Festival of Trusteeship 2021
To get access to all 24 event recordings from this year's Festival of Trusteeship 2021, please purchase a ticket.
Getting on Board's Festival of Trusteeship 2021 took place from the 1st-5th November. We had a wonderful week hearing from subject experts, taking part in important and fascinating discussions and bringing together a collective of people passionate about developing and diversifying charity boards.
We know that it can be difficult to join events as they are happening. Thanks to our wonderful Festival sponsors Ecclesiastical we are able to make the event recordings from our 24 events available at the cost of just £20. You will be able to purchase this ticket until the 30th April 2022.
Please purchase a ticket as if you were booking for an event. In the confirmation email, you will receive all the links and access codes to the events. Please note, this information sits under 'additional information' in the confirmation email, which is a little further down in the email. You will be able to watch these recordings for six months, and can download them in that time.
Below is a list of all the Festival events you'll be able to watch:
Recruiting for Diversity
Monday: How to work out who you need on your board
Tuesday: How to find your new trustees
Wednesday: How to shortlist and interview trustees
Thursday: How to get the onboarding right
Friday: Transform Information Webinar
Refining Skills
Monday: Safeguarding: the ultimate responsibility of a trustee
Tuesday: Charity fundraising: an introduction and the role of the trustee in fundraising
Wednesday: Impact: what does it mean for trustees?
Thursday: Charity finances - the basics
Friday: The role of trustees in tackling misconduct
Being a good trustee
Monday: Getting on Board open house: what do we do & why do we do it?
Tuesday: You're a new trustee: what can you do to thrive in the boardroom?
Wednesday: Setting the right tone: what does an inclusive board culture look like?
Thursday: Noses in, fingers out': how trustees can be strategic, not operational
Friday: Challenge not conflict: managing boardroom tensions and supporting debate
Panels
Monday: Who is missing from our boards?
Tuesday: Is trusteeship for people like me? Stories from people who also wondered this
Wednesday: Generating discussion: power sharing and participation on boards
Thursday: CEO and Board - the critical relationship and what it means for you
Friday: Lived experience on boards: how to ensure accountability to our community
Potential Trustees
Monday: Charity Board Leadership Programme Information Webinar
Tuesday: What is a trustee & what do they do?
Wednesday: How to find trusteeships
Thursday: How to master your application
(There wasn't a Friday session for this strand before you wonder if it's missing! We thought everyone might be enjoying fireworks instead :))
We hope you will find the sessions valuable, and enjoy them.
If you have any specific questions, please contact us at info@gettingonboard.org.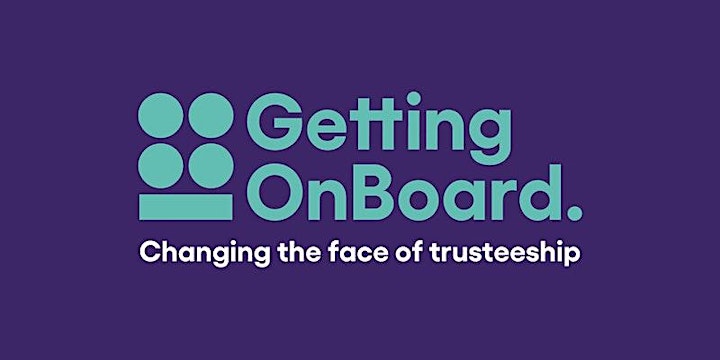 Location
Refund policy
Refunds up to 1 day before event
Eventbrite's fee is nonrefundable.
Organiser of Festival of Trusteeship 2021 - All event recordings