NEW SPACE, BIG OPPORTUNITIES
About this event
The launch of the new FibreHub and Digital Transformation Space is taking place on November 4th, and you're invited!
Headforwards in partnership with Unlocking Potential and Software Cornwall are thrilled to be able, finally, to welcome you to the new FibreHub and Digital Transformation Space located next to the Cornwall College campus at Pool.
Brainchild of Toby Parkins and Craig Girvan, co-founders of one of Cornwall's largest tech companies, Headforwards - FibreHub is the new space where tech, software and digital businesses can connect. More than just a workspace, their ambition is for FibreHub and FibrePark to become the modern-day equivalent emblems that the tin mines once were, creating a new tech revolution in Cornwall.

9:00am – 12:00 – Launch of the Digital Transformation Space Thursday 4th November will kick-off the launch with a morning hosted by Unlocking Potential featuring a thought-provoking keynote bringing you the latest thinking in tech-innovation, and a first look at the new Digital Transformation Space – a high spec, collaborative event and workspace available for businesses to use. Plus plenty of time to pick the brains of the Digital Transformation team, as well as the chance to learn more about how they're delivering the programme in collaboration with Software Cornwall.
Keynote announced: Inma Martinez.
We are delighted to welcome Inma Martinez as keynote for the launch.
Inma is one of the world's leading thinkers in the development and advancement of digital technologies and how they transform industry and societies.
She was behind the creation of the first AI engine for the mobile internet services of telecommunications and media companies and continues working in sensor-based data (Internet of Things), the connected car, and the development of the 'Smart Society'. As an A.I (Artificial Intelligence) scientist she has developed personalisation engines and advocated for the development of A.I in human-centric ways.
The ERDF funded programme Digital Transformation (delivered by Unlocking Potential) has been up and running for a little while now, but this launch of the brand new, state-of-the art space marks a massive and game-changing leap forward for two kinds of business. On one hand, there are companies in Cornwall more than ready to use digital tools to transform what they do and how they do it. On the other hand, Cornwall's home to any number of field-leading digital pioneers perfectly placed to put their know-how at the disposal of that first group. The Digital Transformation programme is how these two groups get together, and the new space in the FibreHub is where it happens.
12:00 - 13:30pm: Networking, a chance to view the exhibitors and lunch served by FibreHub resident, Nimbus Café.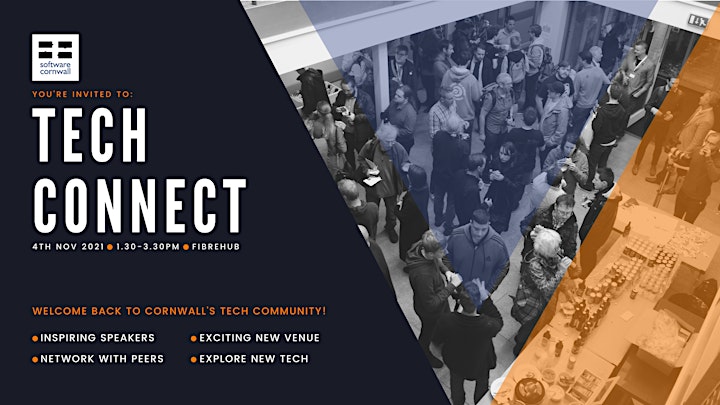 1:30 – 3:30pm: Software Cornwall TechConnect event
The afternoon session will play host to Software Cornwall's quarterly 'Tech Connect' event, welcoming the tech, software and digital communities to Software Cornwall's new home. An eclectic mix of speakers will showcase the technology being built in Cornwall right now, as we explore the crossroad of where hardware meets software and hear from the people behind the products. Thanks to the hosts of this collaborative event, this Tech Connect session is open to everyone, not just Software Cornwall members. This will be a great opportunity to mingle with the tech community, reconnect with those you haven't seen for a while and hear more about what Software Cornwall are up to.
Terms and conditions here: https://www.unlocking-potential.co.uk/terms
Book your place now - there is no cost to you however we will need to ask you to complete a short form for our funders.
The Digital Transformation programme is funded by the Cornwall & Isles of Scilly (CIOS) European Regional Development Fund (ERDF), part of the European Structural Investment Fund (ESIF) portfolio 2014 to 2020.
By participating in this event you will receive support to the de-minimis value of £375/€435 based on an exchange rate of €1.16 /£1. (exchange rate dated 01 October 2021)
It's easy to talk theoretically about change, opportunity and exciting times. Digital Transformation, Software Cornwall and their new home in the FibreHub are what those things actually, physically, look like, and they're happening now, in Cornwall. Join us and see for yourself.