Description
Field Games is a team based fitness competition with a difference.
Think adventure sports day meets boot camp meets army assault course. It'll be a great workout in the great outdoors with a bunch of great people. It's all about the team!
As a team, you'll work your way around a series of activities and workouts. You might get wet, you might get a bit muddy but you'll definitely have fun!
Expect to be flipping tyres, carrying logs, slipping, sliding, crawling and more.
And if that wasn't enough, you'll also get a beer, a burger and a photo for your efforts.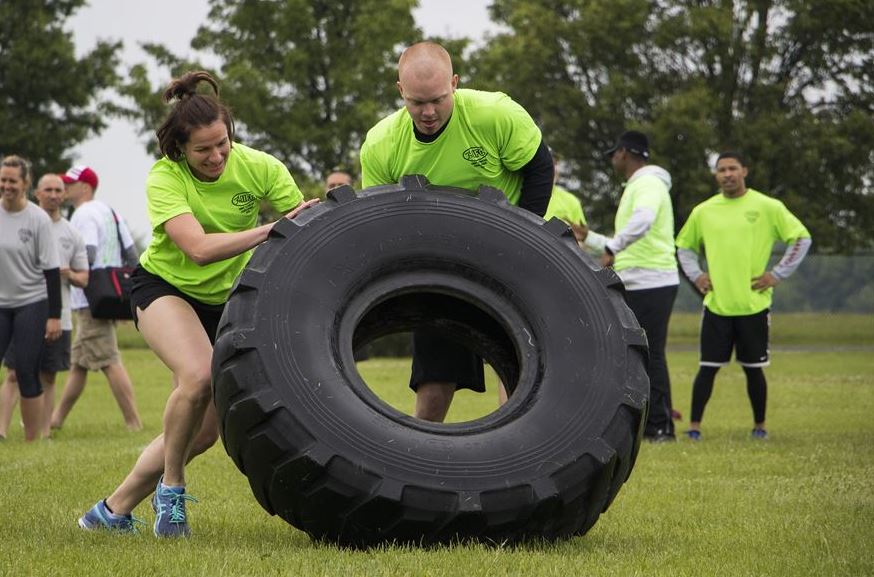 FAQs
What time does the event start?
Please be ready to go at 10.30am. We'll run a briefing at 10.30am followed by a group warm up at 10.45am. The event itself will start at 11am.
What should I wear?
Sports kit (t-shirt, shorts/leggings etc.) and trainers that you don't mind getting muddy. The entire event takes place on grass and sand. Any specific questions please get in touch.
How long does the event last? / How long will it take me to finish?
Field Games is made up of 8 activities / stations and each team will have 5 minutes at each station before transitioning on to the next. There will also be a little bit of running (approx. 1 mile in total) so the overall event will take in the region of 50-55 minutes. All teams will finish at the same time.
What should I bring into the event?
As well as plenty of energy and enthusiasm we suggest bringing some dry, warm clothes plus any water/drinks and food that you might want.
How big is a team and do I need a full team to compete?
Teams will be six people (mixed teams are preferable). If you don't have a complete team we can assign you to a team on the day.
What are my transport/parking options for getting to and from the event?
The nearest train stations are Worplesdon (0.7 miles) and Woking (2.5 miles), which are less than 30 minutes from London Waterloo.
There is also car parking on site.
How fit do I need to be?
Field Games is designed for all fitness levels. Whether you just want to have fun or push yourself, this will have something for you.
How much running will there be?
There will be approximately 1 mile (1.6km) of running in total. This event is not about running, it's about team based fitness activities.
Is there a minimum age limit?
14 years
How can I contact the organiser with any questions?
Please email luke@ocrnewbie.co.uk