Field of Dreams - How to be an Incredible Success Networking Coggeshall Eve...
Description
How do you take an idea and turn it into a reality?
How do you create your own business empire?
What does it take to be a success?
Jane Mahon took an unloved field of vines in Essex and turned it into an award-winning vineyard and restaurant.
Jane will be sharing her top tips for success no matter what your business. How to build a passionate team that loves your business as much as you. How to attract clients that love everything you do.
Jane will be sharing her passion for supporting Essex business women and how it can make a big impact on your success, and we can't wait!
Proudly sponsored by you? Get in touch to learn more.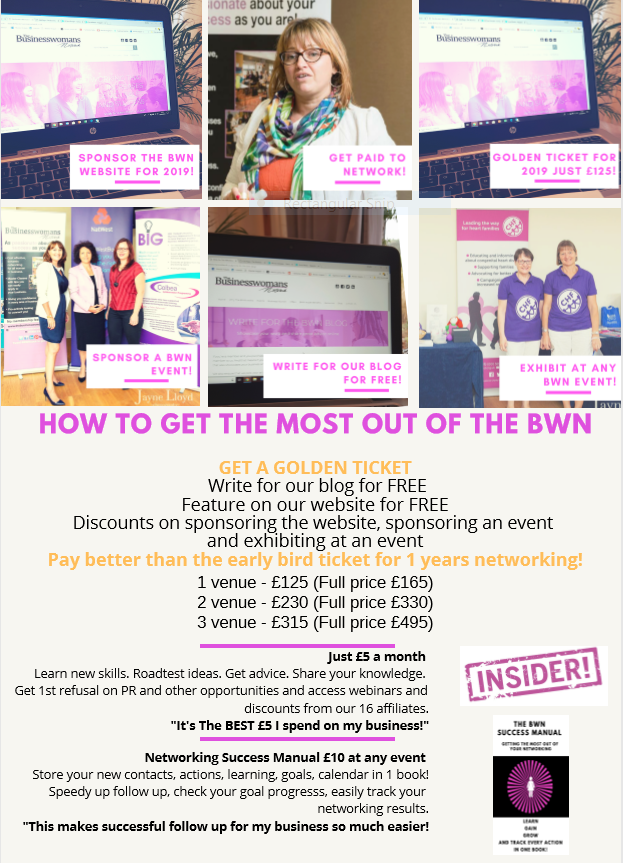 You?
Learn more about the benefits of sponsoring the BWN events. 10 minutes promo slot in front of the audience. 1 exhibition stand. 1 ticket. FREE promotion on line up to the date of the event on every social media platform we use, on our website and at our events around the East of England. And even promoted here on our site booking! Learn more here or book below. Only 1 sponsor per event.
Want more exposure for your business?
You can exhibit at any event. Get 1 ticket and 1 exhibition stand. And we are happy to feature you in our social media, marketing and flyer up to the date of the event. (Subject to receiving the logo, etc with adequate notice.)
Book your exhibition stand below or learn more here.
Got a Golden Ticket? You only pay £13.50 to exhibit at any networking event with us!
Want a Golden Ticket (Pay once for the whole year and get big discounts on events, exhibiting, sponsoring events, sponsoring the website and you can even write for our blog for free. Sign up below or learn more here.
First time?
Click here to read about the format of our events, timings and what to expect.
To get the most out of networking with us, head over to our website and join us across our social media. If you mention us we can share, like and retweet your content.
Keep up to date on events
You can also sign up to our Facebook page to never miss an event. Or sign up to our newsletter that goes out once a month to hear the latests news relevant to busy women in business. Learn more here.
If you have had not been to an event yet come along and see why this is our 10th year!
And we are still considered the most motivational, proactive networking group in the East of England! (That's not just our view, that's the view of banks, international speakers, authors, business leaders and authorities on business.
Don't worry about it being a girlie "clicky" group. This is business focussed in a relaxed environment that enables you to get the answers and connections you need.
Yes business men can attend too - we are an inclusive environment, not exclusive.
And well behaved children are always welcome too.
The Business Womans Network Refund Policy
Please note that because The BWN does not have a traditional membership we work closely with our venues to keep costs and administration to a minimum, as such we have to abide by the refund policy. Although we will do all we can to accommodate busy business owners;
More than one week to the date of the event; Full refund on your purchased ticket.
Less than one week to the date of the event; No refund on your purchased ticket, however, choose a different date to attend at that venue.
On the day of the event; No refund and no alternative date.
We apologise for any inconvenience that this may cause; however, we incur costs for tickets purchased. Should you feel that you fit exceptional circumstances and wish to discuss this we are happy to do this and are always open to new ideas to enable us to help women in business more.
The BWN – As Passionate About Your Success As You.