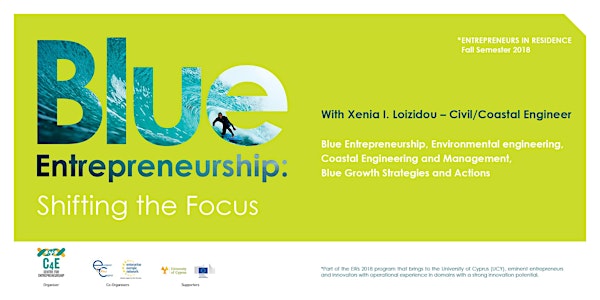 Field-trip Workshop: Blue Entrepreneurship - Shifting the Focus (Part of th...
Location
Limassol Port
Harbor Road
Limasol
Cyprus
Description
Overview:
The Blue Entrepreneurship concept as a driver of sustainable growth and development and the role entrepreneurs can play in redefining blue economic markets and coming up with better products, and services.
*ΚΕΠ 101 Approved
PROGRAM
09:30: Departure from UCY to Limassol Harbour by bus
09:30 – 10:30: On-the-road workshop: orientation on Blue entrepreneurship, opportunities, potential.
10:30 – 11:30: Tour in the Harbour facilities/ operations
11:30 – 12:30: Workshop in Harbour premises:
Blue Entrepreneurship

Maritime Industry

Blue tourism
13:00 – 15:30 Tour in the Limassol Marina facilities/ operations
Networking light lunch
15:30 – 16:30 On-the-road wrap up/ conclusions/challenges
*A more detailed program will be sent to registered attendees
Trainer/Speaker:
Xenia I. Loizidou - Civil/Coastal Engineer, Co-Founder & Director, Isotech
Coastal Engineering Coastal Zone ManagementCollective Decision Support Systems Sustainable DevelopmentInclusive and Blue Growth Strategies and Actions
- Since 1990 Xenia has been an active coastal engineer and entrepreneur.
- She is co-founder of ISOTECH Ltd (www.isotech.com.cy ), and of the NGO AKTI Project and Research Centre (www.akti.org.cy).
- She has been member of several European and international expert groups and networks, and has worked in more than 50 countries.
- She holds several offices (eg Member of Board of Directors of Cyprus Tourism Organisation).
- She has received several international awards. She is the author/co-author of more than 200 technical reports and scientific papers.
- She is the mother of two girls.
She is exited to support young and motivated people to network, to structure cooperation schemes, to implement sustainable solutions and incorporate inclusive growth concepts into their careers, to extrovert and to innovate!!