About this Event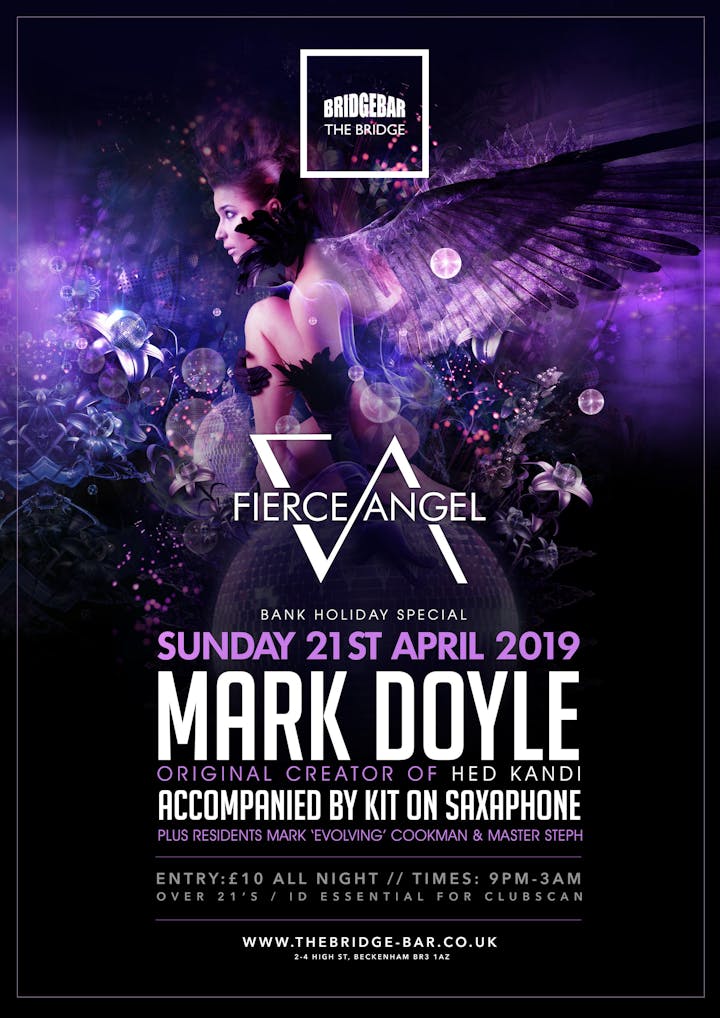 More than a little Easter Fierce as Mark Doyle and Fierce Angel land in Beckenham at the ultra stylish BridgeBar. This very special bank holiday event will see Mark Doyle and Kit Mlynar (sax) join the BridgeBar residents for a night of the finest up front disco house and Kandi classics.
2019 will see Mark performing all over the world as he celebrates 30 years of being a DJ, 20 years of Hed Kandi & 50 times around the sun. Expect exclusive events in London, Ibiza, Asia and all points in between.
The numbers make staggering reading; the creator of 3 best-selling dance brands (Hed Kandi, Stereo Sushi & Fierce Angel), a DJ for over 30 years, a radio presenter for over 20 years, compiler of over 80+ best-selling albums resulting in over 3 million sales plus a phenomenal ear for a hit record with 3 top 10 UK chart records and another 10 top ten club chart hits under his belt.
It was while working at Jazz FM that Mark suggested that the station branch out and market a new label targeted at clubbers who had grown up during the birth of house. In 1998 the Hed Kandi brand was created incorporating a record label, a radio show and international club nights. During Mark's tenure, Hed Kandi sold millions of albums worldwide and his unique A&R and marketing vision helped them deliver a string of Top 40 singles and significant artist album sales. In addition, he developed a career as a radio DJ, creating the weekly Hed Kandi Radio Show broadcast on JAZZFM and then across the Galaxy network. Mark established the Hed Kandi brand in Ibiza in 2000; London parties soon followed and the branded events then toured the world, setting the standard that has often been imitated although never equaled.