Description
Fiesta!
Exploring Community - Connecting People, Spirituality and the Environment
Fiesta is weekend long festival for pioneers, entrepreneurs, activists, sojourners and many others who are looking to connect and find a space to journey together.
We will spend the weekend exploring transformative ways to live and engage through eating together, creative arts, open space conversations, reflective practice and place making.
We are delighted that Alistair Mcintosh has agreed to be with us as our elder in residence. He will be opening and closing the weekend as well as joining in and participating with the programme. The focus of the weekend is inspired by Alistair's book Spiritual Activism.
Other contributors include - Grace Community, Harry Baker and Chris Read, Rowan Conway, Johnny Sertin, Mark & Katie Sampson and Jon & Tammy Oliver.
Ticket price includes:
Welcome meal on Friday evening
A performance by Harry Baker and Chris Read on Friday evening
All other workshops and events throughout the weekend
During the day on Saturday there will be an alternative programme provided for children in school years 1 to 6.
Ticket price does not include:
Accommodation
Any meals on Saturday and Sunday (we will provide a good list of local places to eat nearer the event)
Accommodation information:
Earlsfield is a very well connected spot and you will easily be able to get to Earlsfield within 20 minutes if you stay anywhere within 1 mile of Earlsifeld.
Please see the accompanying map showing where a 1 mile radius extends to as a reference point for places you could look to stay. If you are keen to be super local then there is a Premier Inn just up the road and Airbnb also has a wide selection of places available locally.
St Andrew's Church on Garratt Lane will be a spot where some of the weekend's activities will orbit around so this would be a good address to use as a reference point if you are wanting to check the distance between your accommodation and where activities will be based over the weekend.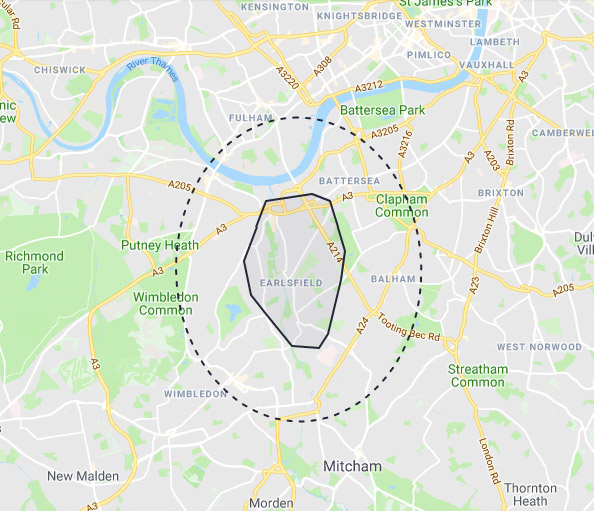 For any additional information, please contact Hannah on hannahlucymarkusse@gmail.com or just use the link below.