About this Event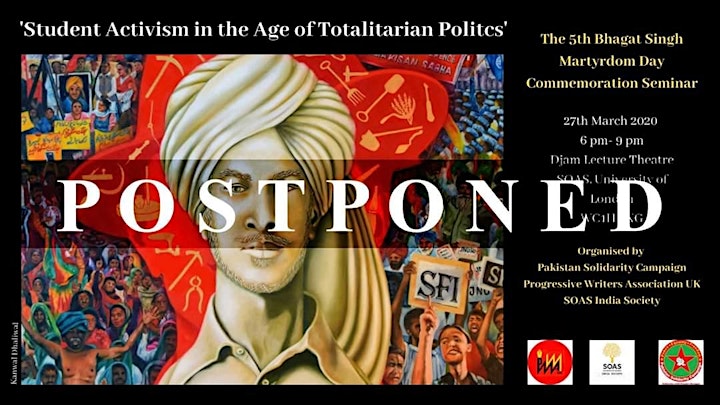 Fifth Bhagat Singh Martyrdom Day Commemoration Seminar
"Student Activism in the age of Totalitarian Politics"
The 'Fifth Bhagat Singh Annual Seminar: Student Activism in the age of Totalitarian Politics ' will be held on Frifay 27th March 2020. Bhagat Singh, an Indian socialist revolutionary was hanged by the British in Lahore, now in Pakistan. The seminar commemorates the global character of Singh's anti-colonial and anti-imperialist aspirations.
This annual seminar aims to bring centre-stage students resistance in Pakistan, India and Bangladesh. It is being conducted in the memory of struggle(s) for freedom. In the current volatile geopolitical scenario in South Asia, charged with religious chauvinism and populist jingoism, it is all the more important for the people of the region to explore the ideas and legacies of Bhagat Singh.
This year's event consists of academic panel discussions, a one person play, and literary and musical performances by poets, students and activists.
The seminar is free to attend but registration via Eventbrite is essential.
Date: Friday 27th March 2020Time: 6:00-9-:00 pmVenue: Kamran Djam Lecture Theatre, Main Building, School of Oriental and African Studies, University of London, 10 Thornhaugh St. Russell Square, London. WC1H 0XG.
Session-1
Speakers:
1. Noor Zaheer
Noor Zaheer is a writer, translator and researcher from India, writing in English, Hindi and Urdu.
Her important published works include:
My God is a Woman Denied by Allah Gone With the Soil: An Anthology of SAARC FictionLanguage They Chose - Women's Writing in UrduWomen Hold Up Half the Sky: Women WritingsRait per Khoon (Blood on the Sand)Surkh Kārvā҃ Ke Hamsafar (Fellow Travellers of Red Caravan) Mere Hisse Ki Roshnai (My Share of Light) Kāghazi Hai Pairahan (The Paper Attire) Translation- Memoir of Ismat ChughtaiSiyahi Ki Ek Boond (A Drop of Ink) Āj Ke Nām (Dedicated to Present time)
Being an active member of Communist Party of India herself, Noor Zaheer is also a daughter of one of the founder members of Progressive Writers Association and first Secretary General of Communist Party of Pakistan Sajjad Zahher, and prominent progressive writer, translator and dramatist Razia Sajjad Zaheer.
2. Alia AmiraliHailing from Pakistan, Alia Amirali, a feminist scholar, is currently pursuing her Ph.D. in Gender Studies at the London School of Economics. Alia is a political organizer who has closely worked with various grassroots movements, including students, women, Kachi-Abadi (slums)- dwellers and the landless tenants' movement in Punjab (Pakistan). She has been actively involved in the struggle for the revival of the students' unions in Pakistan. She played an active role in the rebuilding of the progressive National Students Federation (NSF), of which she served as former General Secretary (West Punjab), and is currently a member of the Awami Workers Party (AWP). She was actively involved in the Lawyers' Movement against General Musharraf's emergency.
Others to be confirmed
Q&A Session for 20 minutes
Refreshment Break
Session-2
Play: 'I am Bhagat Singh' ( mai҃ bhagat singh ha҃) a solo play in Punjabi by Jatinder Sidhu, Actor
Poetry Recital and songs of resistance
Kulwant Dhillon (poet from PWAUK) to recite her Punjabi poem with a brief description about the relevance of her poem to the days of her student activism. Darshan Bulandvi (Punjabi poet from PWAUK ) to recite his poemAzeem Shakher (Punjabi poet from PWAUK) to recite his poemRoop Khatkar (Singer) to sing Faiz and other songs, relevant to the theme of the day.Jaffara Immam (Poet) to sing poems of Faiz Ahemad Faiz
Presentation of SOAS India Society.
Organized by
Pakistan Solidarity Campaign
Progressive Writers Association UK
SOAS India Society
Dear friend,
With eavy heart, but considering current pandemic of coronavirus we inform that 5th Seminar event is being postponed until further notice.
A new date will be announced, once the situation is normalized.