'The Power of Collaborative Relationships: Working Together to Rebuild Lives and Communities'
About this event
DOWNLOAD YOUR CONFERENCE BROCHURE HERE
DOWNLOAD YOUR CONFERENCE PROGRAMM HERE
This is the fifth International Conference on Pluralistic Counselling and Psychotherapy (ICPCP) which this year is being hosted by Robert Gordon University and Online Events.
Every year the pluralistic community bring together practitioners, academics, and those interested in the Pluralistic approach together to discuss, debate, and learn about developments in the field. Our ambition for these events is to open our arms to all comers and this year our focus is on the impact a pluralistic approach can have through collaborations – taking our practice out of the therapy room to impact of societal challenges.
As always, we have a self-select fee to ensure we include all those who wish to attend, in keeping with this we would ask that those of you who can afford to contribute do so to ensure we continue to support this annual event.
Along with the practice-focused workshops, talks, and discussions we are hugely excited to be welcoming keynote speakers from across the globe: Lisa Goodman, Usha Tummala-Narra, and David Denborough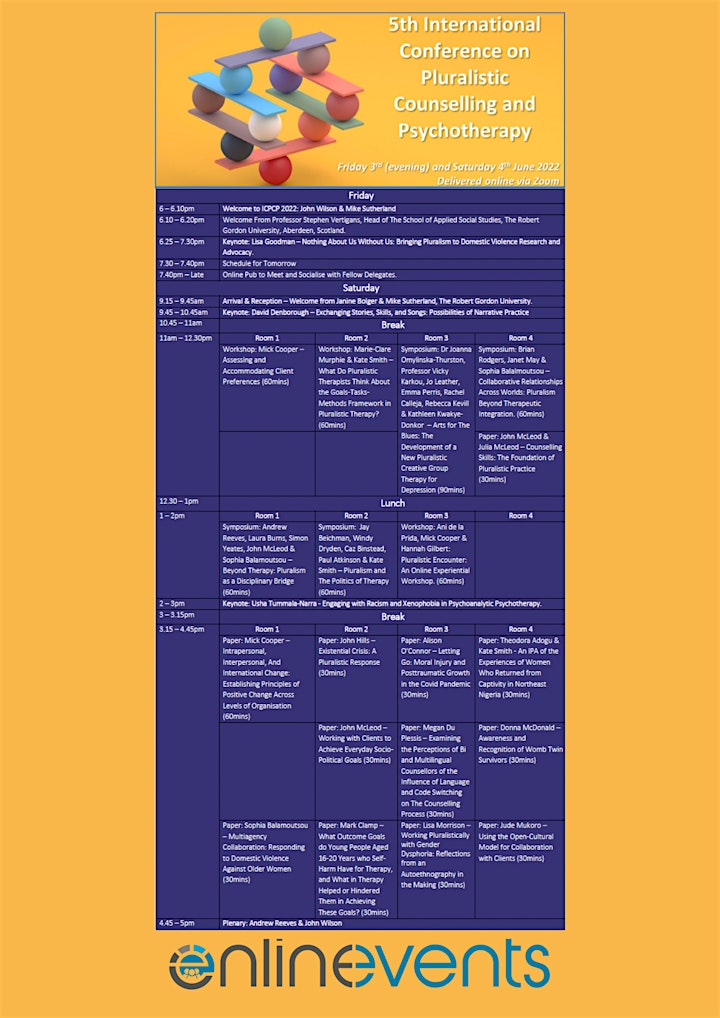 This workshop will be hosted on the Zoom meeting platform where we will use our camera and microphones to interact with each other as a group.
To support practitioners in this time of extraordinary circumstances we are offering access to this group for a self-select fee.
All the colleagues at ONLINEVENTS and the presenters we collaborate with are committed to working in a manner consistent with the BACP Ethical Framework, which can be accessed on the link below. When registering for this event you are agreeing to be present and interact in a manner that is consistent with this Framework.
https://www.bacp.co.uk/events-and-resources/ethics-and-standards/ethical-framework-for-the-counselling-professions/
Lisa Goodman
Lisa Goodman is a clinical-community psychologist and Professor in the Department of Counseling and Applied Developmental Psychology at Boston College. She uses a community-based participatory research approach to explore intimate partner violence, aiming to illuminate how survivors use their social networks for healing and safety, and how to improve systemic responses. Her research highlights the strengths and needs of marginalized survivors, including communities of color, and people who are unhoused.
Usha Tummala-Narra
Usha Tummala-Narra is a Clinical psychologist and professor in Psychological and Brain Sciences at Boston College. Her research focusses on mental health and trauma within immigrant communities in work which focuses on cultural competence in psychotherapy and culturally informed practices. She examines the impact of race, gender, and interpersonal and collective trauma and how therapy can become more culturally informed.
David Denborough
David Denborough is a Narrative therapist and the co-director of the Dulwich Centre, he works as a community practitioner, teacher and writer for the theatre. He has undertaken teaching/community assignments in Palestine, Thailand, Israel, Bosnia, Rwanda, Uganda, Canada, Brazil, Argentina, Chile, South Africa and with a number of Aboriginal Australian communities. David's songs in response to current social issues have received airplay throughout Australia and Canada. He is vitally interested in avoiding psychological colonisation, developing forms of practice relevant to the most marginalised, and in cross-cultural inventions through cross-cultural partnerships