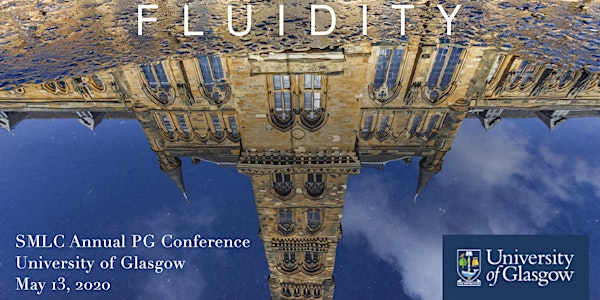 Fifth PG Conference in Translation Studies & Comparative Literature (UofG)
Registration is now open for 'Fluidity': The Fifth Annual Postgraduate Conference in Comparative Literature and Translation Studies!
About this event
A one-day conference organised by the research cluster Writing in Transit from the School of Modern Languages and Cultures at the University of Glasgow.
You are warmly invited to attend the free one-day PG conference on the theme of 'Fluidity' which sets out to explore how Comparative Literature and Translation Studies analyse, question, shape and create flows by connecting texts, art forms, ideas and languages. Exophonic writing, transnational literature and ecocriticism, are some of the topics chosen by our presenters to highlight these connections.
This year, our keynote speakers are Prof. Roberto A. Valdeón and Dr Georgina Collins. Dr César Domínguez and Prof. Susan Bassnett will also be joining us for a roundtable at the end of the event.
The conference will be running as a Zoom Webinar, and we will be using our website to showcase poster presentations.
If you would like to participate in the conference as a virtual attendee, please sign up for a ticket on Eventbrite and we will send out links to the virtual conference closer to the date of May 13.
The schedule printed below may be subject to change.
Programme
9.20 - 9.30: Welcome Address and Housekeeping
9.30 - 10.10: Panel 1:Travel Writing
Agata Piotrowska (St Andrews), Erasing Linguistic Borders: Redefining the Language through Early Modern Female Travel Writings
Ross Cameron (Glasgow), Edith Durham in 'The Land of the Living Past': Discursive Instability in Early Twentieth Century Travel Writing on the Balkans
Discussion
10.10 - 10:20: Break
10.20 - 11.00: Panel 2: Indigenous Cultures and Integration
Nat Paterson (Glasgow), Flowing Against the Tide: White Characters' Integration into Indigenous Cultures in James Vance Marshall's Walkabout and Léopold Chauveau's Les Cures Merveilleuses du Docteur Popotame
Yana Shabana (Birmingham), Translation as Performance: Controlling Indigenous Population Overflow
Discussion
11.00 - 11.10: Break
11.10 - 12.10: Keynote I: Dr Georgina Collins: Translation and Fluidity in Cameroon: Political Interventions, Literary Activism and the Flow of Words accross the Francophone-Anglophone Divide
12.10-1.30: Lunch Break
1.30 - 2.10: Panel 3: 19th Century French Writers
Kristina Astrom (Glasgow), Towards a Poetics of Suggestion: The Interplay of Poetic Forms and Thematic Motif in Mallarmé's 'Éventail de Méry Laurent'
Sophie Maddison (Glasgow), Ontological Fluidity in Zola and Serao: New Materialist Approaches to the Fragmented Subjectivities of the Nineteenth Century
Discussion
2.10-2.20: Break
2.20-3.20: Keynote II: Prof. Roberto A. Valdeón (Universidad de Oviedo), Journalistic Translation Research
3.20-3.35: Break
3.35-4.10: Panel 4: Translation
Pauline Côme (Strathclyde), Translating Heritage: Evaluating the Impact of Translation Fluency on Visitor Experience
Karin Bosshard (Edinburgh), Dialect in Contemporary Scottish Fiction in Translation – Enabling Fluidity and Disrupting the Flow in A Book of Death and Fish
Discussion
4.10-4.15: Break
4.15-5.00: Closing Roundtable with Prof. Susan Bassnett (University of Glasgow) and Dr César Domínguez (Universidade de Santiago de Compostela).
If you have any further questions, please contact Dr Henriette Partzsch (henriette.partzsch@glasgow.ac.uk), Lucy McCormick (lucy.mccormick@glasgow.ac.uk), or Charlotte Le Bervet (charlotte.lebervet@glasgow.ac.uk).
Follow our Twitter account for regular updates @SmlcPGConf