Fighting misinformation with development cooperation
Fighting misinformation with development cooperation Launch of the Digital Enquirer Kit
About this event
In the last several years, misinformation has spread rapidly in the digital space, posing threats to both societies and individuals. People who work in the public eye increasingly face personal safety risks when verifying information and identifying misinformation.
This event will bring together the European Commission, Reporters Without Borders and the GIZ to discuss the challenge of misinformation in the context of development cooperation. In particular, we want to discern how effective tools can empower journalists and civil society activists to counter misinformation safely.
In this aim, the event will raise awareness on the Digital Enquirer Kit, a free e-learning guide that provides people with the skills to analyse reliable information online, and share it all in a secure way.
***
You are welcome to join us at the Brussels Press Club (Rue Froissart 95, 1000 Bruxelles) on Wednesday 8 December (11.00 - 12.30 CET) or online via this link.
Please note that due to COVID-19 restrictions, the number of attendees at the Brussels Press Club is limited and a Covid Safe Ticket will be required.
The meeting will be recorded.
For any question, please contact Alix Bullman (alix.bullman@instinctif.com)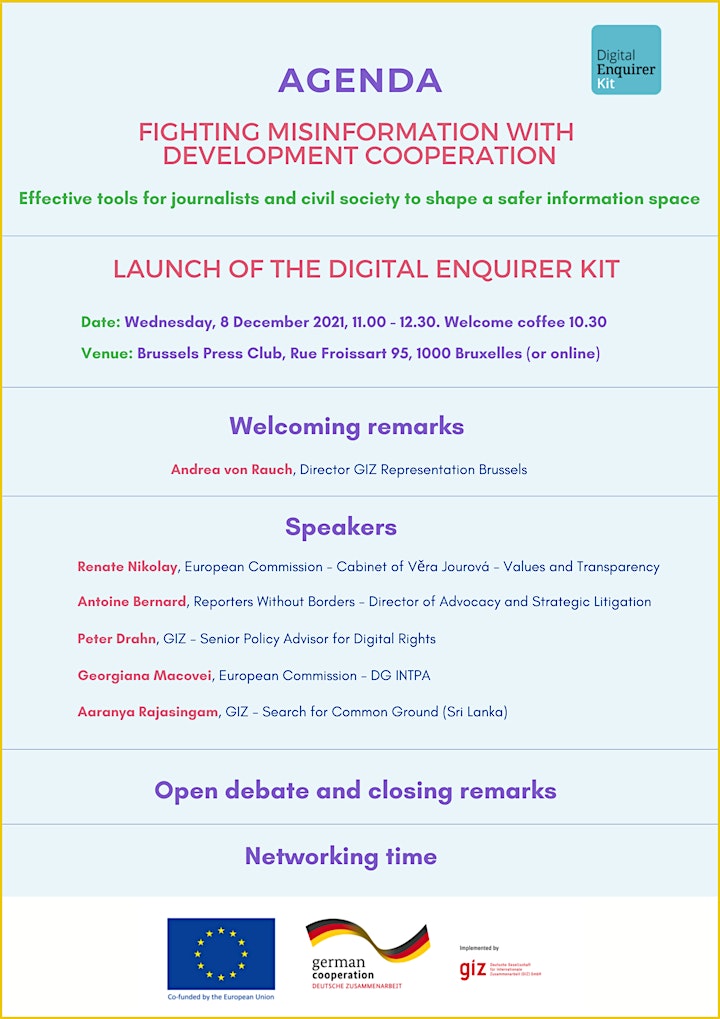 Organiser of Fighting misinformation with development cooperation