Film Club, with Guy Sherwin (17 Dec)

Saturday, December 17, 2016 from 6:00 PM to 9:00 PM
Event Details
Artist Guy Sherwin will be in conversation with Madeleine Kennedy, exhibitions curator at The Laing Art Gallery, and artist Rosie Morris at this edition of NFM's FILM CLUB strand.
The event will include screenings  of a selection of Guy's work, likely drawn from Short Film Series (1975-2015), Bay Bridge from Embarcadero (2002/6), Soundtrack Augmented (1977/2015), and Camden Road Station (1973/2003).
Guy Sherwin has been invited to perform and screen his work as part of 'Circles are Slices of Spheres', an exhibition curated by Rosie Morris at the Laing Art Gallery. The exhibition creates a meditative environment to reflect on our experiences and relationship to being in the world, here specifically drawing on the context of the Laing's architectural gallery space and the intangible elements which define this sense of space. Sherwin's work similarly looks at light, space and time, drawing from architecture, our environment and scrutinising the everyday.
"These films are all about relationships - between light and darkness, light and camera, camera and subject, subject and filmmaker and viewer, all at once and played out not only on the screen but also in the mysterious conjunction between the projected film and the viewer" - Andy Ditzler
When: Saturday 17th December, 6-9pm.
Where: The Laing Art Gallery, New Bridge St, Newcastle upon Tyne, NE1 8AG
To register please follow the link above.  Registration closes at 2pm on the day of the event. Thanks to the support of our funders there is no charge to attend, but places are strictly limited and offered first come first served. You may register for up to two places but must specify the name and details of each guest individually for the registration to be valid.
Guy Sherwin One-to-Ones: Guy will also be conducting project development one-to-ones on 16th Dec. Read more here.
Image: Guy Sherwin, Sound Track Augmented, courtesy of the artist
______________________________
FILM CLUB is supported by Arts Council England. It is designed with the intention of expanding audiences, creating networking opportunities, one-to-one professional development sessions and, of course, delivering a fascinating program of artists and their films. Read more about other forthcoming FILM CLUB activities on the project website.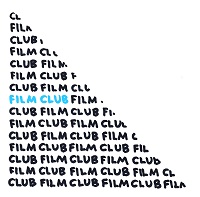 Northern Film & Media is supported by the European Regional Development Fund

Northern Film & Media has been funded by the European Regional Development Fund Creative Industries Business Support and Development Programme 2014-20. The ERDF programme is bringing over £300m into the North East to support innovation, enterprise and business support across the region. This is partly funded by the European Commission.   
Film Club, with Guy Sherwin (17 Dec)