FOR SOMERSET SOCIAL ENTERPRISES, CCS COMMUNITY BUILDINGS MEMBERS
About this event
Introduction to Video
Aimed at non-technical people, this workshop is delivered by a pioneering social enterprise, Cosmic.
Using video is one of the best ways to grow your business, increase partnerships and help your clients. The use of video on social media has grown considerably in the last two years, but how can you join in when you have a limited budget and don't know where to start?
We can guide you through how to capture a video using your smart phone then edit and share on social networks. This is an ideal introduction session to making video on your smart phone.
This is a FREE online event for Somerset Social Enterprise Network members. Members of the Network will have priority booking. Non-member social enterprises and trading charities in Somerset can to apply.
Whether you are an experienced social entrepreneur, an enthusiastic start-up or are thinking of setting up a social enterprise in Somerset we hope you will join us.
Join the Somerset Social Enterprise Network today - It's free! Membership is open to social enterprises and similar organisations of all sizes and at all stages of development, across a wide range of business activities.
Booking: Spaces are limited to 20 participants, so don't delay book your space now...Registration is needed. The Zoom link will be sent to you after booking.
This event is part of the Velocity programme that Cosmic are delivering for VCSE organisations in Somerset.
Please note by signing up for this FREE event, you agree to:
- Your name/organisation being shared as evidence of attendance with Cosmic for the purposes of reporting to the Velocity programme funder.
It is possible that we may need to alter the content of the event. We will do our best to notify all delegates before the event if significant changes need to be made.


Somerset Social Entrepreneurs Programme is led by the School for Social Entrepreneurs (SSE) in partnership with the Somerset Social Enterprise Network (Smart Communities Ltd), Somerset Community Foundation and Spark Somerset. It is funded by the UK Government through the UK Community Renewal Fund, which is managed by Somerset County Council within the Somerset region.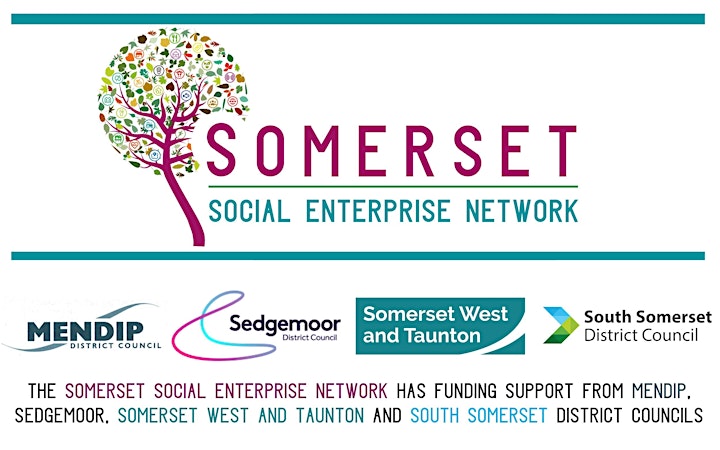 Organiser of FILM IT! Introduction to Video
Somerset Social Enterprise Network
We work to support the development and growth of social enterprises so that they can thrive and add social value by investing within communities for now and the future.
We provide events, online or in person, to provide training and networking opportunities.
We act as a voice for the sector in Somerset to decision makers and funders.
Join the network and get connected with other social enterprises who can inspire you.
Membership is open to social enterprises of all sizes and at all stages of development, across a wide range of business activities.
JOIN TODAY: www.ccslovesomerset.org/enhance-social-enterprise
Want to find a social enterprise in Somerset or Devon?
www.enhancesocialenterprise.org.uk
Support and Devon Social Enterprise Networks
The Somerset Social Enterprise Network is supported through funding from Somerset Local Authorities' Business Cluster Support Grant.
The Somerset Network works closely with a partnership of five social enterprise networks across Somerset and Devon who share knowledge and resources.
We were funded through the Heart of the South West Enhance Social Enterprise Programme with support from the England European Regional Development Fund (ERDF) as part of the European Structural & Investment Funds Growth Programme 2014-2020.