Film Network Speed Pitching brings creative people together to collaborate on their own horror-related projects.
About this event
Calling all horror fans, filmmakers and people with a passion for collaboration!
As part of The London Horror Society's commitment to being the loudest voice for independent horror in the UK, we have been working hard at developing a programme of content, opportunities and services that will help make your filmmaking ideas a reality.
With that in mind, it gives us great pleasure in inviting you to the next edition of our online Film Network Speed Pitching session.
This online event is specifically designed to bring likeminded people together, to collaborate on genre filmmaking projects. The next session is scheduled for 8pm on Tuesday, 9th August.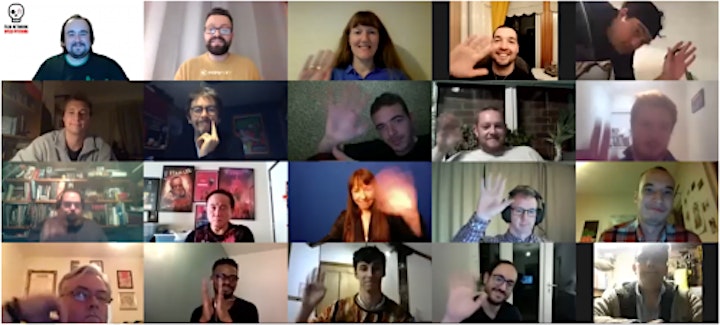 So how does Film Network Speed Pitching work?
Attendees will have the opportunity to grab a 90 second slot to pitch their project to the rest of the group. This will include their idea and what/who they are looking for to make it happen.
For example, maybe you're a filmmaker who needs an actor with a fighting skill, a make-up specialist, or even just an extra pair of hands who happens to have a van. Just condense exactly what you're looking for down into a 90 second snippet and see who bites.
Or perhaps you're an individual who is looking to offer their services to the group or ask for something specific you are looking to do. For example, a sound designer can pitch their expertise, or a writer might ask for an opportunity to shadow a director on set.
One important thing to mention is that we realise the idea of public speaking isn't everyone's cup of tea. And if this sounds like you, then don't worry – we have you covered. Simply send us your pitch beforehand, and we'll read it out for you.
And of course, you're welcome to stop by just to observe and listen to the pitches. We want everyone to be as comfortable an unpressured as possible!
Last thing to note is that each individual pitch will be numbered, and once the event is over, any participant who would like to connect with someone else simply needs to tell us which pitch/pitches they'd like to respond to. We'll then go ahead and start the ball rolling for you!
Who is this open to?
Film Network Speed Pitching is open to anyone and everyone who is interested in creating horror -- whether you are a fully-fledged professional already, a fan who is looking to take their first steps into a new career, or perhaps you simply want to keep your eyes on what new projects are in the works!
Everyone is welcome, and what's more, it's absolutely free to attend.
Once you've done that, if you're looking to make a pitch, email us over a very quick outline (we don't need to see the whole thing) to SpeedPitching@LondonHorrorSociety.co.uk before 10pm on Monday 8th August.
This is simply so we can ensure that there's enough time allocated for everyone to get their turn.
All participants will then be emailed the Zoom connection link a few days before the event.
We at the London Horror Society are committed to supporting independent horror in any way we can. And we are very much looking forward to seeing as many of you as possible at our very first Film Network Speed Pitching, and bringing some new horror projects to life!