Film Screening: Chasing Ice

Sunday, 14 April 2013 from 18:00 to 20:00 (BST)
Event Details
A VERY SPECIAL STRIPES ON SCREENING 
Jeff Orlowski's powerful and beautifully shot documentary profiles photographer James Balog as he seeks to prove the existence of one of our generation's most pressing issues: global warming.
"If any film can convert the climate-change sceptics, Chasing Ice would be it; here, seeing really is believing." The Guardian
Dir. Jeff Orlowski, USA, 2012.  Running time: 76 minutes
CHASING ICE: Plot Synopsis
In the spring of 2005, acclaimed environmental photographer James Balog headed to the Artic on a tricky assignment for National Geographic to capture images to help tell the story of the Earth's changing climate.  Even with a scientific upbringing, Balog had been a sceptic about climate change.  But that first trip north opened his eyes to the biggest story in human history and sparked a challenge within him that would put his career and his very wellbeing at risk.
Chasing Ice is the story of one man's mission to change the tide of history by gathering undeniable evidence of our changing planet.  Within months of that first trip to Iceland, the photographer conceived the boldest expedition of his life: The Extreme Ice Survey.  With a band of young adventurers in tow, Balog began deploying revolutionary time-lapse cameras across the brutal Artic to capture a multi-year record of the world's changing glaciers.
As the debate polarises America and the intensity of natural disasters ramps up globally, Balog finds himself at the end of his tether.  Battling untested technology in sub-zero conditions, he comes face to face with his own mortality. It takes years for Balog to see the fruits of his labour.  His hauntingly beautiful videos compress years into seconds and capture ancient mountains of ice in motion as they disappear at a breath taking rate.  Chasing Ice depicts a photographer trying to deliver evidence and hope to our carbon powered planet.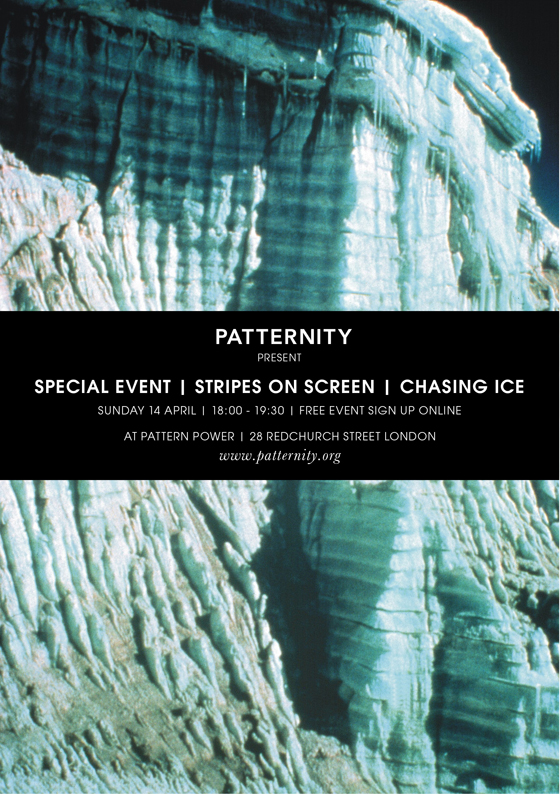 When & Where

Londonewcastle Project Space
28 Redchurch St
E2 7DP London
United Kingdom


Sunday, 14 April 2013 from 18:00 to 20:00 (BST)
Add to my calendar
Organiser
PATTERNITY
Present
PATTERN POWER
- Superstripe
 Pattern Power —Superstripe is the first in an ongoing series of annual exhibitions and events, exploring the powerful presence of pattern and it's ability to positively connect us all.
 For the month of April 2013 cult pattern pioneers Patternity take over the Londonewcastle Project Space on Redchurch Street in East London.  
 Visitors will be immersed in an intriguing and tactile world of stripes as Patternity transport their iconic curation and ethos of 'celebrating pattern everywhere' boldly into the real world. 
 SUPERSTRIPE EXHIBITION — INDUSTRY TALKS AND EVENTS
WORKSHOPS AND DEMOS — DESIGN COLLABORATIONS  
FILM AND MUSIC NIGHTS — POP UP CAFE, BAR AND SHOP
ABOUT PATTERNITY
 Patternity is an award-winning creative organisation that specialises in the exploration and application of pattern. 
 Born from a united drive to blur the boundaries between disciplines and further the awareness and understanding of the world around us, Patternity projects go beyond the surface, using pattern as a vehicle to engage, educate and inspire.
 NEW YORK TIMES
"PATTERNITY is resolutely noncliché and renders
everyday bricks and mortar moot"
 VOGUE UK
"You'll adore PATTERNITY'S exhaustive research dedicated to all
things decorated, tessellated and patterned... "
 WALLPAPER*
"Spend a few moments at PATTERNITY and you'll
look at the world through fresh eyes"
 RESEARCH ARCHIVE / DESIGN STUDIO / EVENTS
 www.patternity.org
FURTHER INFORMATION 
Opening times 12.00 – 19.00 daily 
General admission to the exhibition is free
PATTERN POWER —Superstripe is a Not - For - Profit event