We begin our Festive Film Season with an invite to the Nakatomi Christmas Party. And why not join us for a pre-film dinner?
About this event
Is it a Christmas Film? Yes. Is it one of the best action films ever made? Yes. Does wriggling your toes in to the carpet help after a long flight? We don't know. But what we do know is: Christmas isn't the same without seeing Bruce Willis drop Alan Rickman out the window of a skyscraper. Come down and see it on the big screen, and why not make a night of it by coming down earlier for some food?
Year: 1988 | Cert: 18 | Duration: 132 min
On Sale to GCT Members 12pm, Wednesday 25 November and then General Sale 12pm, Friday 27 November
Book Your Tickets and Stay for Dinner
Date: Saturday 5 December
Showings: 7.30pm. Doors open 30 mins before the screening.
Book groups of seats for up to 4 or 6 for a single household or support bubble. Reserve a table for lunch before the performance to complete a wonderful day out this Christmas.
Tickets for up to 2 people £10
Tickets for up to 4 people £20
Dinner sittings: 6.30pm - 7.30pm
To reserve a table for dinner please select a 'Reserve a Table for Dinner' free ticket from the checkout. We will then send you a link to pre-order your food in the week leading up to the showing.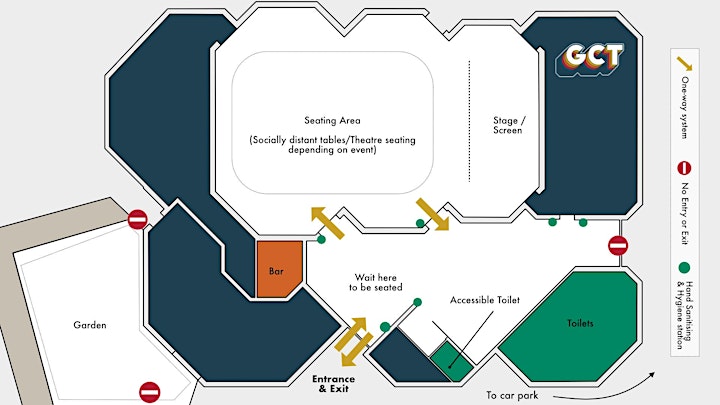 What to Expect from Your Visit
Entering and exiting the building
We will be operating a one way system on the evening. Whether you drive, walk or get public transport to GCT, please enter the building via our main entrance on the side of the building, you will be greeted by a member of staff who will show you to your seats in our main Auditorium (or to your table for your lunch sitting).
There is one door in to the Auditorium and one door to exit, these will be clearly marked. You will exit the building by the side entrance when the event is over.
Food and Drink
We will have a selection of drinks and snacks available for you to purchase before the performance to take in with you. We will be running a dinner sitting an hour before the screening at 6.30pm as listed above.
Please arrive promptly for your table if you are coming for lunch and we recommend turning up 30 mins before the performance time to order drinks and snacks.
Hygiene and Safety
Safety and confidence of you and our staff is the most important thing to us so we have put in the following procedures in place to assure you we are making GCT the safest it can be:
There are hand sanitising stations throughout the building and our staff will be undertaking regular cleaning of public areas.
On top of the aforementioned one-way system, we will be maintaining social distancing of at least 1m+ at all times.
Tables are limited to allow for the safest distance between each audience member and artists.
We encourage contactless card payments where possible to limit the exchange of cash.
Please wear a face covering at all times when not seated.
Organiser of Film Screening: Die Hard (18)